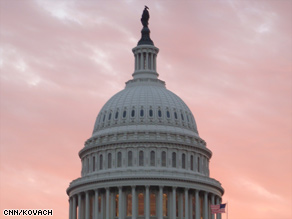 The CNN Washington Bureau's morning speed read of the top stories making news from around the country and the world.
WASHINGTON/POLITICAL
For the latest political news: www.CNNPolitics.com
CNN: Witnesses offer support, opposition to Kagan as hearing concludes
Supreme Court nominee Elena Kagan's confirmation hearing by the Senate Judiciary Committee concluded Thursday with witnesses for and against the solicitor general, including former military members who slammed her handling of military recruiters on the Harvard University campus. Twenty four witnesses testified about President Barack Obama's pick to replace the retiring Justice John Paul Stevens on the high court. Kagan herself was not there, having concluded her participation in the committee's hearing Wednesday after three days of testimony.
CNNMoney: House passes unemployment benefits extension
After a failed attempt earlier this week, the House voted to extend the deadline to file for federal jobless benefits Thursday. But the bill will be stuck in limbo as Congress takes a weeklong summer break. The bill would extend the deadline to file for extended unemployment benefits through November, and would retroactively pay out claims to those who saw their benefits expire in May. The legislation, which garnered a 270-153 vote, now moves on to the Senate.
CNN: House passes spending bill for war in Afghanistan
The House narrowly passed a spending bill late Thursday that includes $37 billion to fund the war in Afghanistan. Just before the vote, the White House issued a veto threat, warning members of President Barack Obama's party that he would reject the bill if they placed money conditions that would "undermine his ability as commander in chief to conduct military operations in Afghanistan." The White House also objected to cuts to one of Obama's key education priorities.
CNN: Byrd's Senate goodbye
When a military honor guard carried Sen. Robert Byrd's coffin into his beloved Senate chamber there were no television cameras allowed in to record the solemn proceeding. A single still photographer was permitted to take photographs of the casket of the man who was once the nation's longest serving member of Congress lying in repose. A small contingent of print and television reporters were able to observe from the gallery above the Senate floor.
CNN: Gay dating, "Pro-homosexual rights" figure into Florida gov. race
Two conservative candidates, a former presidential candidate and photos of bare-chested gay men have now lumped together in Florida's Republican primary for governor. State Attorney General Bill McCollum is locked in an increasingly bitter battle for the GOP nomination against health care executive Rick Scott. McCollum, backed by many in the Republican establishment, has previously run for several statewide offices, including a failed 2004 Senate bid. Scott bills himself as a "conservative outsider." Campaigns for both are trading barbs on issues of concern to the Republican primary audience: government bailouts, the economy and illegal immigration. But the issues of gay rights – and gay dating – have figured their way into the race.
Politico: John Boehner gets bipartisan beat down
Minority Leader John Boehner is two days into a bipartisan beat-down — a small taste of what he can expect should he become speaker of the House and a test of his resilience as a leader. Democrats hammered the Ohio Republican for his assertion that the Wall Street reform bill is "killing an ant with a nuclear weapon," while MSNBC host Joe Scarborough aired private Republican complaints that Boehner is "disengaged at best" and a "lazy" bar denizen. The crush of attention is a double-edged sword for Boehner: It's a sign of his increasing stature — and of the GOP's proximity to power — but it also raises questions about how Boehner will handle national scrutiny and a battering from all sides.
CNN: Bloomberg on Obama: 'That's why they pay him the big bucks'
With roughly four months until the midterm elections, New York City Mayor Michael Bloomberg is pointing out a harsh reality of the modern American presidency. "The problem that [President Obama] has – every president has – is because of mid-term elections. A president basically has a two-year cycle," Bloomberg said in an interview that aired Thursday on CNN's John King, USA.
Wall Street Journal: Tea-Party Call to Cut Spending Gains Traction
Grover Norquist, the veteran crusader for tax cuts, has seen a lot of groups passionate about a particular cause take a seat at the Republican Party's table over the years. There are the gun owners and the Christian conservatives, the business lobby, the defense hawks and the anti-abortion activists. But this year, thanks to the tea-party movement, Mr. Norquist has seen a new seat pulled up: the cut-spending seat. That is to say, there is now an activist group within the Republican orbit interested, first and foremost, in demanding that government spending be cut. Oh sure, there have always been people at the GOP table who said they were for cutting spending, but it wasn't their A-1, top priority.
CNN: Rand Paul $1.1 mil. fundraising haul the 'best one yet'
Republican candidate Rand Paul's latest fundraising haul is the "best one yet," his campaign spokesman told CNN Thursday. David Adams said that Paul raked in $1.15 million in the past three months – the most he's raised in a quarter since beginning his bid for a Kentucky Senate seat. Adams could not say how much cash on hand the campaign has.
Washington Post: Democrats shaping battle plan against Republicans for November
Architects of President Obama's 2008 victory are braced for potentially sizable Democratic losses in November's midterm elections. But they say voters' unease about a GOP takeover will help their party maintain congressional majorities. "I think the prospect of a Republican takeover - while not likely, but plausible - will be very much part of the dynamic in October, and I think that will help us with turnout and some of this enthusiasm gap," said David Plouffe, who was Obama's campaign manager two years ago and is helping to oversee Democratic efforts this fall.
CNN: Romney makes big donation to N.H. GOP
In what looks like another move towards a possible run for the White House, Mitt Romney is donating $20,000 to the Republican Party of New Hampshire. According to the state party and a Romney spokesman, $15,000 of the contribution comes from Romney's New Hampshire political action committee, with the remaining $5,000 from his federal PAC. The former Massachusetts governor and 2008 GOP presidential candidate also donated $10,000 to the state party last year, bringing to $30,000 the amount of money he's donated to the Republican Party of New Hampshire this cycle.
St. Petersburg Times: Oil spill disaster raises Crist's profile as he campaigns for the U.S. Senate
The nation's worst environmental disaster could be Gov. Charlie Crist's lucky charm. The once-floundering U.S. Senate candidate is sitting on top of the polls, largely thanks to round-the-clock — and free of charge — publicity as he monitors the gulf oil spill. There's Crist donning a life jacket for a boat tour. There he is clasping hands with protesters on the sand. There he is again, fielding questions from CBS Early Show anchor Harry Smith and CNN's Candy Crowley.
CNN: Obama administration re-launches USA.gov, opens new app store
The Obama administration re-launched USA.gov Friday morning with the self-proclaimed new focus of looking and acting less bureaucratic mirroring how private sector websites function, according to the White House. The site is also launching a mobile application store featuring 18 apps ready for free download. USA.gov is an online resource for the public to access information about taxes, school loans, elections, consumer protection and other topics.
The Hill: First woman Speaker is 'role model' for Rep. Debbie Wasserman Schultz
Rep. Debbie Wasserman Schultz considers Nancy Pelosi a mentor and role model and, in many ways, is following in the Speaker's footsteps. While it remains to be seen if the Florida Democrat will ever be calling the shots in the lower chamber, there is little doubt she could handle the job. Wasserman Schultz juggles many positions in the Democratic Party: chief deputy whip; appropriations cardinal; vice chairwoman at the Democratic National Committee; and head of the incumbent-retention program at the Democratic Congressional Campaign Committee (DCCC).
NATIONAL
For the latest national news: www.CNN.com
CNN: Obama seeks middle ground on immigration reform
President Barack Obama renewed his push for comprehensive immigration reform Thursday, calling for bipartisan cooperation on an issue that has repeatedly proven to be a major cause of deep social and political division. The president tried to find what has often proven to be an elusive middle ground on the subject, highlighting the importance of immigrants to American history and progress while also acknowledging the fear and frustration many people now feel with a system that seems "fundamentally broken." He asserted that the majority of Americans are ready to embrace reform legislation that would help resolve the status of an estimated 11 million illegal immigrants.
CNN: California lawmakers approve $20 million to settle Dugard claims
The California Assembly on Thursday passed a bill appropriating $20 million to kidnapping victim Jaycee Dugard to settle her claims against the state Department of Corrections and Rehabilitation, according to the chief clerk's office. The bill passed on a 30-1 vote in the Senate and a 62-0 vote in the Assembly, according to CNN affiliate KCRA. Corrections officials entered into the settlement with Dugard, the station said.
INTERNATIONAL
For the latest international news: http://edition.cnn.com
CNN: Al Qaeda launches English language magazine
Al Qaeda has launched this week what it is calling its first English language online magazine, a move that could be seen as a way to recruit more American-born terrorists. The magazine was posted on radical Islamist websites Tuesday, said Maryland-based SITE Intelligence Group, an organization that tracks terror groups.
CNN: Alleged Russian spy confesses, officials say
One of the suspects in an alleged Russian spy ring has admitted that he worked for Russia's intelligence service, federal prosecutors say in court documents obtained by CNN Thursday. The suspect known as Juan Lazaro made a "lengthy post-arrest statement on June 27," according to a bail letter provided by the U.S. Attorney's Office for the Southern District of New York. He allegedly told federal agents that he was not born in Uruguay, that "Juan Lazaro" is not his real name, that his house in Yonkers, New York, had been "paid for by the 'Service' and, although he loved his son, he would not violate his loyalty to the 'Service' even for his son," he said after he waived his Miranda rights, prosecutors say.
CNN: Obama says new U.S. sanctions show international resolve in Iran issue
President Barack Obama on Thursday signed into law new U.S. sanctions on Iran that he called another step in demonstrating that "the United States and the international community are determined to prevent Iran from acquiring nuclear weapons." At a White House signing ceremony, Obama noted that the U.N. Security Council has passed the strongest sanctions to date against Iran, and that Australia, the European Union and Canada also have taken or are considering stronger steps to further isolate Iran's nuclear program and supporting entities.
BBC News: Turkey and Israel hold first talks since flotilla raid
Israel and Turkey have held their first high-level meeting since the row over the killing of Turkish activists on an aid ship bound for Gaza, officials say. Israeli Trade Minister Benjamin Ben-Eliezer held secret talks with Turkey's Foreign Minister, Ahmet Davutoglu, reportedly in Brussels on Wednesday. Turkey later confirmed the meeting but said nothing substantial was agreed.
CNN: GE CEO hits out at China, Obama
Jeffrey Immelt, General Electric's chief executive, has launched a rare broadside against the Chinese government, which he accused of being increasingly hostile to foreign multinationals. He warned that the world's largest manufacturing company was exploring better prospects elsewhere in resource-rich countries, which did not want to be "colonised" by Chinese investors. "I really worry about China," Mr Immelt told an audience of top Italian executives in Rome, accusing the Chinese government of becoming increasingly protectionist. "I am not sure that in the end they want any of us to win, or any of us to be successful."
CNN: Australia's Gillard cuts deal with mining companies on taxes
Australian Prime Minister Julia Gillard announced Friday that Australia's leading mining companies have agreed to pay a 30 percent tax on the profits from iron-ore and coal mining. Gillard announced the plan, which scraps the name "super-profits" that had been used by her predecessor, in Canberra, with Resources Minister Martin Ferguson and Deputy Prime Minister Wayne Swan at her side. Friday's announcement is a step back from what her predecessor, Kevin Rudd, had sought - a 40 percent tax on profits across the mining industry.
New York Times: Britain Curbing Airport Growth to Aid Climate
In a bold if lonely environmental stand, Britain's coalition government has set out to curb the growth of what has been called "binge flying" by refusing to build new runways around London to accommodate more planes. Citing the high levels of greenhouse gas emissions from aviation, Prime Minister David Cameron, a Conservative, abruptly canceled longstanding plans to build a third runway at Heathrow Airport in May, just days after his election; he said he would also refuse to approve new runways at Gatwick and Stansted, London's second-string airports.
CNN: Dozens killed in explosions at shrine in Lahore, Pakistan
Three explosions erupted Thursday in Lahore in and around one of Pakistan's holiest shrines, killing 41 people and wounding 175, an official told CNN. District Coordination Officer Sajjad Bhutta in Lahore described the casualty toll as he was touring hospitals where the wounded were being treated. Lahore Commissioner Khusro Pervez said 25 of the wounded were in critical condition and that the remains of two suicide bombers - a man in his 20s and another in his late teens - were recovered after the blasts, which occurred at the Data Darbar shrine complex.
BBC News: Five killed in ambush in southern Thailand
Five soldiers have been killed in a roadside bomb in Thailand's southern province of Narathiwat, scene of a long-running insurgency. The paramilitary troops were on a night patrol when the explosion threw their pick-up truck about 10 metres. Insurgents then opened fire on the troops, killing five and taking several weapons.
CNN: North Koreans jailed in assassination plot
A South Korean court sentenced two North Korean military officers Thursday to 10 years in prison for plotting to assassinate a high-profile defector who once worked for dictator Kim Jong-il, South Korea's news agency said. The two men, known only as Kim, 36, and Tong, 34, were arrested in April for conspiring to kill Hwang Jang-yop, 88, a senior politician who defected to South Korea in 1997, the Yonhap news agency reported. Hwang was a high-ranking member of North Korea's ruling Workers' Party and had received repeated death threats for speaking out against his former boss.
BUSINESS
For the latest business news: www.CNNMoney.com
CNNMoney: Stocks at new 2010 lows
Stocks slipped Thursday, but managed to trim bigger losses, after worse-than-expected readings on manufacturing, housing and the labor market fueled fears that the economy is heading for another recession. The Dow Jones industrial average (INDU) lost 41 points, or 0.4%, for its lowest close since Oct. 30. The Nasdaq (COMP) composite lost 8 points, or 0.4%, closing at its lowest point since Nov. 4. The S&P 500 (SPX) lost 3 points, or 0.3%, closing at its lowest point since Oct. 2.
Bloomberg: Most Asian Stocks Rise After Australian Mining Tax Agreement
Most Asian stocks rose, led by commodity producers, after Australia reached a tax deal with mining companies. Taiwanese shares rose on optimism a Chinese trade accord will foster agreements with other nations. Fortescue Metals Group Ltd. and Alumina Ltd. advanced at least 1 percent in Sydney after Australian Prime Minister Julia Gillard settled on the new tax structure with mining companies. Acer Inc., a Taiwanese laptop maker, climbed 2.6 percent. Genting Malaysia Bhd. fell 4.7 percent in Kuala Lumpur on concern it's paying too much for an acquisition.
CNN: Toyota plans to recall 90,000 vehicles in Japan
Toyota plans to recall 90,000 vehicles in Japan due to an engine part problem, a company spokesman told CNN Thursday. The recall will include luxury models Lexus and Crown, spokesman Mieko Iwasaki said. Details will be announced after Toyota submits documents to the Japanese government Monday, he said. Earlier Thursday the automaker said it was considering issuing a recall and investigating engine problems affecting 270,000 vehicles worldwide.
Bloomberg: BOC Halted in Hong Kong After Report on Stock Offer
Bank of China Ltd. shares were halted from trading in Hong Kong after a report the nation's third- largest lender by value plans to raise as much as 60 billion yuan ($8.9 billion) in a rights offer to replenish capital. The Beijing-based lender will sell the shares in Shanghai and Hong Kong, Caixin Online reported yesterday, without citing anyone.
Wall Street Journal: Mortgage Bonds Booming
Residential mortgage bonds, the center of the financial crisis not long ago, are once again darlings of the financial market. Investors are seeking out mortgage bonds backed by the U.S. government as a safe haven from the tumult of the global economy, a reversal of fortune that has helped drive mortgage rates for consumers to record lows.
New York Times: Factory Jobs Return, but Employers Find Skills Shortage
Factory owners have been adding jobs slowly but steadily since the beginning of the year, giving a lift to the fragile economic recovery. And because they laid off so many workers — more than two million since the end of 2007 — manufacturers now have a vast pool of people to choose from. Yet some of these employers complain that they cannot fill their openings. Plenty of people are applying for the jobs. The problem, the companies say, is a mismatch between the kind of skilled workers needed and the ranks of the unemployed.
CNNMoney: Dell faces fresh threat from old PC failures
A six-year-old hardware meltdown that plagued millions of computers is coming back to haunt Dell. From 2003 to 2005, Dell sold computers with faulty capacitors that allegedly caused most motherboards on two Dell Optiplex models to break, rendering the computers useless. Dell was aware of the issue, according to recently unsealed court documents from a pending lawsuit, yet continued to sell the computers anyway.
CNNMoney: Google to buy travel data giant ITA for $700 million
Google on Thursday announced it will buy online travel software company ITA Software for $700 million cash, a move the search giant hopes will boost its visibility in the highly competitive airfare market. Boston-based ITA specializes in organizing airline data, including flight times, availability and prices. Its data is used on a host of websites like Kayak, Orbitz, Expedia.com, TripAdvisor and Microsoft's (MSFT, Fortune 500) Bing, as well as a number of airlines' websites. Nearly half of airline tickets are now bought online, according to Google.
CNNMoney: Pending home sales 'fell off a cliff'
The experts expected home sales to drop once the homebuyer tax credit lapsed at the end of April, but the depth of the decrease was shocking. According to the National Association of Realtors (NAR), pending home sales fell a whopping 30% in May. Their index, which measures signed sales contracts but not closed sales, plunged to 77.6 from 110.9 in April. It's even off 15.9% from a year ago when the nation was barely emerging from the recession.
In Case You Missed It
CNN's Randi Kaye teams up with Gov. Bobby Jindal to sees how Hurricane Alex affected the Louisiana coast.
Immigrants in Chicago's Latino community react to President Obama's speech on immigration reform.
Subscribe to the CNN=Politics DAILY podcast at http://www.cnn.com/politicalpodcast
And now stay posted on the latest from the campaign trail by downloading the CNN=Politics SCREENSAVER at http://www.CNN.com/situationroom