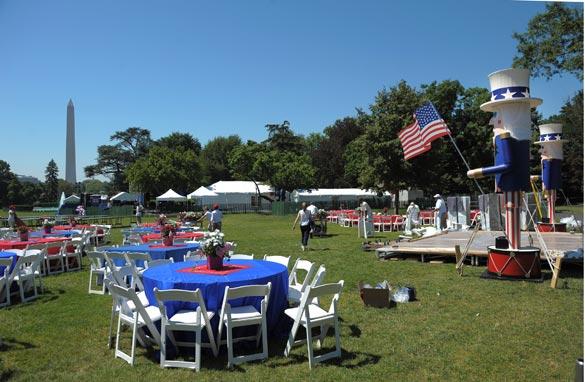 Red, white, and blue dominate the preparations for Sunday's July 4 barbecue on the South Lawn of the White House. (Photo Credit: Getty Images)
Washington (CNN) – Members of the military and their families will be the guests of honor at a Fourth of July celebration at the White House Sunday.
In addition to a barbecue and an opportunity to watch fireworks over the National Mall, President Obama and first lady Michelle Obama will host a USO concert on the White House South Lawn featuring Brandi Carlile, Cedric "The Entertainer," The Killers, and "The President's Own" U.S. Marine Band.
In a message entitled "Supporting Our Military Families" emailed from the White House Sunday, the first lady called on all Americans to find a way in their communities to support members of the military and their families. "A small percentage of Americans fight our wars, but we need 100 percent of Americans to support these brave men and women and their families back home," Mrs. Obama said in her message.
The first lady said she and the president will welcome more than 1,200 service members and their families to the White House festivities.