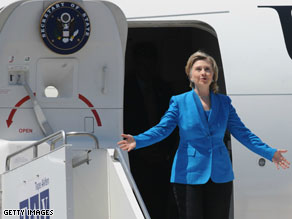 Sec. Hillary Clinton exits a plane in the former Soviet Republic of Georgia.
(CNN) - Secretary of State Hillary Clinton arrived in Georgia, the former Soviet Republic, on Monday, the last stop in a five-country tour of former Soviet bloc nations.
Clinton is due to discuss "regional peace and stability" with government officials in Georgia, which fought a short war with Russia in the summer of 2008 over a separatist region of Georgia which is backed by Moscow.
She arrives in the Caucasus nation after visiting its neighbors Armenia and Azerbaijan. She also held meetings in Ukraine and Poland on the five-nation trip.
Clinton told reporters Saturday she hasn't let her demanding schedule get in the way of what she calls her most important task: wedding planning.
"It's a very happy time for my family," Clinton said during an interview with Polish media. "It (the wedding) truly is the most important thing in my life right now."
Clinton's daughter, Chelsea, is engaged to marry Marc Mezvinsky, the son of former members of Congress Marjorie Margolies-Mezvinsky of Pennsylvania and Ed Mezvinsky of Iowa.
"I have been able to fit in tastings and dress selections and all the other things the mother of the bride has to do," Clinton said.