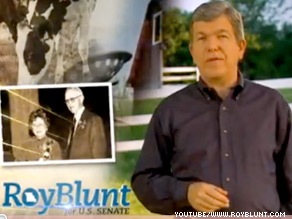 Blunt has released an ad titled 'Education and Hard Work.'
(CNN) - Nearly a year and a half after he launched his bid for the Senate, Rep. Roy Blunt goes up with his first television campaign commercial Tuesday.
In the ad, which his campaign says will run state-wide in Missouri, the Republican congressman says that "I was taught there was nothing you couldn't achieve through education and hard work. But now that America's threatened, irresponsible spending and crippling debt are killing jobs today and our children's future tomorrow. That's wrong and I'll fight to change it."
Blunt, who represents Missouri's seventh congressional district, in the southwest part of the state, is the overwhelming favorite in next month's GOP Senate primary against state senator Chuck Purgason.

Blunt will most likely face off in November against Missouri Secretary of State Robin Carnahan, the presumptive Democratic nominee, in a battle between two of the most famous political families in the state. Both candidates are fighting to succeed Republican Sen. Kit Bond, who is not running for re-election this year.
The release of the ad comes two days before President Barack Obama visits Missouri, to hold a campaign event with Carnahan and a town hall on the economy. Blunt spokesman Rich Chrismer says the timing of the release of the ad, titled "Education and Hard Work," is not connected to the president's visit to Missouri.
In an e-mail to supporters, Blunt says "after months and more than $1.3 million in false and negative attack TV commercials aired by Robin Carnahan's liberal allies, we are fighting back with the truth about what this campaign is about.
In the commercial, the seven-term representative who was once the second ranking Republican in the House, talks about his family history, saying "my mom and dad were dairy farmers. My grandmothers were one room school teachers. I was the first person in my family to graduate from college. I became a high school teacher and later a university president."
Reacting to the ad, Carnahan spokesman Linden Zakula says, "Missourians have had enough of Congressman Blunt's 14 years of wasteful spending in Washington and that is why he has been forced to spend valuable resources in the closing weeks of his primary fight to defend his record of bailouts, earmarks and deficit spending."
Follow Paul Steinhauser on Twitter: @psteinhausercnn