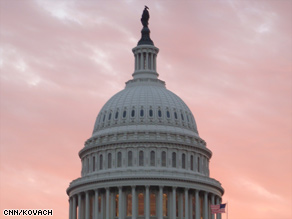 The CNN Washington Bureau's morning speed read of the top stories making news from around the country and the world.
WASHINGTON/POLITICAL
For the latest political news: www.CNNPolitics.com
CNN: Latinos not flexing political muscle - yet
Each election cycle is dubbed "the year" - a time when Latinos will show up at the polls in droves and transform the political landscape. President Obama's renewed push last week for immigration reform has brought with it fresh expectations for the Latino vote in November's midterm elections. The issue is considered one of symbolic and substantive importance for the community.
CNN: Holiday week but no vacation from politics
It's a holiday week and Congress is out of town, but there's no vacation from politics. With less than four months to go until November's midterm elections, most lawmakers up for re-election this autumn are back in their home states and districts, reaching out to voters. Also getting into the act this week, President Obama and Vice President Biden. Obama heads to Missouri and Nevada Thursday and Friday. He holds events on the economy, but also headlines campaign events for Robin Carnahan, the Missouri secretary of state and presumptive Democratic Senate nominee, and for Senate Majority Leader Harry Reid. The senior senator from Nevada faces a difficult road to re-election this year. After returning from Iraq, Biden travels to California at the end of the week to help Sen. Barbara Boxer raise campaign cash. The three-term Democrat also faces a tough re-election battle this year.
Washington Post: Democratic campaign committees losing big Wall Street donors
A revolt among big donors on Wall Street is hurting fundraising for the Democrats' two congressional campaign committees, with contributions from the world's financial capital down 65 percent from two years ago. The drop in support comes from many of the same bankers, hedge fund executives and financial services chief executives who are most upset about the financial regulatory reform bill that House Democrats passed last week with almost no Republican support. The Senate expects to take up the measure this month.
CNN: Poll: Tea Party says federal debt extremely serious threat
It may be no surprise, but a new poll indicates that Tea Party supporters and those opposed to the movement don't see eye to eye on some of the top issues facing the nation. According to a USA Today/Gallup survey released Monday, 61 percent of self-described Tea Party movement supporters say that the federal government's debt is an extremely serious threat to the country, with only 29 percent of self-described Tea Party opponents saying that the debt is an extremely serious threat.
Washington Post: Tea party movement's energy, anger make it target for admakers
Has Chrysler gone tea party? Sort of. There's nothing new about patriotic commercials, especially near the Fourth of July. But Dodge's "Freedom" ad is a little different, with its direct appeal to the rebellious themes that define the "tea party" movement. Marketing consultants say the ad is one indication that the movement's anger and energy have become part of the cultural conversation, making it a natural target for admakers. It isn't difficult to see why Chrysler would want to aim an ad at the tea party set.
CNN: McCain releases two TV ads, is accused of 'character assassination'
Arizona Sen. John McCain released two television ads Monday that continue to hammer home his opponent's past ties to a dubious company that aired infomercials promising viewers information about "hundreds of billions of dollars in government funding." The company – National Grants Conferences – has been criticized by the attorneys general of multiple states for deceptive marketing and has an "F" rating from the Southeast Florida and Caribbean Better Business Bureau.
Wall Street Journal: Tapping Reagan's Growth Theme
The great economic debate emerging in Washington—simple and a bit simplistic—goes like this: Should the U.S. government be spending more money to stimulate the sagging economy, or should it be saving money because of the giant budget deficit? This week, the Obama administration is trying to shift the discussion back to economic growth. There are obvious economic reasons to do so. President Ronald Reagan, faced with a similar toxic mix of high deficits and a wheezing economy in the early 1980s, found a relentless focus on economic growth to be a magic elixir that simultaneously pulled the economy, the deficit and his policies out of the danger zone.
CNN: Ketner ends South Carolina Senate drive
South Carolina is home to one less Senate hopeful, after Democrat Linda Ketner announced Monday that she will not accept a petition nomination to appear on the ballot. Ketner told supporters of her decision in an email in which she said South Carolinians "deserve – and desperately need – better government," before noting that "a last minute campaign without essential resources won't get us that outcome." A group of former Ketner campaign staffers and allies had been collecting signatures on her behalf, and even launched a campaign-style website for the petition drive.
Washington Post: More Indian Americans seeking office this year
Five years ago, a group of Indian Americans who worked as staffers on Capitol Hill started up a club. They called themselves the "Desi Power Hour," and met to share their experiences and help each other get a leg up in Washington. Small in number and short on experience, they may have been Desis - children or grandchildren of immigrants from India - but they had little power. Today, though, that once-casual gathering of legislative aides, communications consultants, tech gurus and fundraisers has grown into an influential political network that undergirds the record number of Indian Americans running for political office this year.
Arizona Republic: Harry Reid's dislike of Arizona law may aid re-election
Arizona's divisive new immigration law could end up having a big impact on Senate Majority Leader Harry Reid's bid for re-election, political analysts say. The Nevada Democrat's opposition to the Arizona law and his support for comprehensive immigration reform may help him shore up support among Latino voters, who could be crucial to his re-election. At the same time, polls have shown a majority of Nevadans support the Arizona law and oppose a federal legal challenge to block it from taking effect as scheduled on July 29. The U.S. Justice Department is expected to file a challenge soon.
The Hill: Senate bill to repeal health reform lacks backing from GOP leaders
Although they've called repeatedly for repeal of the Democrats' new health reform law, some senior Senate Republicans have not endorsed a bill that would actually do it. Senate Minority Leader Mitch McConnell (Ky.), GOP Conference Chair Lamar Alexander (Tenn.) and Conference Vice Chair Lisa Murkowski (Alaska) have all argued that the reforms — passed in March without Republican support — will hike costs and erode services, and therefore should be scrapped. Yet they haven't signed on to their party's repeal proposal. That bill — just nine words long — has been endorsed by other party leaders, including Jon Kyl (Ariz.), the minority whip, and John Cornyn (Texas), who heads the National Republican Senatorial Committee (NRSC).
Politico: The GOP's passion problem
Republican senators have already blamed the breezy confirmation process for Elena Kagan on simple math, saying Kagan's confirmation to the Supreme Court is already ensured with 58 Democrats in the Senate. But the GOP has more than just a math problem with Kagan. It has a passion problem — the party, which has used judicial nominations to stoke the culture wars for more than a decade, appears to have lost its edge on judges. Now some conservatives worry that if Republicans can't gin up a real battle over a left-leaning high court nominee from President Barack Obama in an election year, how can they be expected to grind out fights on dozens of lower-court nominees who are getting lifetime appointments to the federal bench?
Seattle Times: Lobbyists are Sen. Murray's biggest donors
In the years after Patty Murray first won her U.S. Senate seat in 1992, she received some of her biggest political contributions from women's groups and people supporting Israel. Today lobbyists top the list of Murray's donors as she seeks her fourth term. Among the top six Democrats in the Senate leadership, only Senate Majority Leader Harry Reid has collected more money than Murray from lobbyists and their firms since 2005, according to the Center for Responsive Politics, a Washington, D.C., nonprofit that tracks money and politics. Yet even Reid receives a smaller share of his overall donations from lobbyists than Murray does.
CNN: Biden leaves Iraq after Independence Day visit
U.S. Vice President Joseph Biden has left Iraq, concluding a two-day unannounced visit to the war-torn nation, embassy officials said. Biden and his wife, Jill, arrived in Baghdad on Saturday to celebrate the Fourth of July with U.S soldiers serving in Iraq.
NATIONAL
For the latest national news: www.CNN.com
CNN: Tar balls from Gulf disaster reach Lake Pontchartrain, shores of Texas
Tar balls linked to the worst oil spill in U.S. history have reached into Louisiana's Lake Pontchartrain and hit the beaches near Galveston, Texas, authorities in those states reported on day 77 of the disaster. Easterly winds and high waves that hindered skimmers drove blobs of weathered oil up into the eastern end of the lake, which sits north of New Orleans, said Anne Rheams, executive director of the Lake Pontchartrain Basin Foundation. She estimated the amount of oil that has reached the lake at less than 100 barrels, with no hydrocarbon smell.
CNNMoney: BP oil spill clean-up costs exceed $3 billion
BP has spent more than $3 billion to clean up the Gulf of Mexico oil spill and paid out nearly half of the claims that have been submitted, the company said Monday. Since its leased Deepwater Horizon oil rig exploded on April 20, the company has spent roughly $3.12 billion in total, BP said in a statement on its website. That figure includes costs for responding to the oil spill, relief well drilling, making grants to Gulf states, paying claims as well as paying federal costs.
New York Times: Utah's Gun Permit Popular With Nonresidents
With the Supreme Court ruling last week that the Second Amendment's guarantee of an individual's right to bear arms applies to state and local laws, Utah is a popular player in Americans' efforts to legally obtain firearms. The state is issuing what has become the permit of choice for many gun owners. Fifteen years after the Utah Legislature loosened rules on concealed firearm permits by waiving residency and other requirements, the state is increasingly attracting firearm owners from throughout the country. Nearly half of the 241,811 permits granted by the state are now held by nonresidents, according to the Utah Bureau of Criminal Identification, which administers the permits.
INTERNATIONAL
For the latest international news: http://edition.cnn.com
CNN: Imam leaves United States under plea deal in terror case
A New York imam who pleaded guilty to lying to federal agents as they investigated an alleged terror plot left the United States on Monday as part of his plea deal, a government spokesman and the imam's attorney told CNN. Imam Ahmad Afzali and his wife left on a 2 p.m. flight to live in Saudi Arabia, said Afzali's attorney, Ron Kuby. A government spokesman confirmed Afzali's departure.
CNN: Police kill 64 people in Afghan drug bust
Afghan counter-narcotics police and international security forces killed 64 people and arrested 10 others during a three-day operation in Helmand province, the interior ministry said. Authorities also discovered and burned 16,641 kilograms (36,687 pounds) of narcotics during the operation, which ended Sunday, the interior ministry said. The ministry described the 64 people killed as "terrorists."
Wall Street Journal: Berlusconi Thrives in Face of Political Turmoil
For most European governments, the resignation of a cabinet minister just two weeks after his appointment would serve as an ominous sign of waning support. In Rome, however, Italian Prime Minister and media mogul Silvio Berlusconi isn't even breaking stride. Hours after Aldo Brancher stepped down Monday as Italy's minister for federalism, Mr. Berlusconi was charging ahead with plans to push a deeply unpopular austerity package through Parliament. The government will seek a confidence vote on the premier's plan to slash €25 billion ($31.4 billion) from the national budget over the next two years, Mr. Berlusconi's office said late Monday. On the surface, Mr. Brancher's resignation appeared to come at the worst possible time for Mr. Berlusconi.
CNN: Filipino politician gunned down
A Filipino politician and party leader was shot to death in front of his house Monday, party officials said. Fernando Baldomero, councilman and provincial coordinator for the Bayan Muna party, was killed while he was preparing to take his child to school, according to a Bayan Muna statement. Baldomero, 61, was a second-term councilman and an official of the Makabayan Coalition, which brings together leftist groups.
CNN: Israel unveils new blockade rules for Gaza
Israel announced Monday that it will continue to restrict construction materials allowed into Gaza, but will allow other items to be brought into Gaza without specific permission. The Israeli Security Cabinet last month voted to ease the blockade of goods into Gaza, which is ruled by Hamas. The decision followed a widely condemned incident in which Israeli soldiers stormed a humanitarian flotilla trying to break Israel's blockade of Gaza. Israel unveiled two categories of materials that will remain under restrictions.
BBC News: Home Office advice to gay asylum seekers criticised
The Home Office has been accused of telling gay and lesbian asylum seekers to avoid persecution back home by keeping their sexuality secret. The United Nations High Commissioner for Refugees claims the UK is turning international convention "on its head". The UK Supreme Court will rule on the legality of the advice on Wednesday involving countries where it is frowned upon or even illegal to be homosexual.
CNN: U.S. 'dismayed' by 8-year sentence for American in China
The U.S. Embassy here says it is "dismayed" by a Chinese court decision sentencing a U.S. citizen to eight years in prison for violating state secrets law. In a written statement Monday, U.S. Ambassador to China Jon Huntsman called for the release of Dr. Xue Feng, a naturalized U.S. citizen, who in addition to the prison sentence was fined about $29,500 for allegedly providing intelligence abroad.
Guardian: Graduates warned of record 70 applicants for every job
Graduates are facing the most intense scramble in a decade to get a job this summer, as a poll of employers reveals the number of applications for each vacancy has surged to nearly 70 while the number of available positions is predicted to fall by nearly 7%. The class of 2010 have been told to consider flipping burgers or stacking shelves when they leave university as leading firms in investment banking, law and IT are due to cut graduate jobs this year. Competition in the jobs market is fiercer now than for the first "post-crunch" generation of students, last year, when there were 48 applications for each vacancy.
CNN: Anti-government protesters march in Somali capital
Anti-government demonstrators, including women dressed in full hijabs brandishing AK-47 automatic rifles, marched through the streets of Somalia's violence-torn capital Monday. The marchers shouted slogans and carried English-language signs accusing the African Union Mission in Somalia, or AMISOM, a peacekeeping military force backing the government, of killing people. The protest followed a pro-government rally last Friday and recent clashes between hard-line Islamists and government forces that have killed dozens of people.
New York Times: Turning East, Turkey Asserts Economic Power
For decades, Turkey has been told it was not ready to join the European Union — that it was too backward economically to qualify for membership in the now 27-nation club. That argument may no longer hold. For many in aging and debt-weary Europe, which will be lucky to eke out a little more than 1 percent growth this year, Turkey's economic renaissance — last week it reported a stunning 11.4 percent expansion for the first quarter, second only to China — poses a completely new question: who needs the other one more — Europe or Turkey?
BUSINESS
For the latest business news: www.CNNMoney.com
CNNMoney: Stocks: Pursued by a bear
Investors returning from a long holiday weekend better come back well rested, as the weeks ahead bring something of a battle. "The market is near a critical point where if it loses just a few more percentage points, it's really going to collapse," said Stephen Carl, head equity trader at Williams Capital Group. The S&P 500 and Nasdaq composite are within shouting distance of a bear market – a drop of 20% off the highs. The Dow is slightly less bruised and battered – it's down just 13.5% from the April highs versus a drop of 16% for the S&P 500 and 17% for the Nasdaq.
Bloomberg: Asian Stocks, U.S. Futures Fall on Growth Concerns; Yen Rises
Asian stocks fell to the lowest in almost a month and U.S. equity futures dropped on concern growth is slowing in the U.S., Europe and China. The yen increased against the euro and Treasuries advanced. The MSCI Asia Pacific Index lost 0.2 percent to 111.60 as of 11:15 a.m. in Tokyo, set to close at the lowest since June 10. Standard & Poor's 500 Index futures fell 0.6 percent, suggesting U.S. equities will extend a two-week drop when markets resume trading today after a holiday. The yen climbed 0.5 percent to 109.46 per euro. Ten-year Treasury yields fell 5 basis points to 2.93 percent.
Wall Street Journal: Chinese IPO May Be Largest in History
Agricultural Bank of China's massive initial public offering, to be priced as early as Tuesday, is testing global investors' faith in China's fast-growing economy amid global financial turmoil. If it hits the high end of its expected $23 billion range, AgBank would raise more money than any other company in history, amid a string of major stock offerings from developing markets this year. With nearly 24,000 branches and the largest customer base in the world, AgBank and its owner, the Chinese government, are betting investors see it as a proxy for the country's future economic growth.
Business Week: Fiat Has a Lot Riding on a New Jeep Cherokee
Jeep has frustrated a string of corporate owners since its 1941 debut as an all-purpose vehicle for the U.S. Army. From Willys-Overland Motors, developer of the civilian model, through Kaiser Jeep, American Motors, Renault, Chrysler, DaimlerChrysler, and Cerberus Capital Management, each new steward of the brand tried, with varying degrees of success, to win over mainstream drivers without alienating off-road enthusiasts. In the U.S., Jeep's sales peaked at 554,466 in 1999; last year, they sank to 231,710 as Chrysler went through a $12.5 billion government-backed bankruptcy. Now it's Fiat's turn.
Wall Street Journal: Toyota Alters Car Development
Toyota Motor Corp. is stretching out how long its new models are tested before they go into production and reducing the number of outside engineers it uses in an effort to overcome a spate of quality problems. Randy Stephens, a senior Toyota engineer based in Ann Arbor, Mich., said company executives recognize there were quality issues with the last generation of vehicles, which were developed while the company was in a global-growth mode. Executives began talking about changes nearly a year ago, he said, but the recent recall problems have spurred the company to act.
Der Spiegel: Bank Balance Sheets Could Torpedo Recovery
Germany's economy is booming thanks to a rapid recovery of global exports. But Europe isn't out of the woods yet. Few know exactly what nasty surprises might be lurking on bank balance sheets across the Continent - and stress tests might not be enough to reveal them. Strict confidentiality is the order of the day when the elite of the German financial world gather. No pictures were taken of the memorable meeting which took place on Wednesday of last week. Only a laconic press release, nine lines long, informed the public of the event - after it was all over. The CEOs of the largest banks had accepted an invitation extended by Axel Weber, the president of Germany's central bank, the Bundesbank, and by Jochen Sanio, the head of Germany's Federal Financial Supervisory Authority (BaFin). Deutsche Bank CEO Josef Ackermann didn't attend personally, but he sent a representative - Chief Risk Officer Hugo Bänziger.
Business Week: Sony Seeks Relevance in an Apple-Centric Age
Sony (SNE) once set the standard for inventing products people never knew they wanted—from the Walkman to the CD player to game consoles. That knack for shaping consumer tastes powered the Japanese company's market share and ability to command premium prices for its gear. If that sounds a lot like the recent history of Apple (AAPL), that's a big part of Sony Chief Executive Sir Howard Stringer's current challenge. So how can Sony set itself apart in an Apple world? Stringer is taking a page from the iPod maker's playbook: He wants to digitally funnel Sony's trove of music, movie, and gaming content directly to its TVs and other devices.
In Case You Missed It
National Political Correspondent Jessica Yellin talks to Rep. Ron Paul about rifts in the Republican Party.
CNN's Rick Sanchez examines a new video aimed at teaching Arizona police how to enforce the state's new immigration law.
Subscribe to the CNN=Politics DAILY podcast at http://www.cnn.com/politicalpodcast
And now stay posted on the latest from the campaign trail by downloading the CNN=Politics SCREENSAVER at http://www.CNN.com/situationroom