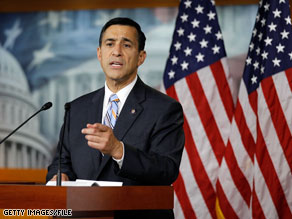 Rep. Darrell Issa said Thursday that RNC Chairman Michael Steele 'is not my leader.'
Washington (CNN) - Rep. Darrell Issa has a message for Michael Steele: Represent the consensus view of the Republican Party, or resign as chairman of the Republican National Committee.
"Michael Steele is supposed to reflect a consensus of Republican platform and policies," the Republican said during a taping of C-SPAN's 'Newsmakers' program. "If he does that, he certainly could remain. If he's not willing to do that, if he wants to be a political leader on his own, there are plenty of seats open in November. I suggest he run for one of them."
Steele has been under fire for suggesting that the war in Afghanistan is one "of Obama's choosing" and that the conflict might be unwinnable.
Steele has since clarified his statements.
But one week after Steele's initial comments, Issa sounds unconvinced.
"I feel very strongly that he is not my leader, he does not make policy for me," Issa said Thursday.
"I think he has to make a decision, and everybody at the RNC has to make a decision. Are they going to speak on behalf of the consensus of Republicans, what we've already established as policy? If so, that is great, he can do the job. If he is not willing to do it, then I think he should resign. He has to decide which he is going to be."
Earlier on Thursday, Steele made clear he has no intention of resigning.
"Every time something happens, people say 'he should step down,' Steele told a gathering of GOP supporters Greenfield Village, Colorado." The reality is that's not happening, so stop the noise on that. You don't need the distraction. We're focused on winning."
Issa is not the first Republican to speak out. William Kristol, the editor of the conservative Weekly Standard, has called for Steele's
resignation. A string of other Republicans - including Arizona Sen. John McCain - have also questioned Steele's ability to lead the party in the wake of the remarks.
But digging in his heels, Steele told a Colorado crowd Thursday he is no stranger to the rough-and-tumble of party politics.
"The reality of it is simply this. I've learned politics through some pretty hard knocks," he said.
He added that it "hasn't been easy being a Republican in D.C., hasn't been easy being a Republican in Maryland."
When it comes to the war in Afghanistan, Steele said he is "four square, one thousand percent with our troops on the ground."
"My goodness, do not leave these young men and women without the resources they need," he added. "This war on terrorism was brought to our shores and we must fight it. We will fight it and we will win it. Because that is what the resolve of the American people is on this."
- CNN's Alexander Mooney contributed to this report