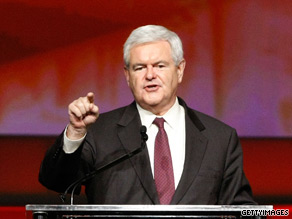 Newt Gingrich will lead a workshop on Monday for GOP candidates in Iowa.
(CNN) - Call him Professor Newt Gingrich.
The former House speaker and possible 2012 Republican presidential hopeful is scheduled to lead a workshop Monday for GOP candidates running this year for the Iowa legislature.
At a news conference prior to the workshop, Gingrich said "every Republican's focus should be on '10. It will set the stage for '12"
While in Des Moines, Gingrich also attended a fundraiser for Brad Zaun, the Republican candidate for Iowa's third Congressional district.
Anytime a possible GOP White House hopeful spends time in Iowa, it raises eyebrows, since the state's caucuses traditionally kick off the presidential primary season.
Gingrich was last in Iowa in late May, to promote his new book, "To Save America: Stopping Obama's Secular-Socialist Machine."
According to a poll of Iowa Republicans released last month, 56 percent said they have a favorable opinion of Gingrich. One in three said they hold an unfavorable view.
Those numbers put Gingrich at the top of the list, along with former Massachusetts Governor and 2008 Republican presidential candidate Mitt Romney and former Alaska Governor and 2008 GOP vice presidential nominee Sarah Palin.
Gingrich was also in South Carolina, another state that votes early in the primary season, on Friday, to help fundraise for state Republicans. He says he will make a decision about a possible presidential run early next year.
UPDATE: Gingrich, at the news conference, said he would probably announce in February or March of next whether he'll make a bid for the White House. He also told reporter he'll be back in Iowa at least two or three more this year to help Republican candidates.
Follow Paul Steinhauser on Twitter: @psteinhausercnn