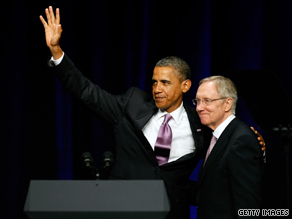 Tea Party favorite Sarah Palin took to Twitter Sunday to criticize the president and Senate Majority Leader Harry Reid who appeared together late last week in Reid's home state of Nevada.
(CNN) – Former Alaska Gov. Sarah Palin has taken to Twitter to slam President Obama's economic policies as "backasswards."
After Obama was in Las Vegas late last week to attend two events for Senate Majority Leader Harry Reid, the Las Vegas Review Journal published a tough editorial Sunday that faulted Obama's policies on taxes and other economic issues as the White House and Capitol Hill try to turn around the struggling economy.
"President Obama once again left behind a sinking feeling that neither he nor Sen. Reid have a clue how to pull this country out of its current dire economic straits," the paper's editorial said.
In a series of tweets posted Sunday, Palin echoed the editorial's sentiments. "What happens in Vegas shouldn't stay in Vegas;pls circulate this," the former GOP vice presidential hopeful and Tea Party favorite tweeted before dropping a link to the editorial.
"LasVegas RJ editorial recaps Obama lecture 2 Runnin' Rebs: he's got most disconnected, backasswards plan ever imposed on the country we love," Palin said in a tweet that followed, calling Obama's remarks in Vegas a misguided lecture.

In remarks at an event with Reid Thursday evening, Obama slammed Reid's opponent Sharron Angle. "She wants to phase out and privatize Social Security and Medicare," Obama said, according to a transcript released by the White House.
In two additional tweets also posted Sunday, Palin sought to defend Angle. "Sharon Angle's right: new workers should get to invest some Social Security withholdings in their own savings accounts," said Palin.
She added, "What part of 'The System is Going Bankrupt' don't you understand, Mr. Reid?"