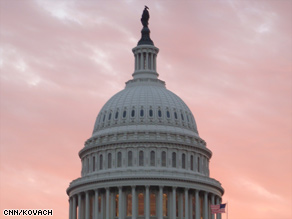 The CNN Washington Bureau's morning speed read of the top stories making news from around the country and the world.
WASHINGTON/POLITICAL
For the latest political news: www.CNNPolitics.com
CNN: Wall Street reform bill: Democrats have the votes
Two key Republican senators announced their support for the Wall Street reform bill Monday, placing Senate Democrats days away from winning the final vote to passing the most sweeping set of changes to the financial system in decades. Top Senate Democrats say they have the 60 votes needed to pass the Wall Street reform bill this week. The Senate is expected to hold a procedural test vote on Tuesday, which will set the stage for a final vote later this week.
CNN: Senate committee likely to delay Kagan vote for a week
A GOP member of the Senate Judiciary Committee said Monday that he expects Republicans to delay for a week the panel's confirmation vote on Supreme Court nominee Elena Kagan. The Judiciary Committee, which held four days of hearings on Kagan's nomination before Congress went on its Fourth of July recess, is scheduled to vote on Tuesday.
CNN: Trio of House Republicans to release 'Young Guns'
Three leading House Republicans will release a new book entitled "Young Guns" in September, publisher Simon & Schuster announced Monday. The book is jointly written by House Minority Whip Eric Cantor, R-Virginia; Republican Chief Deputy Whip Kevin McCarthy, R-California; and Rep. Paul Ryan, R-Wisconsin, according to Brad Dayspring, who is acting as part-time publicist and spokesman for all three lawmakers as they release their new book. In a phone interview with CNN, Dayspring described "Young Guns" as "a complimentary effort to many that are already under way to promote conservative candidates, layout a conservative Republican agenda and describe a positive narrative for the 2010 election."
Wall Street Journal: Tea Party and the Path to Power
Here are two big questions hovering over this year's congressional elections: How radical is the mood out there, and do Republicans have a real chance of taking back control of the U.S. Senate? And here's a simple way to track the answer to both: Simply keep an eye on four tea-party amigos chasing Senate seats in the key states of Nevada, Kentucky, Florida and Colorado. In those four states, candidates with tea-party inclinations and the support of tea-party activists have either won the Republican nomination or, in Colorado and Florida, are making serious runs for it. A couple of those candidates are people who would have been given little chance six months ago of winning a nomination, much less a general election. In each case, Democrats and some outside analysts think Republicans may be shooting themselves in the foot by nominating candidates who can be painted as extremists with conservative views outside the mainstream, in a year when simply nominating safe, garden-variety Republicans would be good enough to win.
CNN: Freshman Dem: 'We're losing faith' in officials
If Republicans take back control of the House of Representatives in November their path back to power starts just a short drive from Washington, in Maryland's first congressional district. In what's shaping up to be one the most competitive House races this year, Democratic freshman Congressman Frank Kratovil is fighting to keep his job. He's facing public anger at congressional spending, and an opponent who is trying to tie him to President Obama and House Speaker Nancy Pelosi as their popularity has dropped. That could spell trouble in a district that John McCain won by almost 19 points in 2008. In an interview with CNN Friday Kratovil dismissed polls that show he's extremely vulnerable, but acknowledged that voter anger about government red ink is part of a broader distrust with politicians running Congress.
CNN: NAACP to condemn 'racism' of the Tea Parties
On Tuesday the National Association for the Advancement of Colored People will offer a resolution to its members condemning what it believes to be rampant racism in the Tea Party movement. The resolution could pass on Tuesday or later this week as the nation's oldest civil rights organization holds its 101st convention in Kansas City over six days. NAACP President and CEO Benjamin Jealous talked to CNN about the controversial, loose-knit groups that espouse a commitment to the Constitution.

Washington Post: In Alabama, Rep. Bobby Bright avoids perils of anti-government mood
For a first-term Democrat in a solidly Republican district, Rep. Bobby N. Bright did something curious on a recent weekday morning while speaking at a Kiwanis Club breakfast: He talked about the goodness of federal spending. Even more curious, perhaps, is that his audience didn't mind. Bright, a dry-witted former mayor of Montgomery, looks on paper like one of the most vulnerable Democrats in Congress, with a winning margin in 2008 of just 1,700 ballots, a district that Sen. John McCain (R-Ariz.) took in that year's presidential election with 63 percent of the vote, and a constituency deeply unhappy with President Obama and Democrats in Congress. But Bright, 57, is well liked in southeastern Alabama's 2nd Congressional District. In the most recent polls, he has a double-digit lead over the Republicans vying to face him in the fall.
CNN: After tumultuous first term, Vitter draws a primary challenge
Scandal plagued Louisiana Republican Sen. David Vitter has drawn a last minute primary challenger, who points, in part, to Vitter's series of first-term controversies as a reason for jumping in the race. Retired State Supreme Court Justice Chet Traylor, who filed his candidacy on Friday, told CNN that while he wouldn't comment directly on Vitter's problems, "we wouldn't be in this position if we had a senator who could get results."
Newark Star-Ledger: Gov. Christie appeared at events with N.J. group that skirts campaign finance rules, records show
Gov. Chris Christie is appearing as the "special guest" at events with big-money political donors that skirt campaign finance limits the governor has advocated, according to a fundraising solicitation obtained by The Star-Ledger. Reform Jersey Now, a group run by Christie's top advisers, is soliciting donations that avoid state fundraising limits and is openly telling contributors they can circumvent rules designed to clean up state campaigns.
CNN: Rubio raises big money in second quarter
Florida Republican Senate candidate Marco Rubio has posted his best fundraising quarter to date, announcing on Monday a stunning $4.5 million haul over the last three months. The cash boost puts Rubio in prime position to blanket the expensive Florida airwaves in what's expected to be a tight three-way battle come November.
St. Petersburg Times: McCollum campaign is down to $800,000 and scrambling for public financing
Bill McCollum's campaign for governor is one major TV advertising purchase away from going broke as it heads into the last six weeks before the Aug. 24 Republican primary, according to an affidavit filed Monday by McCollum's campaign manager. After raising $4.7 million and fending off an avalanche of advertising from rival candidate Rick Scott, McCollum's campaign to move from the state Attorney General's Office to the Governor's Mansion has just $800,000 in the bank. That's about the cost of a week's worth of television in Florida's 10 media markets.
CNN: Jindal helped Haley in final stretch
South Carolina gubernatorial candidate Nikki Haley got two crucial endorsements in the final weeks of her Republican primary campaign from Mitt Romney and Sarah Palin – two potential presidential candidates with an interest in building support in the early primary state. But according to new filings with the state ethics commission, another Republican heavyweight also swooped in at the last minute – apparently under the radar – to help Haley capture the GOP nomination: Louisiana Gov. Bobby Jindal. Jindal's campaign committee directed $3,500 to Haley, a fellow Indian-American, on June 16 – one week before Haley dispatched Rep. Gresham Barrett in the Republican runoff election.
Politico: Bachmann sees a 'nation of slaves'
Rep. Michele Bachmann (R-Minn.) believes that President Barack Obama is turning the United States into a "nation of slaves." Bachmann made the comments over the weekend while appearing at the Western Conservative Summit in Denver. According to the Colorado Independent, Bachmann first read a letter from John Jay that he wrote during the Revolutionary War.
CNN: Republicans slam Reid for Canada fundraising trip
Senate Majority Leader Harry Reid is coming under attack from Republicans for a fundraising stop Sunday night in Canada. Reid, who faces a tough re-election fight this year as he bids for a fifth term in the Senate, attended a fundraiser hosted by the "Committee for a Better Future," a trial lawyers association based in Washington, D.C. that's raising money on behalf of Democrats in this year's Senate battles. The campaign of Reid's Republican challenger, Sharron Angle, followed with their own statement a few hours later.
Washington Post: Confidence in Obama reaches new low, Washington Post-ABC News poll finds
Public confidence in President Obama has hit a new low, according to the latest Washington Post-ABC News poll. Four months before midterm elections that will define the second half of his term, nearly six in 10 voters say they lack faith in the president to make the right decisions for the country, and a clear majority once again disapproves of how he is dealing with the economy. Regard for Obama is still higher than it is for members of Congress, but the gap has narrowed. About seven in 10 registered voters say they lack confidence in Democratic lawmakers and a similar proportion say so of Republican lawmakers.
New York Times: Beyond Guns: N.R.A. Expands Agenda
Fresh off a string of victories in the courts and Congress, the National Rifle Association is flexing political muscle outside its normal domain, with both Democrats and Republicans courting its favor and avoiding its wrath on issues that sometimes seem to have little to do with guns. The N.R.A., long a powerful lobby on gun rights issues, has in recent months also weighed in on such varied issues as health care, campaign finance, credit card regulations and Supreme Court nominees. In the health care debate this year, for instance, the N.R.A.'s lobbyists worked with the Senate majority leader, Harry Reid, to include a little-noticed provision banning insurance companies from charging higher premiums for people with guns in their homes.
NATIONAL
For the latest national news: www.CNN.com
Wall Street Journal: U.S. Detains 12th Person in Russian Spy Probe
Authorities are detaining a 12th, previously undisclosed person implicated in the federal probe that busted a Cold War-style Russian spy ring, according to a U.S. official familiar with the matter. Federal Bureau of Investigation counterintelligence investigators have been investigating the 23-year-old Russian man since last fall when his name surfaced in a decade-long espionage investigation, the official said.
CNN: New containment cap lowered over crippled Gulf oil well
BP says it has placed a new containment cap on its crippled well in the Gulf of Mexico that's been gushing oil since an explosion and fire April 20. The company hopes the new cap will be able to completely contain the leaking oil, but tests are still needed to determine its effectiveness. Video supplied by BP showed robotic arms gingerly lowering the new 18-foot, 150,000-pound cap over the well. For now, some oil continues to gush from the upper section of the new cap. That was expected and will continue until BP begins "well integrity tests" Tuesday, BP said. The process could take anywhere from six hours to two days. If the new cap does not completely contain oil from the crippled well, some may have to be brought to the surface to waiting containment ships.
CNN: Government issuing new order suspending deepwater drilling
The federal government announced Monday it is issuing a new order to suspend deepwater drilling in the Gulf of Mexico and off the coast of California until as late as November 30. While describing the new step as a suspension, rather than a moratorium like the original ban issued in May in the wake of the Gulf oil disaster, the new order expands the drilling operations covered to include those off California in what is called the Pacific region. The original moratorium was limited to deepwater drilling in the Gulf of Mexico.
INTERNATIONAL
For the latest international news: http://edition.cnn.com
CNN: Castro blames U.S. for stoking nuclear tensions
The United States is pushing for what would become nuclear wars against Iran and North Korea, former Cuban leader Fidel Castro said in a rare televised interview Monday. Castro blamed the United States, not North Korea, for the sinking of a South Korean ship that killed 46 sailors. The incident was orchestrated to stir conflict in the region, Castro said. The former Cuban leader, who is 83, said he was disappointed that China and Russia didn't veto a U.N. Security Council resolution for additional sanctions against Iran for its alleged illegal nuclear program.
CNN: U.N., N. Korean meeting in DMZ postponed
A much-anticipated meeting Tuesday between military officers of the U.S.-led U.N. Command and North Korea in the demilitarized zone between North and South Korea has been postponed, the command said. A new meeting time was not immediately proposed, the command said. They planned to discuss the March 26 sinking of a South Korean warship, the Cheonan.
CNN: Somali militants claim responsibility for Uganda bombings
A Somali Islamist militant movement on Monday claimed responsibility for a trio of bombings that killed at least 74 people Sunday at two venues in the Ugandan capital, Kampala, where crowds had gathered to watch the World Cup final. "And the best of men have promised and they have delivered," said an Arabic statement issued by Al-Shabaab's press office and obtained by CNN. "Blessed and exalted among men - (taking) full responsibility. ...We wage war against the 6,000 collaborators; they have received their response." The 6,000 is an apparent reference to African Union peacekeepers in Somalia. Uganda contributes troops to the peacekeeping effort.
Wall Street Journal: Beijing Fortifies Rules On Wealth Disclosure
China's government expanded the requirements on officials and their families to report personal wealth to the state, a move by the ruling Communist Party to combat corruption but one that stopped short of popular calls to make such disclosures public. The new rules, reported in state media Monday, require officials at or above the county level in China to report any personal income, housing or investments held through their spouses and children, as well as what they own directly. Corrupt officials often hide ill-gotten wealth by putting it in the names of family members. The rules, issued jointly by the State Council, China's cabinet, and by the party's Central Committee, also require officials to report changes in their marital status, and whether spouses or children have moved abroad or work for foreign companies, the state-run Xinhua news agency said.
Der Spiegel: Merkel's Rules for Bankruptcy
Fearing a lasting burden on taxpayers, the German government is preparing a set of insolvency rules for countries in the euro zone. It would require private investors to bear some of the financial burden and force the affected countries to give up some sovereignty. The plan is guaranteed to meet with resistance. As a physicist and an avowed admirer of the Swabian housewife, German Chancellor Angela Merkel, leader of the center-right Christian Democrats (CDU), is seeking to establish binding rules in the midst of the chaos of financial and monetary crises. Her desire for order was reinforced recently when the prospect of Greece collapsing under a mountain of debt triggered turmoil in the European Monetary Union. The first national bankruptcy on European soil in decades was only prevented because the remaining countries in the euro zone came to the aid of their faltering fellow member with billions in loans and loan guarantees.
CNN: Israeli army review: Force against flotilla activists justified
Israeli navy commando soldiers who boarded a Gaza-bound aid flotilla on May 31, resulting in violence between troops and activists that left nine Turks dead, "operated properly, with professionalism, bravery and resourcefulness" and "exhibited correct decision making," according to an Israeli army review of the incident released Monday. "The use of live fire was justified and the entire operation is estimable," the statement said. The review was conducted by a team of experts, and their conclusions were presented Monday, the Israel Defense Forces said in a statement.
Washington Post: International Criminal Court charges Sudan's Omar Hassan al-Bashir with genocide
The International Criminal Court's judges on Monday charged Sudanese President Omar Hassan al-Bashir with orchestrating a bloody campaign of genocide against Darfur's three main ethnic groups, the first time the Hague-based court has accused a sitting head of state of committing the most egregious international crime. The three-judge pretrial chamber issued a formal arrest warrant for Bashir - the second time it has done so - on three counts of genocide. They include the crime of targeted mass killing, the causing of serious bodily or mental harm to members of a target group, and deliberately inflicting conditions of life calculated to bring about the group's physical destruction. "There are reasonable grounds to believe that Mr. al-Bashir acted with specific intent to destroy in part the Fur, Masalit and Zaghawa ethnic groups," the judges concluded.
CNN: Clashes, widespread damage mark annual march in N. Ireland
Daylong clashes between police and rioters marked a controversial holiday march in Northern Ireland, leaving dozens of officers injured and widespread damage in Belfast. The violence began overnight, on the eve of July 12, known as "The Twelfth" by Protestants who march to celebrate the victory of English king William III over his ousted Catholic predecessor James II in 1689.
Wall Street Journal: Pakistan Cracks Down on al Qaeda-Linked Groups
Pakistan's most populous province began a crackdown Monday on banned Islamist groups linked to al Qaeda, little more than a week after a suicide bomb attack targeting moderate Muslims here killed more than 40 people. The July 1 attack in Lahore caused widespread outrage; moderate Muslim organizations threatened to arm themselves and fight extremist groups unless the government of Punjab province, in eastern Pakistan on the border with India, took action. Police across Punjab detained 178 people in a continuing operation on Monday, largely members of the banned al Qaeda-linked terrorist organization Sipah-e-Sahaba and an associated group, Lashkar-e-Jhangvi, senior provincial police officers said.
BUSINESS
For the latest business news: www.CNNMoney.com
CNNMoney: Stocks seesaw ahead of corporate results
The Dow ended higher and the broader market meandered Monday, as investors geared up for the start of the quarterly reporting period, following the biggest week of stock gains in a year. The Dow Jones industrial average (INDU) added 18 points or 0.2%, while the S&P 500 (SPX) index and Nasdaq (COMP) each gained around 0.1% Stocks slumped in the morning, turned mixed in the afternoon, before ending little changed, with just the blue chips in the plus column. Microsoft, Intel and select tech shares managed gains, but the stronger dollar dragged on commodity prices and the underlying shares.
CNNMoney: Star fund manager ups stake in AIG
So-called "fund manager of the decade" Bruce Berkowitz has upped his stake in AIG, to the point that his $14 billion stock fund owns nearly a quarter of the troubled insurance company. The Fairholme Fund, which Berkowitz manages, announced in a filing with the Securities and Exchange Commission late Monday that the fund held 32.8 million shares, or 24.3% of AIG (AIG, Fortune 500) as of June 30 - an increase of 7.3 million shares since April 30.
CNNMoney: Hefner and Penthouse in Playboy bidding war
Shares of Playboy surged 41% Monday as a bidding war emerged for the iconic adult entertainment company. Founder Hugh Hefner proposed to take the company private Monday morning. Later in the day, the owner of Penthouse magazine said it will put up a bid for its longtime competitor. Playboy Enterprises (PLA) said Hefner offered to buy the remaining shares of the company that he didn't already own at $5.50 each, a 40% premium from the stock's $3.94 closing price on Friday. The offer values the company at about $185 million.
CNNMoney: Consumer Reports won't recommend iPhone 4
Influential product review magazine Consumer Reports said Monday it will not recommend Apple's new iPhone 4 to consumers because of reception problems. "Consumer Reports' engineers have just completed testing the iPhone 4, and have confirmed that there there is a problem with its reception," the magazine said in a blog post on its website. "When your finger or hand touches a spot on the phone's lower left side - an easy thing, especially for lefties - the signal can significantly degrade enough to cause you to lose your connection altogether if you're in an area with a weak signal."
Washington Post: Ballmer says Microsoft intends to become industry leader in cloud computing
Microsoft got nothing but grief when it killed its Kin smartphone this month, a decision that looked like a misstep for the software giant as it struggles to stay on the cutting edge. The move could not have come at a more delicate time, with Microsoft's longtime business of selling software in a box rapidly being replaced by the sale of applications over the Web. The company is facing competition from rivals, such as Google, offering word processing and spreadsheets online free of charge, and it recently lost its place as the most valuable tech stock to Apple. Microsoft is now working to transform itself into a one-stop shop for Web-based software and, as part of that strategy, is betting big on the growing popularity of cloud computing, which takes software off the desktop PC and moves it to networks of data centers accessed via the Web.
Wall Street Journal: For Small Business, Slow Gains In Credit
The worst may be over for small businesses struggling to obtain credit, but this important corner of the financial system doesn't show signs of recovering very quickly, according to officials and business leaders who gathered at the Federal Reserve for a one-day conference. "Overall, the survey data seem to suggest that current economic conditions for small businesses, though still quite challenging, are less dire than they were in 2009," said Robin Prager, an assistant research director at the Fed, at the forum on small-business lending. Ms. Prager, citing the Fed's Senior Loan Officer Opinion Survey, said weak demand from businesses and banks' still-stingy credit rules made lending tight. But the most recent April survey showed that bank lending standards for small businesses stopped tightening in the first quarter, after tightening sharply throughout 2008 and 2009.
CNNMoney: Businesses score tax credits for hiring 4.5 million
Businesses have hired an estimated 4.5 million Americans who have been jobless for at least eight weeks, making these firms eligible for approximately $8.5 billion in tax credits, according to a Treasury report released Monday. The tax credits are part of the $13 billion Hiring Incentives to Restore Employment (HIRE) Act, which Congress passed in March. Under the act, employers who hire workers who have been jobless for at least 60 days are exempt from the 6.2% payroll tax charged per worker - for the rest year. In addition, companies can claim a tax credit of up to $1,000 for each employee who stays at least a year.
CNNMoney: Alcoa swings to a profit, raises demand outlook
Alcoa said Monday it swung to a profit in the latest quarter and raised its forecast for aluminum demand for the rest of the year. The Pittsburgh-based company beat analyst expectations, posting income from continuing operations of $137 million, or 13 cents per share, in the three months ended June 30. That compares with a loss of $312 million, or 32 cents per share, in the same period a year ago. Analysts polled by Thomson Financial were looking for earnings of 12 cents per share.
In Case You Missed It
Democratic candidate Jerry Brown talks about his race for California governor with CNN's John King.
The former President talks specifics on Haiti reconstruction, including aid, economics, and rubble removal.
Subscribe to the CNN=Politics DAILY podcast at http://www.cnn.com/politicalpodcast
And now stay posted on the latest from the campaign trail by downloading the CNN=Politics SCREENSAVER at http://www.CNN.com/situationroom