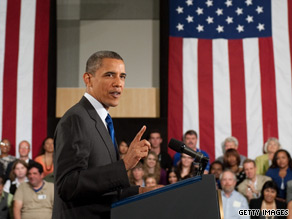 Two new polls indicate President Obama's approval rating on how he's handling the economy are at an all time low.
Washington (CNN) - President Barack Obama's approval rating on how he is handling the economy is at an all time low, according to two new polls.
Four in ten Americans questioned in a CBS News survey, released Tuesday morning, approve of the job the president's doing on the economy, down five points from last month, and the lowest number since Obama took over in the White House. Fifty-four percent say they disapprove how Obama's dealing with the economy. Only 35 percent of independent voters give the president a thumbs up on the economy. According to the survey, three in four think the effects of the recession will last for another two years, or more.
According to the other new poll, an ABC News/Washington Post survey, 43 percent of the public say they approve of how Obama is handling the economy, down seven points from June, with 54 percent saying they disapprove. The 43 percent figure is a new low in ABC News/Washington Post polling.
"Obama's track record on the economy has been an Achilles heel for him almost since Day One," says CNN Polling Director Keating Holland. "Even during the honeymoon period, when he got good grades on virtually every issue, his approval rating on the economy lagged behind his rating on many other issues."
Nearly six in ten questioned in the ABC News/Washington Post poll say they have little or no faith that the president will make the right decisions for the country. But that number rises to 68 percent for those lacking faith in the Democrats in Congress and 72 percent say they have little or no faith in Congressional Republicans to make the right decisions.
The release of the two polls comes less than four months from the November midterm elections, when the Democrats will be defending their large majorities in the House and Senate. They will also seek to keep control of a majority of the governorships.
Just 26 percent of registered voters say they will most likely support their current lawmaker in the House, with more than six in ten saying they may look for someone new to represent them in Congress. A slim majority questioned in the poll say they would prefer GOP control of Congress so that the legislative branch would be able to keep in check the Democratic president. Among those likely to vote in the midterm elections, the margin of those preferring a Republican controlled Congress jumps to 15 points.
The ABC News/Washington Post poll was conducted July 7-11, with 1,288 adults questioned by telephone. The survey's overall sampling error is plus or minus 3.5 percentage points. The CBS News Poll was conducted July 9-12, with 966 adults questioned by telephone. The survey's overall sampling error is plus or minus three percentage points.