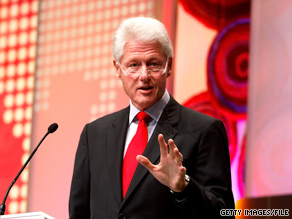 Bill Clinton will head to Florida next month to campaign for Rep. Kendrick Meek's bid for the state's Democratic Senate nomination.
(CNN) - Former President Bill Clinton is headed to Florida next month, to campaign for Rep. Kendrick Meek's bid for the state's Democratic Senate nomination.
A Democratic source confirms to CNN a report that first appeared early Wednesday in the St. Petersburg Times.
Meek, a four-term lawmaker who represents Florida's 17th congressional district in the southeast part of the state, faces off August 24 against billionaire real estate investor Jeff Greene in the Democratic primary.
The winner will battle former Florida House speaker Marco Rubio, the likely Republican nominee, and Republican Florida Gov. Charlie Crist, who is now running for the Senate as an independent candidate, after dropping out of a battle with Rubio for the GOP nomination. Most recent polls indicate that Crist has a narrow lead over Rubio, with either Meek or Green a distant third.
Clinton's move should not be seen as a surprise. The former president has already headlined five fundraising events and has penned two fundraising emails for Meek. Their relationship stretches back nearly two decades, when Clinton was Arkansas governor and Meek a state trooper in the Florida HIghway Patrol who was assigned to Buddy MacKay, Florida's lieutenant governor at the time.
Meek also backed then Sen. Hillary Clinton's bid for the 2008 Democratic presidential nomination.
Word of Clinton's trip to Florida comes a day after CNN learned that President Obama's aides are putting together an aggressive schedule to deploy Clinton at campaign and fundraising events in key states around the country in the weeks ahead. According to Democratic officials familiar with the plans, the White House specifically wants to use Clinton in key swing states where Obama is not particularly popular, such as Arkansas and Kentucky.
Earlier this year, Clinton went back to his home state of Arkansas to help Sen. Blanche Lincoln win a bruising primary runoff election against the state's lieutenant governor. Lincoln now faces a very tough re-election battle in November against Republican Rep. John Boozman.
Clinton will also be used in Kentucky, where Democrats would love to pick up an open seat now held by the retiring Republican Sen. Jim Bunning. Kentucky Attorney General Jack Conway, the Democratic nominee, faces off in the general election against Republican nominee Rand Paul, a favorite of many in the Tea Party movement.
Clinton also hit the campaign trail in June, when he teamed up with Mark Critz, the Democratic candidate in the special election to fill the late Democratic Rep. John Murtha's Pennsylvania seat. Critz ended up defeating Republican candidate Tim Burns.
–CNN Senior White House Correspondent Ed Henry contributed to this report
–Follow Paul Steinhauser on Twitter: @psteinhausercnn