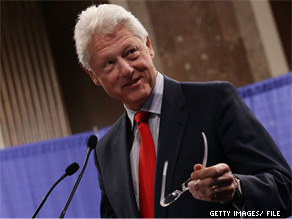 How much can Bill Clinton help Democrats?
Washington (CNN) - Former President Bill Clinton, the man once described as the "comeback kid" during his 1992 presidential bid, has now become something of a go-to guy for Democratic candidates facing a tough election battle.
Economic woes and fears over the rising national debt have weighed heavily on voters - especially independents, who are leaning more toward Republicans than Democrats, according to recent polls.
The Obama administration is now putting together an aggressive schedule to deploy Clinton to campaign appearances and fundraising events in key states around the country, Democratic officials familiar with the plans told CNN.
Analysts told CNN that while Clinton's appearances will be helpful, there are some downsides.