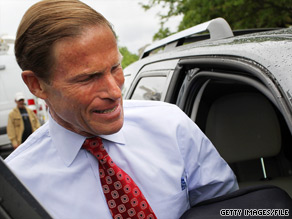 Connecticut Senate candidate Richard Blumenthal has a 17 point lead over Linda McMahon, according to a new poll.
(CNN) - Nearly two months after the revelation that he inflated his military record as a Vietnam War veteran, Connecticut Senate candidate Richard Blumenthal still holds a large lead over his presumed Republican opponent.
According to a Quinnipiac University poll released Friday, Blumenthal, Connecticut's attorney general, leads former World Wrestling Entertainment executive Linda McMahon by 17 points.
The gap represents the smallest lead Blumenthal has held over McMahon since Quinnipiac's polling began. He held a 41-point lead in January and a 20-point lead in June.
"Ms. McMahon [...] has the momentum, even if the latest movement is only a small three-point change," said Quinnipiac University Poll Director Douglas Schwartz. "She is inching up on Blumenthal.
"She still has a long way to go, but she has a lot of time and a lot of money," Schwartz said.
Blumenthal made a public apology in May for making several references to serving time in Vietnam. A New York Times investigation revealed Blumenthal served in the Marine Corps Reserves during the war and was stationed stateside.
Despite the revelation, 60 percent of voters still say Blumenthal is honest and trustworthy.
The poll was conducted from July 7-13, interviewed 1,367 registered voters in Connecticut and carries a sampling error of plus or minus 2.7 percentage points.