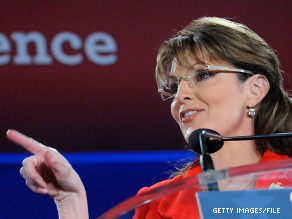 After using an unrecognized English word in a tweet, Sarah Palin is borrowing a page from Shakespeare's book.
(CNN) - Former Republican vice presidential nominee Sarah Palin has joined the pantheon of politicians who've made their own additions to the English language.
The former Alaska governor has added to our vocabulary with "refudiates" - assumedly an amalgamation of "refute" and "repudiates." Palin used the new word in a Sunday posting on Twitter that called on Muslims to denounce plans to build a mosque and community center near Ground Zero in New York City.
"Ground Zero Mosque supporters: doesn't it stab you in the heart, as it does ours throughout the heartland? Peaceful Muslims, pls refudiate," Palin tweeted, according to reports.

The original tweet was deleted and replaced with another that lacked "refudiate": "Peaceful New Yorkers, pls refute the Ground Zero mosque plan if you believe catastrophic pain caused @ Twin Towers site is too raw, too real."
Although she deleted her original tweet, Palin is not distancing herself from her new word. Instead, Palin is embracing it and turning to none other than Shakespeare to justify her linguistic invention.
"'Refudiate,' 'misunderstimate,' 'wee-wee'd up.' English is a living language. Shakespeare liked to coin new words too. Got to celebrate it!" Palin tweeted Sunday as the blogosphere started to criticize her for a gaffe.
She alludes to former President George W. Bush's famous utterances of "misunderstimate" during the 2000 campaign and President Barack Obama's use of "wee-wee'd up" to describe Washington's penchant for getting worked up over controversy.
Palin's original tweet remains missing from her Twitter page. Some of Shakespeare's works are lost too.