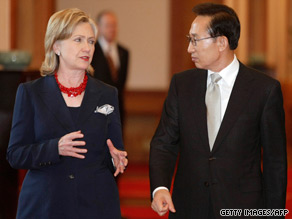 Secretary of State Hillary Clinton—in South Korea Wednesday—announced new sanctions against North Korea.
Seoul, South Korea (CNN) - Secretary of State Hillary Clinton announced tougher sanctions Wednesday against North Korea, including freezing some assets in an attempt to keep the Communist dictatorship from buying and selling arms.
The announcement came as Clinton and Secretary of Defense Robert Gates visited South Korea, part of a rare high-level meeting with members of the government of the key Asian ally.
The U.S. delegation arrived in Seoul this week to show support for South Korea over the sinking in March of the warship Chenonan.
A multinational investigation found North Korea responsible for the torpedo attack that killed 46 South Korean sailors.