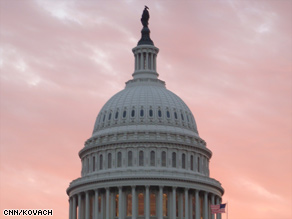 The CNN Washington Bureau's morning speed read of the top stories making news from around the country and the world.
WASHINGTON/POLITICAL
For the latest political news: www.CNNPolitics.com
CNN: Sherrod offered new job, but says she'll have to 'think about it'
Shirley Sherrod, who was forced to resign from her government job in Georgia based on incomplete and misleading reports of a speech she gave, has been offered a new job by Agriculture Secretary Tom Vilsack. But, she said Wednesday night, she will have to "think about it.".
CNNMoney: Senate votes to extend jobless lifeline
The Senate on Wednesday voted 59 to 39 to restore unemployment benefits to 2.5 million jobless Americans, ending a seven-week stalemate. The bill, which would push back the deadline to file for extended unemployment benefits until the end of November, now goes to the House, where it is expected to pass on Thursday. After the Senate vote, President Obama urged the House to act swiftly and pledged to sign the bill soon afterward.
CNN: Obama to sign bill targeting government waste
President Barack Obama will sign into law Thursday the Improper Payment Elimination Act - an effort designed to slim down wasteful government programs and curb fraud in federal spending.
CNN: Letter: No charges in firing of 9 U.S. attorneys during Bush years
The Justice Department says it has decided not to charge former U.S. Attorney General Alberto Gonzales or other Bush administration officials in the controversial firings of nine U. S. attorneys, according to a letter sent to the chairman of the House Judiciary Committee. Special counsel Nora Dannehy investigated the firings and Attorney General Eric Holder "has accepted her recommendation that criminal prosecution is not warranted," the letter said.
Bloomberg: Pelosi Thinks Lioness as Speaker Does What Rayburn Never Did With Congress
Nancy Pelosi keeps a watchful eye on her cubs. She marks milestones in their personal lives and pays close attention to the politics back home. She can be fiercely protective and stern in her demands. "Think lioness," she said. That combination of personal touch and hands-on management has made Pelosi, a California Democrat and the first female speaker of the U.S. House of Representatives, the chamber's most powerful leader since Sam Rayburn died in 1961. ...That success hasn't helped her party's popularity with voters, and Pelosi, 70, faces the prospect of ceding her speakership if Republicans gain a net 40 seats in the November elections.
New York Times: Power of the Purse Comes With a Pinch
They do not expect any sympathy. They are, after all, Albany legislators. But their latest and perhaps most notable failure — they are almost four months late in delivering a state budget during a fiscal crisis — has not come without a personal price. All 212 senators and Assembly members have gone without a paycheck since the beginning of April. That is the penalty New York law imposes for missing the April 1 deadline for a new budget.
Indianapolis Star: BP's PAC sent its June checks to state
When petroleum giant BP's employee political action committee decided to hand out $23,700 in campaign contributions in June, the checks all had one destination: Indiana. Seventy-nine state legislators and one state Senate candidate - 43 Democrats and 37 Republicans - have either received the money from the BP Corporation North American Political Action Committee or their check is in the mail. BP's business focus in this state is on Northern Indiana, including Whiting, where it is working on a $3.8 billion expansion of its refinery, and Fowler, where BP operates the largest wind farm east of the Mississippi.
CNN: Intrigue in Connecticut Senate battle
Is Rob Simmons jumping back into the GOP Senate nomination battle in Connecticut? It sure looks like it. The former three-term Republican congressman announced Wednesday he'll run a television commercial asking Connecticut voters to look at the issues when making their decision in the state's August 10 primary. Former professional wrestling executive Linda McMahon captured the Senate nomination endorsement of Connecticut Republican delegates at the state's GOP convention in May, with Simmons finishing second in the voting and businessman Peter Schiff in third. Soon after the vote, Simmons suspended his campaign and released most of his staff, but he did remain on the primary ballot, which he reminds voters of in his new ad.
Washington Post: GOP strategists concerned about Colorado governor's race
When the 2010 election cycle began last year, national Republicans viewed Colorado as one of their best opportunities to take a governor's office from the Democrats. Today they wonder whether they'll even have a viable candidate for November.
CQ Politics: Schumer Hoards Cash, Tops DSCC in Funds
Sen. Charles Schumer is stockpiling money for a re-election race that hardly exists, and the New York Democrat ended June with more cash on hand than the Democratic Senatorial Campaign Committee….The cash figures are notable considering Senate Majority Leader Harry Reid (D-Nev.) is in jeopardy of losing re-election this year and Schumer is jockeying with Sen. Dick Durbin (D-Ill.) to become his replacement.
CNN: At 'press conference,' Angle answers no questions
Press-shy Nevada Republican Senate hopeful Sharron Angle walked out of a campaign stop Wednesday without answering questions from reporters, even after the event was billed by her campaign as a news conference.
CNN: Manchin draws veteran primary challenger
When Robert Byrd passed away last month at the age of 92, he was the oldest member of the Senate, but now, a 95 year-old veteran of West Virginia politics has filed papers to run for the seat. Former U.S. Congressman Ken Hechler, a Democrat and former West Virginia secretary of state, submitted paperwork Wednesday to enter the special election Senate primary, the Secretary of State's office confirmed to CNN. He'll be challenging the state's governor, Joe Manchin, also a Democrat, who announced Tuesday that he's running for Byrd's seat. If elected, Hechler will be 96 years old when he assumes the Senate seat in 2011.
CNN: Huckabee launches political operation in California
He has a cozy and lucrative gig as a talk show host and author, but former Arkansas Gov. Mike Huckabee continues to send signals that he's not ready to abandon his political career. The latest example: Huckabee has instructed his political action committee, Huck PAC, to open a California branch to support candidates for statewide office.
Dallas Morning News: White tries to distance himself from Obama
Bill White put distance between himself and Barack Obama on Wednesday, saying he and the president don't come from the same place or share some of the same views. "I was in the oil and gas business when he was a community organizer," White said, bringing his bid for governor to East Texas.
Denver Post: Tancredo considering third-party or unaffiliated governor's run
Former Congressman — and perhaps former Republican — Tom Tancredo is considering running for Colorado governor as an unaffiliated or a third-party candidate. …Republicans have been weighing their options for November's gubernatorial race in the wake of plagiarism and ethics allegations that have enveloped Scott McInnis and Dan Maes, respectively. They are competing in the Aug. 10 primary.
Minneapolis-St.Paul Star Tribune: Bachmann is life of the (Tea) Party caucus
Rep. Michele Bachmann holds no leadership position in the House Republican hierarchy, but on Wednesday she debuted in her new role as founder of the 35-member Tea Party Caucus, which has put some of her GOP colleagues on the spot…. While the Tea Party Caucus remains largely symbolic for now, it could position Bachmann for a more prominent national role if the Republicans take back control of the House after midterm elections this fall.
The Arizona Republic: Hayworth asks McCain to dump Pinal County Sheriff ads
J.D. Hayworth has called for his GOP primary rival to pull campaign ads featuring Pinal County Sheriff Paul Babeu in the wake of the lawman's recent appearance on a "pro-White" radio show. Babeu, a vocal proponent of Arizona's new immigration law, has appeared in two of Sen. John McCain's television ads, the most recent taking airwaves last week. In a statement released Wednesday, Hayworth said McCain needs to distance himself from the sheriff for his affiliation with "The Political Cesspool Radio Show," a Tennessee-based talk show that has been named a "hate group" by the Southern Poverty Law Center and portrayed as a "White nationalist" program.
Salt Lake Tribune: Mr. Granato goes to Washington — for the first time
Sam Granato wants to represent Utah in the halls of Congress, yet he never has walked them. The Democratic Senate candidate never has seen the Senate chamber, never stood outside the White House gates, never checked out a Smithsonian exhibit, never visited the Lincoln Memorial. At least not until this week. …Stephen Fincher, a Republican from Tennessee, is the only other major party candidate who publicly has touted that he had not visited Washington before he decided to run for a U.S. House seat. He came to the capital in January. Like Fincher, the closest Granato ever had been to Congress was watching a debate on C-SPAN, and that may be an advantage in a political climate overflowing with anti-Washington voter frustration.
NATIONAL
For the latest national news: www.CNN.com
CNN: Virginia man accused of trying to go to Somalia to join terror group
A 20-year-old U.S. citizen was arrested Wednesday, accused of attempting to travel to Somalia to join the designated terrorist group Al-Shabaab. According to a court documents, Zachary Adam Chesser also had exchanged e-mails with Yemeni-American cleric Anwar al-Awlaki, whose name has been linked to an attack and an attempted attack in the United States.
New York Times: Workers on Doomed Rig Voiced Concern About Safety
A confidential survey of workers on the Deepwater Horizon in the weeks before the oil rig exploded showed that many of them were concerned about safety practices and feared reprisals if they reported mistakes or other problems.
CNN: Arizona immigration law faces federal challenge Thursday
The Obama administration's challenge to the controversial Arizona immigration law goes before a federal judge Thursday. The Justice Department's lawsuit, seeking to stop the law from going into effect, is one of two challenges scheduled for a hearing Thursday. The first challenge by a group of more than 100 individuals and civil rights groups will be heard Thursday morning. In the afternoon, the Justice Department's lawsuit will have a hearing in a Phoenix federal courtroom.
Washington Times: Nebraska town hit with 2 lawsuits
Two liberal groups each filed lawsuits Wednesday against the town of Fremont, Neb., in order to put a stop to its new ordinance banning people from hiring illegal immigrants or renting homes to them. Mirroring arguments made against Arizona's immigration crackdown, the Mexican American Legal Defense & Educational Fund (MALDEF) and the American Civil Liberties Union claim the ordinance encourages racial profiling against Hispanics or other U.S. citizens who may appear to be foreign-born, and also intrudes on federal prerogatives.
INTERNATIONAL
For the latest international news: http://edition.cnn.com
Wall Street Journal: Petraeus Sharpens Afghan Strategy
Gen. David Petraeus plans to ramp up the U.S. military's troop-intensive strategy in Afghanistan, according to some senior military officials, who have concluded that setbacks in the war effort this year weren't the result of the strategy, but of flaws in how it has been implemented.
CNN: Odierno: Plan to thin out troops in Iraq on schedule
The top U.S. commander in Iraq said Wednesday that the United States is still on track to draw down its troops to 50,000 by September 1, when the U.S. will cease combat operations and change its mission to mainly training Iraqi forces.Gen. Raymond Odierno said the reduction of forces by 75,000 since January 2009 is going on without trouble and that some 20,000 U.S. military vehicles have been moved to the Afghan theater of battle where they are needed.
CNN: Iran says nuclear scientist learned valuable info about CIA
The Iranian nuclear scientist who returned home last week from the United States has provided valuable information about the CIA, Iran's semiofficial Fars news agency said Wednesday. Fars cited an anonymous source who said Shahram Amiri's stay in the United States was a plan by Iranian intelligence that worked to perfection.
BBC News: Alex Salmond writes to US over Lockerbie bomber Megrahi
Scotland's First Minister Alex Salmond has written to US senators who are calling for an inquiry into the release of the Lockerbie bomber. Abdelbaset Ali al-Megrahi, the man convicted over the 1988 atrocity in which 270 people died, was released by the Scottish government in August 2009. Mr Salmond said the Scottish government made the decision on "compassionate grounds" as Megrahi is terminally ill. He said there were no representations from oil giant BP on the matter.
CNN: IMF forgives Haiti's $268 million debt to the fund
The executive board of the International Monetary Fund approved Wednesday the cancellation of Haiti's $268 million debt to the fund. The board also approved a three-year request by authorities to support Haiti's reconstruction and growth program.
BBC News: North Korea criticises new US sanctions
New US sanctions against North Korea will violate a UN statement issued after the sinking of a South Korean warship, Pyongyang has said. It added that the US and South Korea's plans to hold joint military exercises posed a major danger to the region. The new sanctions were announced by Secretary of State Hillary Clinton during a visit to South Korea.
CNN: Rights report blasts China for conduct in Tibet
Chinese forces broke international law during clashes with protesters across the Tibetan plateau in March 2008, a report issued Wednesday by Human Rights Watch concluded. The human rights organization said its 85-page report is based on 203 interviews conducted outside China with Tibetan refugees and temporary visitors between March 2008 and April 2010.
CNN: Flooding fears intensify as tropical storm churns toward China coast
Tropical storm Chanthu has slowed, but it's edging ominously closer to an area of southern China already deluged with rain and deadly floods. Xinhua, quoting newly released government figures, said torrential rains and floods this year already have been the worst in a decade, claiming the lives of 701 people and leaving 347 missing,
BUSINESS
For the latest business news: www.CNNMoney.com
CNNMoney: Stocks slump on Bernanke comments
Stocks tumbled Wednesday after Federal Reserve Chairman Ben Bernanke told Congress that the outlook for the economy is "unusually uncertain," adding to worries about the pace of the recovery.
Houston Chronicle: Oil companies pledge $1 billion to spill response system
Four of the nation's largest oil companies said Wednesday they immediately will commit $1 billion to set up a rapid oil spill response system to deal with deep-water blowouts in the Gulf of Mexico.
Bloomberg: EU Banks May Disclose Sovereign-Debt Holdings With Stress Tests
Europe's largest banks may give breakdowns of their sovereign-debt holdings when they release stress-test results, according to a document from the Committee of European Banking Supervisors. European regulators asked the region's biggest banks to publish a list of each lender's gross and net exposure to central and local governments in 30 countries in the region, including Greece, Spain, Ireland, Italy and Portugal, according to a confidential draft template obtained by Bloomberg News.
New York Times: Many in Japan Are Outsourcing Themselves
Under fierce pressure to cut costs, large Japanese companies are increasingly outsourcing and sending white-collar operations to China and Southeast Asia, where doing business costs less than in Japan. But while many American companies have been content to transfer work to, say, an Indian outsourcing company staffed with English-speaking Indians, Japanese companies are taking a different tack. Japanese outsourcers are hiring Japanese workers to do the jobs overseas — and paying them considerably less than if they were working in Japan.
New York Times: G.M., Eclipsed at Home, Soars to Top in China
In the first half of this year, G.M.'s China sales rose 48.5 percent over the same period last year, and for the first time ever, the automaker sold more vehicles in China than in the United States. Just 13 years after entering China, G.M. now says the country accounts for a quarter of its global sales — blistering growth that even G.M. did not expect this soon.
Washington Post: Foreign companies in China sound off on business policies
The heads of some leading U.S. and European multinationals have publicly questioned recently whether new Chinese policies and regulations are making China a more difficult place for foreign firms to do business. Over the weekend, the leaders of two large German companies with major investments in China - the Siemens conglomerate and the chemical firm BASF - challenged Premier Wen Jiabao about the country's deteriorating business climate during a meeting in Beijing attended by German Chancellor Angela Merkel.
In Case You Missed It
CNN's Joe Johns reports on fallout over the handling of a voter intimidation suit against the New Black Panthers.
http://www.cnn.com/video/#/video/us/2010/07/22/johns.black.panther.cnn
Joseph McQuaid of the Union Leader Corp. tells CNN's John King, he "ain't scared of anybody, even mama grizzlies."
http://www.cnn.com/video/#/video/politics/2010/07/21/jk.mcquaid.palin.cnn
Subscribe to the CNN=Politics DAILY podcast at http://www.cnn.com/politicalpodcast
And now stay posted on the latest from the campaign trail by downloading the CNN=Politics SCREENSAVER at http://www.CNN.com/situationroom