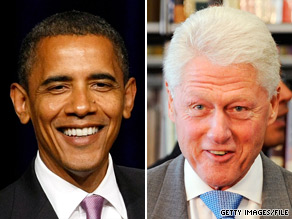 A new poll suggests former President Bill Clinton is more popular among Americans than President Obama.
Washington (CNN) - A new poll suggests that former President Bill Clinton is more popular with Americans than the man who currently holds the job, President Barack Obama.
Sixty-one percent of people questioned in a Gallup survey say they have a favorable opinion of Clinton. That's nine points higher than the 52 percent who say they see Obama in a favorable light. The poll indicates that 45 percent say they have a favorable opinion of former President George W. Bush.
Gallup says this is the first time in their polling that Clinton's favorable rating has eclipsed that of Obama. Clinton's numbers are up nine points from the summer of 2008, when he was branded by many people as playing a too partisan political role in helping his wife during her bid for the Democratic presidential nomination against Obama.
According to the poll, Obama's 52-percent favorable rating with the public ties his lowest number (in March of this year) since taking over in the White House in January of last year.
The poll, which was released Wednesday, could prompt the Democratic party to tap Clinton even further during the midterm election campaign, as the party tries to hold onto its majorities in Congress and its lead in governorships. The country's 42nd president has already been successful this year in helping Democratic candidates win contests in Arkansas and southwest Pennsylvania.
The survey indicates that Bush's favorable rating is up ten points since he left office at the beginning of 2009.
The Gallup poll was conducted July 8-11, with 1,020 adults questioned by telephone. The survey's overall sampling error is plus or minus four percentage points.
–Follow Paul Steinhauser on Twitter: @psteinhausercnn