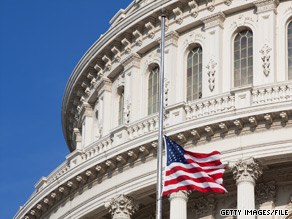 A new progressive lobbying effort is being announced Saturday in Las Vegas.
Las Vegas (CNN) - On Saturday the progressives here at Netroots Nation will announce the formation of "P Street," a new effort to flex their muscle in Washington. P Street is a progressive lobbying shop designed to work in tandem with the Progressive Change Campaign Coalition. Its mission: helping members of Congress organize winning strategies to push progressive legislation.
P Street director Shaunna Thomas tells CNN, "It's about being the progressive antidote to K Street." K street is shorthand for Washington's corporate and special interest lobbyists – many of whom work out of offices on K street.
"One thing we've noticed is that progressives are virtually absent on Capitol Hill as advocates and lobbyists," says Thomas. "Other groups have single issue, narrow agendas, but there are very few people on the Hill who come with broad political context. We will do that, and work with members not just on the goals of legislation, but on political strategy that will galvanize not just the left, but mobilize members to pass progressive legislation."
Adam Green, co-founder of the Progressive Change Campaign Committee, says the PCCC's 430,000 online members will regularly be mobilized to press members of Congress. "Those are people we ask to make phone calls and activate in every Congressional district," says Green.
They say the idea for P Street grew out their experience fighting to get a public option included in health care reform legislation. While that effort failed in the end, the group says they learned valuable lessons. They point in particular to the aftermath of Republican Sen. Scott Brown's election victory in Massachusetts.
The public option had, effectively, been taken off the table in early 2010 in part because there weren't enough votes in the Senate to pass it. But after Scott Brown's victory deprived Democrats of a 60th vote in the Senate, Democrats decided to push health care through the Senate using a procedural tactic called reconciliation, which requires only 51 votes.
"We saw an opportunity to reopen the case for a public option and launched a campaign to get a public option included through reconciliation," PCCC's Greene says.
According to Greene, PCCC's first action was requesting their online members to start calling their representatives in Congress – but the calls had little effect. Then House members Jared Polis of Colorado and Chellie Pingree of Maine wrote a letter pressing Senate Majority Leader Harry Reid to include a public option in the Senate bill, and they started asking their House colleagues to sign on.
"They [Polis and Pingree] expected to get just 15 signatures," says Green. But once PCCC asked their online members to encourage their representatives to sign the letter, it exploded. They got 120 signatures in the end.
"It was good for Polis – it increased his standing with his colleagues," says Greene. "It made our members feel good because they could see how effective their advocacy is, and it was good for the issue by getting us media attention."
They hope to build on that experience through P Street – organizing the online progressive community to get behind members of Congress who are pushing progressive legislation, and pressing those on the fence to sign on.
"No one has done this in a strategic, organized way. And so many of these progressive staffers feel like they're alone, not talking to each other. We can help bring them together," says P Street's Thomas.
The PCCC will announce P street Saturday at a Netroots Nation panel on "inside-outside" organizing. As of now, P Street has only one staffer, but a fundraising drive is planned to grow it to include researchers and additional lobbyists.