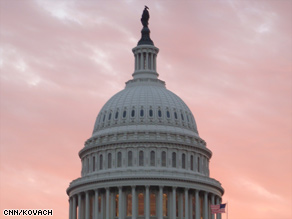 The CNN Washington Bureau's morning speed read of the top stories making news from around the country and the world.
WASHINGTON/POLITICAL
For the latest political news: www.CNNPolitics.com
CNN: Geithner pushes plan to let tax cuts for wealthy expire
The Obama administration will push for letting tax cuts for wealthy Americans expire while extending them for the rest of the nation, Treasury Secretary Tim Geithner said. In interviews broadcast Sunday on ABC and NBC, Geithner called for a balanced approach as the economy recovers from the recession that started in 2008 while facing mounting federal debt. That means pushing for measures designed to raise revenue, such as letting tax breaks from the Bush administration expire for families earning more than $250,000 a year while holding down spending and taking steps to encourage private sector job creation, Geithner said.
CNN: Senate's top Democrat to introduce scaled-down energy bill
Democrats admit that when it comes to passing comprehensive energy and climate change legislation, they simply do not have the votes. So in an effort to get something through, the Senate's top Democrat announced that he will introduce a smaller bill in the coming days focusing on specific energy needs. "Many of us want to do a thorough, comprehensive bill that creates jobs, breaks our addiction to foreign oil and curbs pollution," Senate Majority Leader Harry Reid told reporters Thursday. "Unfortunately, this time we don't have a single Republican to work with in achieving this goal." Reid had promised to bring a bill to the Senate floor by the August recess.
CNN Poll: Major legislative victories not helping Dems
A new national poll suggests that major legislative victories for the Democrats this week have not helped the party in its goal to keep control of Congress in the midterm elections. In May, the Democrats had a one-point edge in the so-called "generic ballot" question. But a CNN/Opinion Research Corporation survey released Friday indicates the Republicans have a 49 to 44 percent advantage when voters are asked which party's candidate they will vote for in their congressional district.
CNN: A look at the battle for control of the House
Though all 435 seats in the U.S. House of Representatives will be up this November, the battle to control the chamber next year will come down to a much smaller number of congressional districts scattered across the country. CNN has identified the top 100 House races, which we've dubbed "The CNN 100," and will profile one of these races at random each day for the next 100 days until the election.
Washington Post: For rich candidates who invest in themselves, no reliable returns
Even as the public's disdain for politics and politicians rises to historic levels, a new crop of millionaires - and billionaires - is spending freely from their fortunes in hopes of winning elected office. Even as the political landscape grows crowded with wealthy people ready to spend whatever it takes to win, a new study from the National Institute of Money in State Politics - a venture funded by the Ford Foundation and the Pew Charitable Trusts, among others - suggests that self-funding candidates rarely meet with success in modern politics.
CQ Politics: Republicans Fret as Angle Slips
Republicans are growing increasingly frustrated with Sharron Angle and her lackluster campaign to unseat Senate Majority Leader Harry Reid, fearing she is jeopardizing what they had long viewed as a sure pickup and costing them a chance to reclaim the majority. Senate Republicans quietly acknowledge that Angle's controversial views on some issues remain a political liability. But the former Nevada Assemblywoman's larger problems are a progression of unforced errors stemming from a lack of campaign experience and an amateurish staff incapable of offering her the necessary guidance. However, Angle has proved to be adept at fundraising, corralling $2.6 million in the second quarter.
CNN: Reid praises progressives at Netroots convention
Acknowledging that he and they don't always see eye to eye, Senate Majority Leader Harry Reid (D-Nevada) on Saturday praised the influence of progressive activists gathered at the annual Netroots Nation convention. Speaking to a large ballroom filled with bloggers and others in the movement, Reid said they help represent the voice of "real Americans."
Wall Street Journal: Tough Talk Pays Off for Colorado Senate Hopeful
Campaigning for the Republican U.S. Senate nomination in Colorado, Ken Buck has harsh words for the voters he is trying to woo. Americans have demanded more from the federal government than it had means to provide, he says. Now it is time to cut—deeply. "We are absolutely immoral in this country for putting our greed above [the needs of] future generations," he said at a recent campaign stop. His "expect less" approach seems to be working.
CNN: Sheheen hires veteran operative for race against Haley
South Carolina gubernatorial candidate Vincent Sheheen is bringing on a veteran political hand to help steer his campaign against Republican Nikki Haley, multiple Democrats in the state told CNN Friday. Sheheen has hired Tim Shock, who managed the successful 1998 campaign of Jim Hodges, the last Democrat to hold the South Carolina governor's mansion. Hodges was unseated in 2002 by Mark Sanford. State and national Democrats are increasingly confident about Sheheen's chances.
Washington Post: Despite House ethics probe, Charles Rangel's support remains strong in Harlem
Whatever troubles Charles B. Rangel has in Washington, they haven't seemed to follow him to the streets of Harlem, where he is the only congressman many people have ever voted for, and where on sidewalks and stoops his recent trials are sometimes chalked up to conspiracy and dismissed as D.C. drama. "I've put in 80 years on these streets, minus four with the Army," Rangel said. "They really don't think this thing is the most important thing to them." This "thing" is the ethics investigation that has shadowed the New York Democrat for two years.
Kansas City Star: In GOP primary race, spotlight shifts from Democrat incumbent Skelton
So much for good intentions. After spending months insisting that the only opponent they would discuss was longtime Democratic congressman Ike Skelton, Republican primary rivals Vicky Hartzler and Bill Stouffer have suddenly begun talking about each other. And not in very flattering terms.
CNN: Tennessee Republican floats secession threat
Texas Gov. Rick Perry's suggestion in April 2009 that his state might consider secession drew a round of mockery nationwide, but his blustery populist rhetoric earned him serious traction among GOP primary voters in his re-election fight against Sen. Kay Bailey Hutchison. Perry, riding a tide of anti-Washington sentiment, went on to trounce Hutchison and another candidate in the Republican primary earlier this year. Now another gubernatorial hopeful is test-driving a similar message.
Washington Post: GOP lawmakers optimistic about 'no' votes
In February, when unpredictable Sen. Jim Bunning single-handedly stalled extensions of unemployment benefits for several days, his Republican colleagues quickly abandoned him, worried that the GOP would be cast as the party against helping people who are out of work. Last month, as jobless benefits were again to set to expire, Bunning (Ky.) still objected to funding them in a way that would increase the deficit. But this time, nearly every Republican in the Senate joined him, leading to a month-long impasse in which more than 2 million people briefly lost their benefits. When the extension finally passed last week, only two Republicans backed the $34 billion unemployment measure, compared with 21 who had voted with Democrats in March. That stand-off illustrated the dynamics that have defined Capitol Hill over the last few months.
Dallas Morning News: Murky land deals mark Gov. Rick Perry's past
Three years after Gov. Rick Perry's biggest real estate score, questions persist about whether the governor benefited from favoritism, backroom dealing and influence-buying. The Dallas Morning News found evidence that Perry's investment was enhanced by a series of professional courtesies and personal favors from friends, campaign donors and the head of a Texas family with a rich history of political power-brokering. Together they may have enriched Perry by almost $500,000, according to an independent real estate appraisal commissioned by The News.
Pittsburgh Post- Gazette: Ads target Jewish voters
Rep. Joe Sestak has lashed back at a television commercial questioning his support for Israel, one of two recent ads from outside groups that offer sharply contrasting portrayals of the Democratic Senate nominee's position. Contending that it has multiple inaccuracies, Mr. Sestak's campaign has asked Comcast to cease running one ad, which is sponsored by a group of prominent neoconservatives calling itself The Emergency Committee for Israel. The Delaware County congressman describes himself as an ardent supporter of Israel, and no critic has cited any vote in Congress in which he has failed to support a position favorable to Israel. But this is not the first time that Mr. Sestak has been dogged by questions on an issue vital to many of the Jewish voters who are normally a reliable Democratic constituency, as well as a significant source of campaign contributions.
Lexington Herald Leader: Paul makes headlines, Conway runs a quieter race
While Republican Rand Paul has dominated news coverage of Kentucky's U.S. Senate race, his Democratic opponent, Jack Conway, has been far less visible. National media fascination with Tea Party favorite Paul is responsible for much of the difference, but Conway also seems to have deliberately pursued a more low-key approach than Paul in the months since the May primary. Both candidates have been heavily involved in raising much-needed funds for costly TV ads in the fall, when most voters pay attention to the race. But Conway, the state's attorney general, has spent more of his campaign time working behind the scenes, building a network of support.
Politico: Insurgents imperil earmark arrangement
A new crop of Senate candidates is threatening one of the last bastions of unapologetic earmark protection: old-bull senators and lobbyists. More than 15 Senate candidates — ranging from tea party conservatives to liberal Democratic hopefuls — have promised to either forgo pet projects or ban the practice altogether, putting them in direct conflict with senior senators who view earmarking as both a constitutional right and a senatorial privilege. Add these candidates to the growing cadre of junior lawmakers who have sworn off earmarks already, and 2010 may mark the beginning of a cultural change that prompts Congress to curtail its appetite for pet projects — if the candidates keep their campaign promises. And that's unwelcome news to K Street lobbyists, whose clients depend on earmarks as a lifeline for funding.
NATIONAL
For the latest national news: www.CNN.com
CNN: Tens of thousands of alleged Afghan war documents go online
A whistle-blower website has published what it says are more than 90,000 United States military and diplomatic reports about Afghanistan filed between 2004 and January of this year. The first-hand accounts are the military's own raw data on the war, including numbers killed, casualties, threat reports and the like, according to Julian Assange, the founder of WikiLeaks.org, which published the material Sunday.
CNN: Oil breaks up on Gulf surface as ships return to well site
Oil left on the surface of the Gulf of Mexico is breaking down naturally now that the flow of crude has been cut off beneath the surface, a Coast Guard admiral said Sunday after touring the scene. Rear Adm. Paul Zukunft said the remnants of Tropical Storm Bonnie did little to affect the oil slick, which is breaking down "very quickly." "The storm itself was not that significant," Zukunft told CNN after an aerial survey of the northern Gulf on Sunday. "We've had nine days of no new oil being released, so what we're seeing is the remnants of oil that was released nine days ago."
Washington Post: Deportation of illegal immigrants increases under Obama administration
In a bid to remake the enforcement of federal immigration laws, the Obama administration is deporting record numbers of illegal immigrants and auditing hundreds of businesses that blithely hire undocumented workers. The Immigration and Customs Enforcement agency expects to deport about 400,000 people this fiscal year, nearly 10 percent above the Bush administration's 2008 total and 25 percent more than were deported in 2007. The pace of company audits has roughly quadrupled since President George W. Bush's final year in office.
INTERNATIONAL
For the latest international news: http://edition.cnn.com
CNN: Chavez threatens to cut off oil to U.S.
Venezuelan President Hugo Chavez Sunday said his country will stop exporting oil to the United States if there is a military attack stemming from escalating tensions between Venezuela and Colombia. Speaking at a political rally, Chavez warned of a military attack from Colombia, and accused the United States of being behind such an attack. "The Yankee empire has no limit to its manipulation," Chavez said.
CNN: U.S., South Korea begin military exercises
Amid heightened tensions with North Korea, the United States and South Korea on Sunday began joint military exercises. The military exercises, dubbed Invincible Spirit, are scheduled to run through Wednesday in waters off South Korea to demonstrate the alliance's resolve. In addition to the 8,000 personnel involved, military officials say, the exercises will include 20 ships and submarines and about 200 aircraft. The U.S. Defense Department said the drills are in response to the sinking of the South Korean warship Cheonan and are intended to send a strong message to Pyongyang to stop "provocative and warlike acts."
CNN: Holbrooke: Too early to gauge Marjah operation's success
It would be inaccurate to call the U.S.-led offensive in Afghanistan's Marjah district a failure, and yet it's too early to call it a success, the U.S. special representative for Afghanistan and Pakistan told CNN Sunday. "What's happening in Marjah is that the U.S. military and NATO went into one of the most difficult areas of the country, one of the bellies of the insurgency, displaced the Taliban and settled in," Richard Holbrooke told CNN's "Fareed Zakaria GPS."
New York Times: Pakistan Aids Insurgency in Afghanistan, Reports Assert
Americans fighting the war in Afghanistan have long harbored strong suspicions that Pakistan's military spy service has guided the Afghan insurgency with a hidden hand, even as Pakistan receives more than $1 billion a year from Washington for its help combating the militants, according to a trove of secret military field reports made public Sunday. The documents, made available by an organization called WikiLeaks, suggest that Pakistan, an ostensible ally of the United States, allows representatives of its spy service to meet directly with the Taliban in secret strategy sessions to organize networks of militant groups that fight against American soldiers in Afghanistan, and even hatch plots to assassinate Afghan leaders.
BBC News: Khmer Rouge prison chief Duch found guilty
Former Khmer Rouge prison chief Duch has been found guilty of crimes against humanity by Cambodia's UN-backed war crimes tribunal. Duch, 67, whose full name is Kaing Guek Eav, was sentenced to 35 years in prison, but he will serve only 30 because the court ruled he had been held illegally for five years. He had admitted overseeing the deaths of up to 15,000 people at Tuol Sleng prison, and asked for forgiveness. This is the tribunal's first verdict.
Wall Street Journal: Iran Says It Is Ready for Talks on Nuclear-Fuel Swap
Iran said Sunday it was ready to start negotiations "immediately" with the major powers over a potential nuclear fuel swap, and was sending a letter to the U.N.'s nuclear watchdog in Vienna regarding its terms for the deal. Iran's foreign minister, Manouchehr Mottaki, was speaking after a lunch in Istanbul with his Turkish and Brazilian counterparts, who brokered the potential fuel-exchange deal in May. The two countries also voted against a new round of sanctions on Iran at the United Nations Security Council in June.
CNN: Number of dead, injured at German music festival rises
The organizer of a German music festival announced Sunday that the Love Parade has been disbanded after more than 19 people were killed in a stampede. Rainer Schaller said the festival, which began in 1989, has been canceled "out of respect for the victims, their families and friends ... The Love Parade has always been a peaceful event and a joyous celebration, which will now forever be overshadowed by the tragic deaths yesterday." The death toll from the stampede at the festival is at 19, police in Duisburg, Germany, said Sunday.
CNN: Mexican officials: Prison inmates released to commit killings
Top officials in Mexico said Sunday that authorities at a prison released and armed several inmates to attack a group of people during a birthday celebration last week in a killing spree that left 17 dead. Ricardo Najera, a spokesman for Mexico's Interior Ministry said authorities allowed a group of inmates to leave the Cereso prison in Gomez Palacio, in Mexico's Durango state, in police vehicles to launch an attack on revelers at a farm in Torreon in the neighboring state of Coahuila.
Washington Post: Israeli defense chief offers warnings on Iran and Lebanon
Israeli Defense Minister Ehud Barak is due to arrive in Washington on Monday bearing two warnings for American policymakers: Sanctions won't thwart Iran's push for nuclear weapons, and Israel will strike directly at Lebanese government institutions if Hezbollah launches rockets at Israeli towns. In a wide-ranging interview, Barak - who has become one of Israel's most frequent official guests in Washington - outlined his vision for arresting Iran's nuclear drive, coping with the Hezbollah threat and forging a deal with the Palestinians.
BBC News: Radical police shake-up plans due
Plans for a massive shake-up in policing in England and Wales are set to be outlined by the home secretary. A new national crime-fighting agency, likely to be dubbed Britain's FBI, is among Theresa May's proposals. People will also be able to vote in two years' time for locally-elected officials to oversee each police force. The Serious Organised Crime Agency (Soca) is expected to be scrapped just four years after it was set up by Labour.
BUSINESS
For the latest business news: www.CNNMoney.com
CNNMoney: Market will 'drift for the rest of summer'
As a strong July draws to a close, the earnings reporting period is just heating up, with 157 of the biggest companies in the country due to open their books in the week ahead. Standouts include Dow components Boeing, DuPont, Exxon Mobil, and Chevron and Merck. Also, BP reports Tuesday, the first snapshot of the company's performance during the quarter in which the oil spill began. On the economic front, reports are due on housing, GDP, consumer confidence and the jobs market.
Wall Street Journal: Embattled BP Chief to Exit
The board of BP PLC is negotiating the departure of its embattled chief executive, Tony Hayward, according to people familiar with the matter, a bid by the U.K. oil titan to move beyond the Gulf of Mexico disaster that has undercut his three-year effort to remake the company. The BP board is scheduled to meet Monday to discuss and approve Mr. Hayward's departure, these people said, one describing the decision as "mutual." If that happens as expected, the board is set to name Managing Director Robert Dudley as the new chief executive on Tuesday, when it releases second quarter results. The move would install the first American at the top of BP, a veteran insider who heads the company's U.S. operations and hails from the region devastated by the oil spill.
CNNMoney: BP's disastrous, but profitable, quarter
BP is set to report its second-quarter financial results on Tuesday, and by anyone's measure it's been a bruising period for the company. The company's shares have lost nearly half their value since its Gulf well blew up April 20. BP has committed $20 billion to pay compensation to individuals and businesses hurt by the disaster. Bankruptcy, takeover, and jail time have all been discussed. Eleven people lost their lives. And speculation is swirling about the fate of CEO Tony Hayward.
CNN: Obama is anti-business, Forbes and Zuckerman say
Just days after President Obama signed landmark legislation increasing oversight of Wall Street, he is again being slammed for being anti-business. Asked about recent perceptions among business leaders that Obama is not in their corner, Steve Forbes, chairman and CEO of Forbes, Inc., agreed with that assessment. Forbes told CNN Chief Political Correspondent Candy Crowley that the Obama administration would do well to heed some of the business community's concerns.
CNNMoney: Bank failure tally passes 100 for the year
A Minnesota bank was closed by government regulators Friday, the Federal Deposit Insurance Corp. said, bringing the total number of failed banks this year past 100. Community Security Bank of New Prague, Minn., was the 101st in a string of small, regional banks to fail this year. While conditions have improved for many of the nation's largest banks, the lingering effects of the financial crisis continue to take a toll on local lenders across the country.
New York Times: Cities View Homesteads as a Source of Income
Around the nation, cities and towns facing grim budget circumstances are grasping at unlikely — some would say desperate — means to bolster their shrunken tax bases. Places like Dayton, Ohio, and Grafton, Ill., are giving away land for nominal fees or for nothing in the hope that it will boost the tax rolls and cut the lawn-mowing bills. In Boca Raton, Fla., which faces a budget gap of more than $7 million, leaders are thinking about expanding the city's size and annexing neighborhoods as an antidote. Sure, more residents would cost more in services, but officials hope the added tax revenues will more than make up for it.
CNNMoney: Dell and Intel: Big Tech behaving badly
Thursday's $100 million settlement between Dell and the Securities and Exchange Commission was a reminder that the government is going after tech's bad boys - and Intel is likely next on the feds' list. According to the SEC's complaint against Dell, Intel paid the computer maker rebates as part of a deal in which Dell agreed not use microchips manufactured by Intel's rival AMD. We're not talking small change: The payments totaled $4.3 billion between 2003 and 2006.
In Case You Missed It
CNN's Candy Crowley takes a look at a humorous introduction of Vice President Joe Biden by Rep. James Clyburn.
CNN's T.J. Holmes talks with Sheriff Joe Arpaio about enforcing Arizona's contentious immigration law.
Subscribe to the CNN=Politics DAILY podcast at http://www.cnn.com/politicalpodcast
And now stay posted on the latest from the campaign trail by downloading the CNN=Politics SCREENSAVER at http://www.CNN.com/situationroom