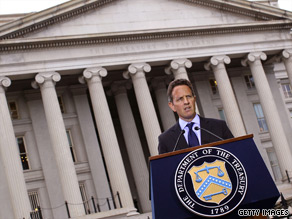 Treasury Secretary Tim Geithner said Sunday he wants to let the Bush tax cuts expire for the wealthiest Americans.
New York (CNNMoney.com) - Would making the rich pay higher taxes next year hurt the economy?
That question underlines one of the trickiest fiscal questions facing Washington policymakers: What to do about the 2001 and 2003 Bush tax cuts, which are set to expire at the end of the year.
President Obama wants to let the cuts lapse for joint tax filers who make at least $250,000 ($200,000 for individuals) but extend them for everyone else. That means the top two tax rates would revert to where they were in the late 1990s: The 35% rate would go to 39.6% and the 33% rate would go to 36%.
Earlier: Geithner pushes plan to let tax cuts for wealthy expire