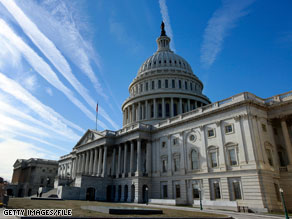 The CNN 100 takes a look at the top 100 House races, from now until Election Day.
Editor's Note: In the final 100 days before Election Day, CNN has been profiling one race at random each day from among the nation's top 100 House races, which we've dubbed "The CNN 100." Today's featured district is:
New Hampshire 2nd (Open seat) – Rep. Paul Hodes (D) is running for U.S. Senate
Primary: September 14, 2010
Location: Western New Hampshire
Days until Election Day: 99
This race features a cast of characters with intertwining lives worthy of a Tolstoy novel. The incumbent is Democrat Paul Hodes, who is leaving the House to run for the U.S. Senate. Hodes won the seat in 2006 by defeating Republican incumbent Charlie Bass, who had fended off Hodes in the general election two years earlier. Bass, who is running again for his old job this year, first won the seat in 1994 by defeating Democratic incumbent Dick Swett. Swett's wife, Katrina, tried unsuccessfully to unseat Bass in 2002 and is once again running this year. Bass' opponent for the GOP nomination in 2010 is Jennifer Horn, the former conservative radio host and columnist who lost the general election to Hodes in 2008. Got that?

Bass is the front-runner for the GOP nod. As of June 30, he had $371,000 in his campaign account, more than ten times Horn's amount ($31,406) and more than double that of former state senator Robert Giuda, who posted $115,000 at the end of June.
On the Democratic side, Swett faces attorney and activist Ann McLane Kuster for the Democratic nomination. Both Swett and Kuster have political pedigrees. Swett's father was the late Rep. Tom Lantos of California, and her husband served in the House from 1991 to 1995 and ran unsuccessfully for the U.S. Senate in 1996. Kuster's mother was a liberal Republican state senator and her father the former mayor of Concord. Swett had $1.2 million in the bank as of June 30, compared to Kuster's $745,000. Kuster has proven she's no slouch when it comes to fundraising. She has raised an impressive $1.2 million in contributions since the start of the campaign, which is more than any other candidate in either field.
New Hampshire's 2nd district stretches the length of the state from Canada to Massachusetts. It includes Democratic strongholds along the Connecticut River valley, as well as the state capital of Concord and its suburbs. But it also includes some of the state's strongest Republican areas along the Massachusetts border and in the sparsely populated northern part of the state. While the district has voted increasingly Democratic in presidential elections, it is less predictable in House races. Republican Bass won re-election here in 2000 and 2004 at the same time Al Gore and John Kerry carried the district in the presidential race. Obama won the district in 2008. This year marks the first open-seat race in this district since 1988. Since then, voters have been either re-electing or voting out incumbents or either party.
This voting history makes this year's open-seat race difficult to predict. However, if Bass wins the GOP primary, he will be a formidable candidate in the general, having been elected to this seat six times previously. Regardless of who wins the Democratic nomination, this race will be a prime pick-up opportunity for Republicans.
CNN Polling Director Keating Holland contributed to this report.