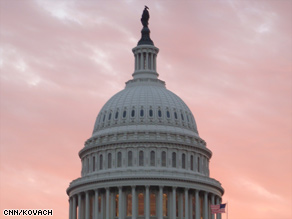 The CNN Washington Bureau's morning speed read of the top stories making news from around the country and the world.
WASHINGTON/POLITICAL
For the latest political news: www.CNNPolitics.com
CNN: House passes war funding bill
The House of Representatives on Tuesday gave final approval to a nearly $59 billion emergency spending bill, the bulk of which would go toward the U.S. troop buildup in Afghanistan. Specifically, the bill includes almost $33 billion for Afghanistan, along with over $5 billion for the Federal Emergency Management Agency, almost $3 billion for Haiti relief programs and $68 million for the oil disaster response in the Gulf of Mexico. It now goes to the president for his signature.
CNN: Republicans block campaign finance disclosure bill
Senate Republicans narrowly blocked Democratic campaign finance disclosure legislation in the Senate Tuesday after raising concerns the bill would curb freedom of speech and tilt campaign spending in favor of the Democrats. A 57-41 vote fell short of the 60 votes needed for the Senate to cut off debate on the measure. Republicans unanimously opposed the measure while Democrats solidly backed it.
CNN: Rangel confirms settlement talks with ethics panel
Veteran Democratic Rep. Charles Rangel of New York confirmed Tuesday that his lawyers are discussing a possible settlement with lawyers for the House ethics committee that would avoid a public hearing this week on ethics allegations against him. "Negotiations are much like the arc of legislative conferences, and that is until everything is agreed upon, there's absolutely nothing agreed upon," Rangel said while leaving the House floor after several votes.
CNN Poll: Most back Arizona law but cite concerns about effects
Most Americans support Arizona's new law on illegal immigration, but according to a national poll, a majority think the controversial measure will increase discrimination against Hispanics while not necessarily making a dent in the problem. A new CNN/Opinion Research Corp. survey also indicates that Hispanic and whites don't see eye to eye over the law.
CNN Poll: Quarter of Hispanics support Arizona law
A quarter of Hispanics support Arizona's controversial immigration law, according to a new national poll. A CNN/Opinion Research Corporation survey also indicates a generation gap among Hispanics over the new measure. Twenty-four percent of Hispanics questioned in the poll favor the new law, with 71 percent opposed. Support for the measure jumps to 61 percent among white respondents, with opposition dropping to 34 percent among whites.
Investors Business Daily: Senate Dems Hope Legislative Losses Lift Election Odds
Can you win by losing? Democrats are about to give it a try. With time running out, congressional leaders have all but given up hope of passing any more legislation this year and are scheduling "message" votes to bolster their chances in the fall elections. On Tuesday they brought up a campaign finance reform bill popular with liberal constituencies. The Disclose Act failed, 57-41, shy of the 60 needed to break a GOP filibuster. But Democrats argued the defeat gives them an election edge by putting Republicans on the wrong side of a popular issue. Senate Majority Leader Harry Reid, D-Nev., sent out a press release blaming Republicans for the bill's defeat even before the vote.
Wall Street Journal: President Visits New York but Wall Street Isn't at Home
President Barack Obama heads to New York City on Wednesday for a pair of high-dollar fund-raisers—a tough task given the many Wall Street executives who are put off by his rhetoric and policies. Mr. Obama raised a record $15 million from Wall Street donors for his presidential campaign, but his relationship with many of those donors began to fray not long after he took office, and donations have fallen. Wall Street executives "feel like a spurned lover," says Paul Equale, a financial-services lobbyist who also advises Wall Street firms on dealing with Washington.
CNN: Santorum huddles with former aides to talk 2012
As if the repeated trips to Iowa, New Hampshire and South Carolina weren't clues enough, former Republican Sen. Rick Santorum of Pennsylvania met privately last week with several of his former Capitol Hill staffers to pitch the idea of a presidential bid in 2012. According to GOP sources familiar with the meeting, which took place last Tuesday in Washington, Santorum conveyed his seriousness about a possible campaign and solicited his former aides for advice.
Lexington Herald Leader: Slew of Republicans considering run for governor
A slew of Republicans are considering challenging Democratic Gov. Steve Beshear in next year's race for governor even though he already has more than $2 million in his campaign coffers and the power of incumbency at his disposal. "Steve Beshear is vulnerable," state Republican Party Chairman Steve Robertson said Tuesday, noting a GOP poll in early June of 1,020 likely voters that showed 37 percent of the respondents did not think Beshear deserves re-election and 51 percent thought someone else should have a chance to be governor. That's why you are seeing so many Republicans considering the race, Robertson said.
CNN: New Hampshire A.G. investigating possible Dem push polling
The New Hampshire Attorney General's office is investigating whether Democratic Senate hopeful Paul Hodes ran "push polls" intended to cast a potential rival, Republican candidate Kelly Ayotte, in a negative light. The phone calls in question hit New Hampshire households last week and raised questions about Ayotte's handling, when she was Attorney General, of a mortgage firm at the center of a Ponzi scheme that defrauded investors. The Hodes campaign had previously run television ads attacking Ayotte on the topic. But according to state law, polling calls "which state, imply or convey information about the candidate's character, status or political stance or record" are considered push polls and punishable by fines or jail time.
Anchorage Daily News: Parnell leads all candidates in campaign fundraising
Gov. Sean Parnell has outraised his challengers and has more campaign money left to spend than they do in the final weeks before the Aug. 24 primary. One of his Republican rivals, Bill Walker, is staying in the money race by putting more than $285,000 of his own money into fueling his campaign. Parnell reports $446,000 in total contributions to his campaign, including $231,409 over the past six months. His campaign declared the amount of contributions "point to Parnell victory," and contrasted it with primary challenger Walker, saying Walker is largely self-financing his campaign.
CNN: NRSC move heats up battle for control of Senate
The battle for control of the Senate is getting even more interesting, thanks to a move by the National Republican Senatorial Committee to reserve nearly $3 million to pay for television commercials to run in the closing days of this year's midterm election campaigns in California, Washington, and Wisconsin. The NRSC confirms that nearly $2 million will be spent in California alone, where poll suggest the battle between three-term Democratic Sen. Barbara Boxer and former Hewlett Packard CEO Carly Fiorina, the GOP challenger, is nearly deadlocked.
CNN: Tea Party Express backs underdog in Delaware
The Tea Party group that helped Sharron Angle win Nevada's Republican Senate primary, but that was also kicked out of a national Tea Party federation, is jumping into the Delaware GOP Senate battle. The Tea Party Express announced Tuesday that they are endorsing Christine O'Donnell, who is battling Rep. Mike Castle for the GOP Senate nomination.
Politico: Senate eyes online privacy rules
Top Democrats on the Senate Commerce Committee signaled Tuesday that they're eyeing sweeping new rules to regulate online privacy — even as top tech players like Apple, AT&T, Google and Facebook cautioned them to tread carefully. The tech companies told senators at a hearing Tuesday that they've worked hard to address privacy concerns, but Sen. John Kerry (D-Mass.) vowed that legislation will be coming next year anyway.
The Hill: Health bill for 9/11 responders to get House vote Wednesday
A bill guaranteeing healthcare for first responders to the World Trade Center site is scheduled for a House floor vote Wednesday, The Hill has learned. The James Zadroga 9/11 Health and Compensation Act would formally authorize health programs that have been appropriated for the past several years. The bill, which would cover 50,000 responders and survivors in the wake of 9/11 attacks, creates a mandatory spending program until it sunsets 10 years from now. Some Republicans argue it's unfair to create an entitlement for 9/11 responders when military veterans' healthcare must go through annual appropriations.
New York Times: Texas Battles Health Law Even as It Follows It
There are more uninsured residents of Texas — 6.1 million and counting — than there are people in 33 states. The state's elected officials might be expected, therefore, to cheer a federal health care law that is likely to deliver billions of dollars from Washington to Austin and cover millions of low-income Texans. Instead, the Republican political leadership has greeted the law and its anticipated costs with open hostility, leaving policy makers to move forward with a complex set of changes even as the governor, attorney general and ranking legislators rage against it. The same awkward dichotomy exists in many of the 21 states that are challenging the health reform act's constitutionality, but are nonetheless required to follow it while their lawsuits meander through the courts.
NATIONAL
For the latest national news: www.CNN.com
CNN: Army expands probe into soldier suspected of earlier leak
In the wake of the leak of thousands of classified documents, the U.S. Army has expanded its criminal investigation into a soldier allegedly involved in the earlier leak of a combat video and thousands of military documents, according to the Pentagon. The expanded investigation was confirmed by Col. David Lapan at the Pentagon. According to a U.S. military official who asked not to be named because he was not authorized to talk about the investigation, the probe by the Army's Criminal Investigation Division into Pfc. Bradley E. Manning was expanded to look at potential accomplices and what military or U.S. government systems the information came from.
CNN Poll: Should illegal immigrants be allowed to stay?
The vast majority of Americans say they favor allowing illegal immigrants to stay in the U.S. if they have a job and pay their taxes, according to a new national poll. But a CNN/Opinion Research Corporation survey also indicates that a majority of the public says such a plan takes a back seat to stopping the flow of illegal immigrants into the country. Eighty-one percent of people questioned in the poll say they support creating a program that would allow illegal immigrants already living in the U.S. for a number of years to stay here and apply to legally remain in this country permanently if they had a job and paid back taxes, with 19 percent opposed to such a plan.
Arizona Republic: Arizona's immigration law has little impact on Arizona's tourism
Despite the threat of widespread travel boycotts tied to the state's strict new immigration law, early results for hotels and resorts in metropolitan Phoenix show little evidence of any short-term impact. Hotel occupancy was up 6.5 percent in May and 10.6 percent in June from a year earlier, outpacing national gains, according to Smith Travel Research. Average room rates were flat on an above-average increase in rooms. Revenue per available room, the most closely watched measure, rose 6.2 percent and 11 percent in May and June, respectively.
INTERNATIONAL
For the latest international news: http://edition.cnn.com
CNN: Pentagon identifies missing, dead sailors in Afghanistan
Military officials Tuesday identified two sailors involved in a firefight in eastern Afghanistan last week that left one of them dead and the other in the hands of the Taliban. Afghan and coalition forces recovered the remains of Petty Officer 2nd Class Justin McNeley, 30, of Wheatridge, Colorado, on Sunday, the Defense Department said. Petty Officer 3rd Class Jarod Newlove, 25, of Renton, Washington, is listed as Duty Status Whereabouts Unknown, the Pentagon said.
CNN: Leaked documents offer few glimpses of bin Laden
The recently released cache of U.S. reports from Afghanistan provides fleeting glimpses into the possible whereabouts of al Qaeda leader Osama bin Laden in the years since his escape from American forces at Tora Bora. Documents released by the whistle-blower website Wikileaks and published in the British newspaper The Guardian quoted intelligence sources as saying bin Laden wanted al Qaeda operatives disguised as journalists to attack Afghan President Hamid Karzai during a news conference in 2004. In 2005, his financial adviser and an Afghan insurgent leader reportedly were dispatched to obtain rockets from North Korea to use against U.S. forces in Afghanistan.
CNN: Cameron calls Gaza 'prison camp'
British Prime Minister David Cameron called Gaza a "prison camp" on Tuesday, a blunt description from a major Western leader about the besieged Palestinian territory. Cameron made the remarks in the Turkish capital of Ankara, which he was visiting to forge a new relationship with Turkey and show his support for Turkish membership in the European Union.
CNN: Off nearly tenfold, UN lowers number of condemned in Iraq
The United Nations on Tuesday corrected a news release issued July 8 that put the number of prisoners facing execution in Iraq at 12,000, nearly 10 times the true number. The United Nations Assistance Mission in Iraq and the Office of the UN High Commissioner for Refugees said in a joint news release that the corrected figure was 1,254 prisoners as of December 31, 2009. The report on the human rights situation in Iraq showed improvements in security but warned that the overall situation remained a matter of concern.
Washington Post: Strict immigration rules may threaten Japan's future
For Japan, maintaining economic relevance in the next decades hinges on its ability - and its willingness - to grow by seeking outside help. Japan has long had deep misgivings about immigration and has tightly controlled the ability of foreigners to live and work here. But with the country's population expected to fall from 127 million to below 100 million by 2055, Prime Minister Naoto Kan last month took a step toward loosening Japan's grip on immigration, outlining a goal to double the number of highly skilled foreign workers within a decade.
CNN: Illegal local brew kills 14 in Kenya
At least 14 people died in a Nairobi slum after drinking illegal local brew, which may have been laced with chemicals to make it more potent, a government official said. Another 11 people from the Kibera area are hospitalized, complaining of stomach pains after drinking the brew popularly known as changa'a, said local official Richard Juma. Fifty-one people were arrested in a police raid for allegedly possessing changa'a, and were being held at a local police station, he said.
Wall Street Journal: India's Central Bank Raises Key Rates
India's central bank raised its main lending rate by 0.25 percentage points Tuesday and its borrowing rate by a larger-than-expected 0.50 percentage point, seeking to quell double-digit inflation. The move reflects the Reserve Bank of India's growing discomfort with high prices, which could put it at odds with a government that seems to want only the minimum possible tightening to avoid slowing the economy.
Washington Post: Report finds Russians may not be in compliance, could sink new START pact
The United States believes Russia is not fully complying with international pacts involving chemical and biological weapons, although Moscow has settled most questions about violations of a nuclear arms treaty with the United States, according to a State Department report to be made public Wednesday. The State Department Compliance Report had been requested earlier this month by seven of the eight Republicans on the Senate Foreign Relations Committee. They were concerned because the last report in 2005 highlighted what they described as "direct violations of START I by the Russians, " a reference to the Strategic Arms Reduction Treaty signed in 1991. The report comes at a crucial time, as the Senate considers a new treaty that would replace START I.
BBC News: Rio plans to clear slums ahead of 2016 Olympic Games
Slums in Rio de Janeiro are to be cleared and cleaned up as part of a major rebuilding plan ahead of the 2016 Olympic Games, the city's mayor says. The plan would affect over 260,000 households and would cost over $4.5bn (£2.9bn), Rio Mayor Eduardo Paes said. Hundreds of Rio's favelas will be re-built and 123 of the most "at risk" slums will be torn down.
New York Times: China Pushes to End Public Shaming
The Chinese government has called for an end to the public shaming of criminal suspects, a time-honored cudgel of Chinese law enforcement but one that has increasingly rattled the public. According to the state-run media, the Ministry of Public Security has ordered the police to stop parading suspects in public and has called on local departments to enforce laws in a "rational, calm and civilized manner."
BUSINESS
For the latest business news: www.CNNMoney.com
CNNMoney: The tax hike nobody's talking about
Get ready for a smaller paycheck. At least that's what could happen if Congress doesn't approve President Obama's proposal to extend the Making Work Pay tax credit soon. The credit, introduced last year as part of the government's stimulus package, boosts paychecks by up to $400 for single filers and up to $800 for joint filers, by reducing the amount of tax withheld from each paycheck.
CNN: Outgoing BP executive blames 'many companies' for Gulf crisis
Outgoing BP Chief Executive Officer Tony Hayward declared Tuesday that the Gulf of Mexico oil well disaster represents a failure for the entire deepwater oil and gas drilling industry, not just for BP alone. "The industry needs to re-evaluate safety," Hayward told investment professionals in a webcast. His comments came after the BP board decided to replace him October 1 with Robert Dudley, the head of the company's Gulf cleanup effort. "Everyone will re-evaluate the business model to reduce risk associated with deepwater drilling," Hayward added.
CNNMoney: The fear economy
FDR said we have nothing to fear but fear itself - and even though we're a long way from the Great Depression, uncertainty about the economy is proving pretty scary, and a major drag on the recovery. Federal Reserve chairman Ben Bernanke said last week that there is "unusual uncertainty" about the nation's economic outlook. And every piece of good news seems to be clouded by fear of the unknown. For example, companies are turning in healthy profits, and are sitting on a record-breaking pile of cash - nearly $1 trillion and growing. But businesses are reluctant to add jobs or make big investments.
CNNMoney: Home ownership falls to lowest level in 11 years
The number of Americans who own homes fell in the second quarter of the year to the lowest level since 1999, said a government survey released Tuesday. The Census Bureau said the home ownership rate fell to 66.9% in the second quarter of 2010, down half a percentage point from the previous year. The home ownership rate was 67.1% in the first quarter of the year. In the second quarter rates were highest in the Midwest, where 70.8% of people are homeowners, and lowest in the West, where 61.4% of people own.
Wall Street Journal: Rate Swings Sting Europe's Borrowers
Households and small businesses across Central and Eastern Europe are sinking under the weight of foreign-currency debts. It's a sign of how the problems facing the region's financial system go beyond the borrowing by spendthrift governments that has been the main focus of investors. The rising number of borrowers' defaults already has hit bank profits. Ratings agencies warn that the exposure to foreign-currency lending could hurt the creditworthiness of financial institutions in the region.
CNNMoney: SEC: More transparency coming
The Securities and Exchange Commission will make it easier for the public to join in the rulemaking discussion, as required by the new Wall St. reform law. The SEC's changes go "well beyond what is legally required," the commission in a statement Tuesday, and they are meant to provide "greater transparency and accountability." Before President Obama signed the regulatory reform law last week, the SEC was already required to offer a public comment period when it proposed rules or rule amendments.
Bloomberg: Singapore Air CEO May Step Down After Doubling Stock
Singapore Airlines Ltd. Chief Executive Officer Chew Choon Seng, who took a pay cut while maintaining the carrier's wine budget during the recession, samples economy-class meals every month to make sure they meet his standards. That attention to detail has helped the airline's shares double during Chew's seven years as CEO, even as he grappled with a global recession, SARS, swine flu, record jet-fuel prices and rising competition from budget airlines.
CNNMoney: Chevy Volt priced at $41,000
General Motors announced the final price of its Chevrolet Volt electric car Tuesday afternoon, but it's the lease rate that will probably be most interesting to consumers. The purchase price for a Volt will start at $41,000. The vehicle qualifies for a $7,500 federal tax credit, for an effective price of about $33,500.
Wall Street Journal: Google Develops a Facebook Rival
Google Inc. is in talks with several makers of popular online games as it seeks to develop a broader social-networking service that could compete with Facebook Inc., according to people familiar with the matter. Google has been in discussions with top developers to offer their games on a new service it is building, these people said. Those developers include Playdom Inc., Electronic Arts Inc.'s Playfish and Zynga Game Network Inc.—a company in which Google recently took a financial stake, these people said.
CNNMoney: Apple launches new desktops for power users
Apple's gadget fans got plenty of new toys recently, with the launch of the iPad and iPhone 4. Now, it's the power users' turn. Apple on Tuesday unveiled a new Mac Pro model, adding quad-core and 6-core Intel Xeon processors to the line of high-end desktop machines that Apple last refreshed in early 2009. Designed to be extensively customizable, the new Mac Pros can be configured with up to 12 processing cores, four 512GB solid state drives and four 2 terabyte hard drives. Apple will begin selling the new Mac Pros next month, which have a starting retail price of $2,499.
In Case You Missed It
CNN's Randi Kaye profiles Bob Dudley, the man who will replace Tony Hayward as BP's new CEO.
CNN's John King talks to Arizona Governor Jan Brewer about the state's controversial immigration bill.
Subscribe to the CNN=Politics DAILY podcast at http://www.cnn.com/politicalpodcast
And now stay posted on the latest from the campaign trail by downloading the CNN=Politics SCREENSAVER at http://www.CNN.com/situationroom