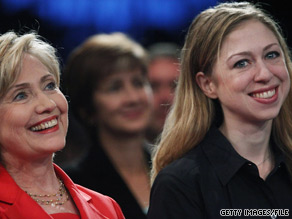 Chelsea Clinton's father-in-law said he is 'remorseful' for the time he spent in jail.
(CNN) - Chelsea Clinton's soon-to-be father in law is thrilled about his son's upcoming wedding and tells CBS' Inside Edition that he has repaired his relationship with his family and the Clintons after spending more than four years in jail on several convictions of fraud.
"These are two wonderful human beings that have sensitivity about life and have a warm regard for family, and that's what it's really all about," said former Iowa Rep. Ed Mezvinsky, he father of Chelsea's fiancé, Marc.
Mezvinsky, who prosecutors once called a one-man "crime wave," was convicted in 2003 on multiple counts of fraud that involved several million dollars. Mezvinsky was then imprisoned until the spring of 2008.
"I'm remorseful for what happened," Mezvinsky told Inside Edition. "It was a terrible time, and I was punished for that. And I respect that and accept responsibility for what happened, and now I'm trying to move on and am grateful I have the opportunity for that."
Mezvinsky added that his son's upcoming nuptials with the former first daughter is "a rather special occasion and I'm grateful I can be part of it."
The wedding is set for this weekend and is expected to be held in Rhinebeck, New York.