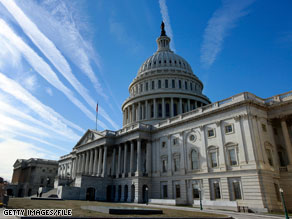 The CNN 100 takes a look at the top 100 House races, from now until Election Day.
Editor's Note: In the final 100 days before Election Day, CNN has been profiling one race at random each day from among the nation's top 100 House races, which we've dubbed "The CNN 100." Read the full list here. Today's featured district is:
Arizona 1st – Rep. Ann Kirkpatrick (D) is seeking a 2nd term
Primary: August 24, 2010
Location: Eastern/central Arizona
Days until Election Day: 96
Though not among the most vulnerable House incumbents this year, Rep. Ann Kirkpatrick nonetheless finds herself in the unenviable position of being a freshman Democrat in a Republican district during an election cycle that historically has not been kind to the party controlling Congress.
Kirkpatrick was elected to the House in 2008, one of 33 Democratic freshmen swept into office that year. She had previously served as a prosecutor in various local jurisdictions and logged about two years in the state legislature before resigning in 2007 to campaign for Congress. Once in office, she has regularly bucked her party and the White House on key issues, such as the so-called "cap and trade" energy legislation. According to a CQ analysis, she voted against the White House position 33 percent of the time and against a majority of her fellow House Democrats 26 percent of the time on key votes her first year in office. Only two members of her party voted against the White House position more often. She did, however, vote for both the House and Senate versions of the health care reform bill.
Among the several candidates vying for the Republican nomination are dentist Paul Gosar, former state senate majority leader Rusty Bowers, attorney Bradley Beauchamp, and Sydney Hay, who lost to Kirkpatrick in 2008. Gosar, who has won high-profile endorsements from former GOP vice presidential nominee Sarah Palin and Maricopa County Sheriff Joe Arpaio, leads the GOP field in fundraising, with $373,000 raised to date, but trails Hay in cash-on-hand. Hay had $145,000 in the bank at the start of the month, compared to $130,000 for Gosar, $55,000 for Beauchamp, and $14,000 for Bowers.
Kirkpatrick has the Democratic field to herself and sat on top of a $896,000 warchest at the start of the month.
Arizona's 1st district takes up more than half of the state. It covers most of the northeast, as well as eastern and central Arizona. It is home to several Indian reservations, including that of the Navajo Nation. Twenty percent of district residents are Native Americans. Favorite son John McCain in 2008 and George W. Bush in 2004 carried the 1st district with 54 percent of the vote. Despite the GOP tilt in presidential races, Kirkpatrick managed to defeat Hay in the 2008 general election with 56 percent, higher than 44 percent Obama won here in 2008 and the 46 percent John Kerry won four years earlier.
Immigration and border security will likely take center stage during the campaign, given the controversy over the state's tough new immigration law and Wednesday's order from a federal judge blocking the law from going into effect. Hispanics make up 18 percent of district residents.
Though the district's demographics and national mood may work against Kirkpatrick, she has been helped thus far by a large and divided GOP primary field. She has also cultivated an overall voting record in the House that a Democrat would need to stay competitive, though the impact of her health care vote remains to be seen. Republicans' success here in November will depend largely on the nominee chosen in August.