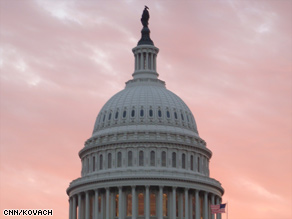 The CNN Washington Bureau's morning speed read of the top stories making news from around the country and the world.
WASHINGTON/POLITICAL
For the latest political news: www.CNNPolitics.com
CNN: How Rangel's ethics hearing could play out
Longtime Democratic Rep. Charles Rangel of New York will be the subject of the House ethics committee's first corruption trial in almost a decade unless his attorneys reach an agreement to settle his charges. The House ethics committee on Thursday will make public a report of Rangel's alleged violations. After a nearly two-year investigation of Rangel, the committee's report could bring a trial by a panel subcommittee in September.
CNN: Obama urges GOP to back bill aiding small businesses
President Barack Obama on Wednesday challenged Senate Republicans to back a bill that would help small businesses, calling its provisions "things the Republican Party has said it supported for years." Speaking at a New Jersey sandwich shop, Obama said the bill would help people like the shop's owners and other small-business operators by easing their tax burden and helping them get more credit. "Surely, Democrats and Republicans ought to be able to agree on this bill," Obama said.
CNN Poll: 'Melting Pot' weakening country?
A new poll indicates Americans have complicated views towards immigrants. According to a CNN/Opinion Research Corporation national survey, the vast majority believe that most immigrants are basically good, honest people who are hard-working. However, nearly seven in ten say that immigrants are a burden on the taxpayer, 62 percent think they add to the crime problem, and 59 percent believe they take jobs away from Americans. The poll, released Wednesday, asks about all people who have immigrated from other countries in the past ten years, and not just about illegal immigrants in the U.S.
Washington Post: 2010 likely to bring more negative campaign ads than ever, analyst says
It's getting ugly out there. In some races, candidates aren't waiting to find out who their opponent will be before going for the jugular. In each election cycle, the tone of campaign rhetoric seems to grow sharper and more personal. But a 2010 calendar front-loaded with contested primaries, combined with scores of vulnerable incumbents and both sides playing underdog, means there's an extra dash of hot sauce this year.
Wall Street Journal: What Congress Might Do to Defuse Tax Time Bomb
President George W. Bush left behind a ticking time bomb that is set for Dec. 31, 2010. If Congress does nothing, taxes on wages, capital gains and dividends will leap, the estate tax will be resurrected at a 55% rate and the pesky alternative minimum tax will hit an additional 21 million taxpayers on 2010 returns. Neither Democrats nor Republicans have an interest in letting that happen.
New York Times: Congress Rethinks Its Ban on Internet Gambling
With pressure mounting on the federal government to find new revenues, Congress is considering legalizing, and taxing, an activity it banned just four years ago: Internet gambling. On Wednesday, the House Financial Services Committee approved a bill that would effectively legalize online poker and other nonsports betting, overturning a 2006 federal ban that critics say merely drove Web-based casinos offshore. The bill would direct the Treasury Department to license and regulate Internet gambling operations, while a companion measure, pending before another committee, would allow the Internal Revenue Service to tax such businesses.
CNN: Snowe becomes fourth Republican to endorse Kagan's confirmation
Sen. Olympia Snowe said Wednesday she will vote to confirm Elena Kagan to the Supreme Court, making her the fourth Republican to come out in support of President Obama's nominee to the high court. Sens. Lindsey Graham, R-South Carolina; Susan Collins, R-Maine; and Richard Lugar, R-Indiana, have also said they will vote for Kagan. No Democrats have expressed opposition to Kagan.
Politico: Brewer builds her national brand
Three months ago, Arizona GOP Gov. Jan Brewer was in a fight for her political life. Her support for a sales tax increase had alienated her from her party, her approval ratings were in the dumps and she faced a handful of primary opponents looking to deny her nomination to a full term in office. Today, however, Brewer's star is on the rise. Her primary challengers have dropped out, she leads comfortably in the polls and her endorsement is highly sought after outside Arizona's borders, where her stature is growing among conservatives.
Idaho Statesman: Gov. Butch Otter: Idaho's leaner and better
The recession gave Idaho the opportunity to make state government more efficient, Gov. Butch Otter said Wednesday, but he needs time to finish the job. Otter is running for a second four-year term against Democrat Keith Allred, Libertarian Ted Dunlap and independents Jana Kemp and Pro-Life. Idaho led the nation in cutting state jobs, trimming 6.9 percent of the work force in the fiscal year that ended June 30, according to the U.S. Bureau of Labor Statistics. But Otter said job cuts, furloughs and reductions in administration have improved government by restraining it to what he calls its "proper role."
CNN: NRCC suggests latest DNC move is 'political quackery'
The National Republican Congressional Committee all but accused the Democratic National Committee of "political quackery" Wednesday, as the DNC rolled out a new campaign that seeks to tie the Republican Party to the Tea Party movement in advance of the upcoming midterm elections. The DNC initiative includes a ten-point agenda which national Democrats say will be the GOP's governing agenda should Republicans win back the majority in November along with a new web video.
The State: Rival camps rip each other's fundraisers
Gubernatorial candidates Vincent Sheheen and Nikki Haley will both work donors at scheduled fundraisers today, drawing snipes from rivals. Haley, a Republican, will hold a Columbia fundraiser at the home of former S.C. GOP chairman Katon Dawson, while Sheheen, a Democrat, will be at the Washington, D.C., offices of S.C.-based law firm Nelson Mullins Riley & Scarborough with members of the state's congressional delegation. Republicans noted Sheheen's appearance with U.S. Reps. James Clyburn and John Spratt, members of the U.S. House's Democratic leadership team. Democrats noted S.C. Attorney General Henry McMaster — who is barred by state law from raising money for other candidates — will attend the Haley event.
CNN: McConnell: Tea Party not racist
Senate Majority Leader Mitch McConnell says that the Tea Party movement is not racist, clarifying a position voiced last week in which he sidestepped the prickly issue. Last week, when asked about the controversy on CNN's State of the Union, McConnell said "Oh my goodness, ... I'm not interested in getting into that debate."
Las Vegas Sun: Harry Reid, governor trade jabs over loss of education funding
Minutes after news broke that Nevada was not among the 19 states to qualify for millions of dollars in federal education grants, Sen. Harry Reid cast blame for the state's failure on Gov. Jim Gibbons, the unpopular lame-duck Republican. The accusatory news release was a sign that Nevada's shortcoming in the "Race to the Top" education competition wasn't just bad for Nevada's poorly ranked K-12 system. The Senate majority leader's hair-trigger finger-pointing signaled it might also be bad for his re-election bid.
CNN: Obama's health care infomercial
The latest White House production finds President Obama as health care infomercial king. Sporting a crisp lavender shirt and sitting in front of a laptop computer, (the Apple logo is replaced with a Presidential seal) the President types, clicks and talks into the camera as he walks viewers through the Healthcare.gov website. In one example he uses his own Chicago zip code to show how, in his past life, he would have found and compared insurance options.
Washington Post: On midterm campaign trail, Obama mixes populist appeal with wooing of big donors
President Obama's message to voters this election year is simple and full of populist zeal: Democrats are on the side of the little guy, not the Wall Street brokers, celebrities and chief executives. And yet as his poll numbers slide, the president's greatest utility to Democratic candidates may not be his presence at campaign events - some would prefer that he keep his distance - but his still impressive skill at vacuuming up millions of dollars from some of the country's richest and most generous donors. In town after town, the president is holding events that highlight his party's work on behalf of the average Joe - but that are carefully scheduled to leave plenty of time for unpublicized fundraisers with people who are anything but.
CNN: White House taps young entrepreneurs to get things done
Senior White House officials huddled Tuesday with a group of tech-savvy, hyper-connected "Generation Y" and "millennial" leaders, CNN has learned. The day-long meeting was with 70 young entrepreneurs, entertainers, philanthropists and local leaders between the ages of 18 and 35.
CNN: House passes bill to reduce disparity in cocaine penalties
Ending a decade-long campaign led by African-American lawmakers, the House Wednesday approved and sent to President Barack Obama a measure to reduce the disparity in penalties between use of crack and powder cocaine. Under a 25-year-old law, mandatory minimum sentences involving crack cocaine - a drug more commonly used by blacks than whites - led to far more severe penalties than for offenses involving powder cocaine, generally preferred by whites. "The Fair Sentencing Act will reduce sentencing disparity between crack and powder cocaine from 100-to-1 to 18-to-1," said Congressman John Conyers, D-Michigan, who applauded the passage.
NATIONAL
For the latest national news: www.CNN.com
CNN: Legal battle looms over Arizona immigration law
A legal battle over a tough Arizona immigration law appeared certain after a federal judge granted a preliminary injunction Wednesday that blocked the most controversial parts of the law a day before it was to take effect. The injunction means that, at least for now, police are prevented from questioning people's immigration status if there is reason to believe they are in the country illegally. U.S. District Judge Susan Bolton also blocked provisions of the law making it a crime to fail to apply for or carry alien registration papers or "for an unauthorized alien to solicit, apply for, or perform work," and a provision "authorizing the warrantless arrest of a person" if there is reason to believe that person might be subject to deportation.
Arizona Republic: Arizona immigration law: State to appeal injunction
Arizona Gov. Jan Brewer's office said late Wednesday that the state will file an expedited appeal with the 9th Circuit Court of Appeals on Thursday, asking the panel to lift the preliminary injunction preventing several sections of Arizona's new immigration law from going into effect.
CNN: Officials optimistic amid preparations to seal Gulf oil well
One hundred days after an oil well operated by BP ruptured in the Gulf of Mexico, and 13 days after crews finished capping the well to contain the gushing crude, the man who is overseeing the federal response is optimistic that steps planned for the coming days will finally, permanently seal the well.
Wall Street Journal: Americans Cut Back on Visits to Doctor
Insured Americans are using fewer medical services, raising questions about whether patients are consuming less health care as they pick up a greater share of the costs. The drop in usage is showing up as health-care companies report financial results. Insurers, lab-testing companies, hospitals and doctor-billing concerns say that patient visits, drug prescriptions and procedures were down in the second quarter from year-ago levels.
INTERNATIONAL
For the latest international news: http://edition.cnn.com
CNN: Mexico praises decision on Arizona law
Mexican Foreign Affairs Secretary Patricia Espinosa called Wednesday's decision on Arizona's immigration law "a step in the right direction." Mexican authorities will do all they can to ensure that the rights of Mexican nationals are not violated, Espinosa said, and will work to identify and register possible violations. In addition, she said, Mexico's five consulates in Arizona will open on Saturdays and will staff a 24-hour hotline.
CNN: Plane with 152 on board crashes in Pakistan; no survivors
No one survived the crash of a Pakistani passenger plane that went down in the outskirts of the capital Islamabad Wednesday morning with 152 people on board, officials said. Rescuers worked in heavy rains to recover bodies from the wreckage, as officials launched an investigation to determine why the accident occurred. Pakistani Information Minister Qamar Zaman Kaira said 115 bodies have been taken to area hospitals.
CNN: Explosion kills 10 at plastics factory in eastern China
The death toll from an explosion at a factory in eastern China now stands at 10 people, state-run Xinhua news agency said, citing a casualty count from local government officials. At a news conference, officials in the city of Nanjing told reporters that more than 120 people had been hospitalized after a blast ripped through an abandoned plastics factory Wednesday morning.
CNN: Four journalists held hostage in Mexico
The Committee to Protect Journalists appealed Wednesday to the Mexican government to do all it can to bring about the release of four journalists abducted Monday. The four were abducted in the Laguna region, which includes Durango and parts of the neighboring state of Coahuila - all in the northern part of the country where the Zetas criminal group and the Sinaloa cartel have been fighting.
BBC News: Guatemala tries Mexican massacre suspects
The trial has opened in Guatemala of 14 alleged members of the Mexican drug cartel Los Zetas. The men have been charged with the murder of 11 people in 2008. Prosecutors say the killings were part of a turf war between Mexican and Guatemalan cartels. Guatemalan police say the massacre is proof that the violence perpetrated by Mexican cartels is increasingly spilling into neighbouring countries.
Wall Street Journal: Drug Use, Poor Discipline Afflict Afghanistan's Army
Use of marijuana, opium and heroin among Afghan troops, even while on patrol, is just one of the challenges coalition forces face in working with the Afghan National Army as they begin a major push against the Taliban in and around the southern city of Kandahar. U.S. soldiers complain that poor discipline, drug use, a trigger-happy attitude and general carelessness by Afghan soldiers are putting American lives in danger and could ultimately undermine efforts to win over wary Afghans, the main aim of the campaign.
CNN: Cell phones save lives in Rwandan villages
The Rwandan government is giving out hundreds of cell phones in an attempt to save pregnant women and babies. Nearly 500 volunteer community health care workers in the rural district of Musanze have been given free phones so they can keep track of all the pregnant women in their villages. The cell phones are used to register and monitor expecting mothers. If there are any questions, complications or updates, health workers simply send a text to their local clinic and receive a response within minutes.
CNN: Cameron: We won't tolerate 'export of terror' by Pakistan
Britain's prime minister delivered a sober message Wednesday to Pakistan: Don't export terror. "We want to see a strong and a stable and a democratic Pakistan," David Cameron said in Bangalore, India, "but we cannot tolerate in any sense the idea that this country is allowed to look both ways and is able in any way to promote the export of terror, whether to India or whether to Afghanistan, or anywhere else in the world." Cameron made several remarks in a speech and a question and answer session.
New York Times: As China's Economy Grows, Pollution Worsens Despite New Efforts to Control It
China, the world's most prodigious emitter of greenhouse gas, continues to suffer the downsides of unbridled economic growth despite a raft of new environmental initiatives. The quality of air in Chinese cities is increasingly tainted by coal-burning power plants, grit from construction sites and exhaust from millions of new cars squeezing onto crowded roads, according to a government study issued this week. Other newly released figures show a jump in industrial accidents and an epidemic of pollution in waterways.
BBC News: Plan to axe fixed retirement age
The government is planning to scrap the default retirement age in the UK from October 2011. Under the proposal, employers would not be allowed to dismiss staff because they had reached the age of 65. Activists, who have long campaigned against the rule, welcomed the proposal as a "victory" against ageism.
BUSINESS
For the latest business news: www.CNNMoney.com
CNNMoney: Stocks fall on economic fears
Stocks fell Wednesday as a worse-than-expected report on durable goods orders and weaker quarterly results from Boeing and others added to concerns about the pace of the economic recovery. The Dow Jones industrial average (INDU) lost 40 points, or 0.4%. The S&P 500 (SPX) lost 8 points, or 0.7%. The Nasdaq (COMP) composite lost 24 points, or 1%. The surprise drop in durable goods orders and a slide in European markets kept concerns about the U.S. economy front and center.
CNN: People sue Apple over 'overheating' iPads
Three iPad users claim that because the iPad will shut itself off after remaining in direct sunlight for long enough, it fails to meet the promises Apple made about using the device as an e-book reader. The group has filed a federal class-action lawsuit in the Northern California district to "redress and end this pattern of unlawful conduct." When the iPad's operating temperature reaches a critical level, it will force itself to shut down and display a message warning the user to let the device cool down before trying use it again. This warning is the same that iPhones and iPod Touches give before shutting down when they overheat, often after being left in direct sunlight.
CNN: Amazon sells out of the Kindle
Amazon has sold out of its least expensive Kindle, perhaps providing further evidence of the e-reader's popularity or signaling a new device in the offing. Anyone who has visited the popular e-tailer's site in the past year or so has grown accustomed to being greeted by the Kindle's image. However, as of Tuesday afternoon, the base $189 Kindle had been replaced on Amazon's home page by the $379 Kindle DX. The page for the base Kindle featured a note to shoppers saying the device was "temporarily out of stock. Order now and we'll deliver when available." To our knowledge, this is the first time a Kindle has been listed as sold out since 2008.
CNNMoney: Why a top Facebook app maker vanished
Facebook said Wednesday it has deleted all applications created by Pencake, wiping out widgets used by an estimated 45 million Facebook members. Pencake, based in Hong Kong, developed the massively popular "Create Your Quiz" app. Unofficial data tracker AppData lists Pencake as Facebook's No. 3 most popular outside developer, trailing only Zynga and Electronic Arts. But Facebook says Pencake built its vast user base by going rogue.
Bloomberg: Panasonic Said to Plan Sanyo, Electric Works Buyout
Panasonic Corp., Japan's largest home-appliance maker, will offer to buy out Sanyo Electric Co. and Panasonic Electric Works Co. shareholders to gain full control of the units, three people familiar with the matter said. Sanyo jumped as much as 26 percent in Tokyo trading after the Nikkei newspaper reported Osaka-based Panasonic may offer about 900 billion yen ($10 billion). That would be a premium of 26 percent over the latest closing price.
Investors Business Daily: Economic Expansion Cooling, Fed Says
Economic activity continued to increase "on balance" from early June to mid-July, though it stalled or slowed in several districts, the Federal Reserve said Wednesday in its beige book report. The half-full, half-empty review dovetailed with a Commerce Department report showing that orders for durable manufactured goods unexpectedly fell in June for a second straight month, though capital spending continued to rise.
CNN: California workers stiffed again
California's state workers just can't catch a break. For the past year and a half, 200,000 of them have been forced to take three unpaid furlough days a month - losing as much as 14% of their pay. The furlough order expired July 1, when workweeks and full salaries were restored. But the reprieve was short: The state's workers are getting slapped back down.
Washington Post: A crossroads for the U.S. economy
The U.S. economy is out of the ditch. But is there enough gas left in the engine to reach highway speed? The recovery faces a crucial test over the next couple of months: Either it will pick up vital momentum from increased consumer spending and investment or stall out, dipping into a period of anemic growth - or perhaps even another recession. Forecasters knew this inflection point would arrive, a moment when consumers and businesses must take over for government stimulus spending and the rebuilding of inventories.
Daily Finance: Harley-Davidson's Modest New Line Still Gets Customers Fired Up
Harley-Davidson's (HOG) 2011 line of motorcycles has everything you'd expect: contemporary custom-designed bikes ("customs") drenched in chrome and dark retro-style bobbers (bikes with rear fender shortened or "bobbed") and wicked new colors and graphics. But there are some new twists to the storied brand, like a built-in iPod Nano; a suspended, heated, two-up seat with leather inserts; dual mufflers featuring new chrome billet end-caps with black spears; and new mirrors finished in chrome.
In Case You Missed It
Soledad O'Brien reports on police training designed to avoid racial profiling while enforcing Arizona's immigration law.
CNN's Gary Tuchman finds hard labor, sweat and boredom working a full day in grape fields where Americans don't tread.
Subscribe to the CNN=Politics DAILY podcast at http://www.cnn.com/politicalpodcast
And now stay posted on the latest from the campaign trail by downloading the CNN=Politics SCREENSAVER at http://www.CNN.com/situationroom