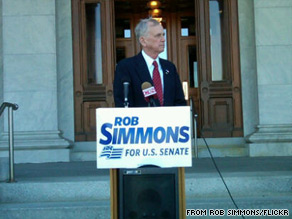 Rob Simmons picked up a major endorsement Wednesday.
Washington (CNN) - Not only is Rob Simmons' campaign for Senate back from the dead, but the Republican has picked up the endorsement of Connecticut's largest newspaper.
The status of the Simmons' campaign had been a mystery since May, when he suspended his campaign and released most of his staff after finishing second at the Connecticut GOP convention. But Simmons did remain on the primary ballot.
The Simmons campaign has experienced a rebirth the past two weeks. Last week, Simmons announced he would run a television commercial – billed as a public service announcement – asking Connecticut voters to look at the issues when making their decision in the state's August 10 primary. In the ad Simmons reminds voters that he's still on the ballot.
On Tuesday, Simmons attended a debate in which he declared: "I am running for the United States Senate because I love my country and I don't like where it's going."
And in an editorial posted Wednesday night, he picked up the backing of the Hartford Courant. The editorial board of the paper endorsed Simmons "with hesitation," saying the former House member "has a gold-plated public-service resume."
"His votes over time have been in line with the mostly moderate traditions of the Republican Party in Connecticut," the editorial board wrote. "It is for those reasons that The Courant's editorial board, with hesitation, recommends that Republican voters in the Aug. 10 primary choose Mr. Simmons to be their standard-bearer in the fall election for the U.S. Senate seat being vacated by Christopher J. Dodd."
But the paper makes clear it has reservations about its Republican primary endorsement.
"Our doubts center on Mr. Simmons' strange non-campaign campaign since losing the party's endorsement to Linda McMahon at the May 22 state convention. He put his campaign in mothballs and laid off his staff, but left his name on the ballot."
The editorial, dated July 29, also lists its reasons for not endorsing Linda McMahon, the former WWE executive and GOP primary frontrunner.
"Ms. McMahon clearly has leadership skills and business moxie. She has the ability to deftly handle rhetorical fastballs," the editorial board writes. "But it's a strike against her that she won't test her capacity to withstand hostile questions in additional debates with her rivals.
"Further, WWE's schlocky, off-color content is not everyone's cup of tea, as one of her ads admits. To the extent that voters believe – unfairly or not – that the content of her business enterprise reflects her values, it distracts from her campaign message. Likewise, any new whiff of scandal could damage her candidacy."
The Republican primary winner will face off in November against longtime Connecticut Attorney General Richard Blumenthal, the presumptive Democratic nominee. The general election winner will succeed five-term Democratic Sen. Chris Dodd, who announced earlier this year that he would not run for re-election.