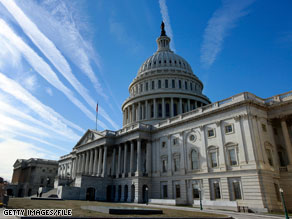 The CNN 100 takes a look at the top 100 House races, from now until Election Day.
Editor's Note: In the final 100 days before Election Day, CNN has been profiling one race at random each day from among the nation's top 100 House races, which we've dubbed "The CNN 100." Read the full list here. Today's featured district is:
North Carolina 8th – Rep. Larry Kissell (D) is seeking a 2nd term
Primary: May 4, 2010; Runoff: June 22, 2010
Location: South Central North Carolina
Days until Election Day: 95
Vulnerable House Democrats like Rep. Larry Kissell hope that what Barack Obama giveth in 2008, he doesn't taketh away in 2010. Kissell and other down-ballot Democrats in North Carolina got a boost from the president's strong showing here in the last election, when Obama became the first Democrat to carry the state since Jimmy Carter in 1976. Two years later, it's a completely different environment, and Obama likely won't be much help to any incumbent from a traditionally red state, especially in a midterm election year that historically has punished the incumbent party in Congress.
To his credit, though he probably benefited greatly from Obama's strong 2008 showing, Kissell is not necessarily a coattail-rider whose fortunes completely rise and fall with the president's popularity. He defeated five-term GOP incumbent Robin Hayes with a healthy 55 percent of the vote, enough to outperform the 52 percent Obama garnered here that same day. And in his first run for the seat in 2006, he came within 329 votes of knocking off Hayes on his own.
In Congress, Kissell is usually a reliable Democratic vote. According to a CQ tally, he supported Obama's position 89 percent of the time on key votes in his first year and backed a majority of his fellow House Democrats 93 percent of the time. However, he has bucked the White House and his party leadership on some high-profile Democratic priorities, including health care reform and the so-called "Cap and Trade" energy proposal. Kissell did vote in favor of the stimulus package last year and the Wall Street reform plan that Obama signed into law last week.
Kissell's Republican opponent in November will be Harold Johnson, an ex-Marine and former Charlotte-area television sportscaster whose work could be seen in much of the district for over 30 years until his retirement in 2006. His opponent for the GOP nomination was Tim D'Annunzio, a businessman and Army veteran who was a member of the "Golden Knights" parachute team. The primary battle was spirited. D'Annunzio's self-described "troubled upbringing" became an issue in the campaign and prompted the candidate to conduct and release a background check on himself. The party establishment backed Johnson, but D'Annunzio nonetheless spent $1.4 million of his own money on the race. D'Annunzio placed first in the May primary, but did not garner enough votes to avoid a runoff. Johnson prevailed in the June rematch, winning 61 percent of the vote to D'Annunzio's 39 percent.
North Carolina's 8th district is located in the South-central part of the state and includes parts of Charlotte on the West and Fayetteville on the East. African-Americans make up roughly 28 percent of the population here, the fourth highest concentration of black voters out of the state's 13 districts. In 2008, most of the northern and western parts of the district supported John McCain, while the southern half went for Obama, enough to carry the district overall. George W. Bush won the district in 2004 with 54 percent of the vote.
Kissell enters the general election phase of the campaign in a relatively good position, at least compared to other Democratic incumbents in a similar situation. He did not have a significant primary challenge and was able to bank $293,000, more than triple the $81,730 that Johnson had remaining in his account after winning the nomination. And he has demonstrated some strength in Republican areas that preferred McCain. Kissell carried two of the four counties Obama lost and either outperformed or tied him in five of the six district Obama won.
That said, plenty could go wrong for Kissell. Johnson was arguably the more "electable"candidate in the GOP field. And despite his cash advantage, Kissell raised only $100,000 in contributions in the 2nd quarter, just slightly ahead of the $69,000 Johnson raised. Considering that the year will likely be a tough one for Democrats nationwide and that his district still has strong Republican roots, Kissell faces a tough fight for re-election.