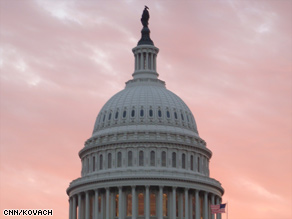 The CNN Washington Bureau's morning speed read of the top stories making news from around the country and the world.
WASHINGTON/POLITICAL
For the latest political news: www.CNNPolitics.com
CNN Poll: How public views political parties
With just over three months until November's midterm elections, a new national poll gives a picture of how Americans view the two political parties battling for control of Congress. According to a CNN/Opinion Research Corporation survey released Friday, Democrats hold a 46 to 39 percent advantage over the Republican party on the question of which party cares more about the needs of people like you, with the Democrats and the GOP tied on which party can bring the kind of change the country needs. But the poll indicates that the Republicans have a small to significant edge on several other measures.
CNN: Planned U.S. draw-down from Afghanistan a sensitive issue
Less than a year from the scheduled start of withdrawing some troops from Afghanistan, opinions remain varied about exactly what will happen when the transition begins at the end of June 2011.However, questions over how to measure success and whether the almost 9-year-old war is worth the continuing U.S. investment in lives and resources are gaining prominence as congressional mid-term elections approach in November.
Los Angeles Times: Corporate campaign fundraising picks up speed
Driven by increasing anger at Democratic policies and by recent Supreme Court decisions unshackling corporate contributions, business and conservative groups are preparing a flood of campaign money to try to wrest control of Congress from the Democrats. The U.S. Chamber of Commerce, the biggest collection point for corporate contributions, has increased its spending for the congressional election in November from $35 million in 2008 to a projected $75 million this year. Officials say it may go even higher.
Wall Street Journal: Ethical Woes Fog Democrat Hopes for November
Two possible ethics trials of senior Democratic members of Congress are compounding the governing party's political woes and raising hopes among Republican leaders that they can make large gains in November's mid-term elections. On Sunday, Republicans sought to capitalize on the ethics troubles of Democratic Reps. Charles Rangel of New York and Maxine Waters of California. House Minority Leader John Boehner (R., Ohio) said on Fox News that Democrats had failed to "drain the swamp" of House ethics as they had promised. House Speaker Nancy Pelosi (D., Calif.) moved to limit the damage, saying the proceedings facing the two members show that Democrats are taking ethics seriously. "When I came in, we said, 'We'll drain the swamp,' and we did," she said on ABC's "This Week."
CNN: Waters will choose House ethics trial, source says
Democratic Rep. Maxine Waters of California has chosen to face a House ethics trial rather than accept a finding of wrongdoing by the House ethics committee, according to a source familiar with the process. The ethics committee has been looking into whether Waters violated any House rules when she helped arrange a meeting in September 2008 between a bank she and her husband had ties to financially and Treasury Department officials.
Wall Street Journal: New Mexico Race Gives Big Donors Last Splash
The two women vying to be New Mexico's next governor are both promising to clean up a state sullied by a string of political fund-raising scandals, but both are taking full advantage of the state's unusually loose campaign-finance laws. The state's Democrat-controlled legislature last year voted to join most other states in setting limits on campaign contributions. With the leading Democratic candidate for governor, Lt. Gov. Diane Denish, having already amassed a sizable war chest, however, lawmakers set the new contribution limits to take effect Nov. 3—the day after the election. Ms. Denish retains a fund-raising lead, thanks in part to large contributions from union and liberal activist groups and the Democratic Governors Association. Her GOP opponent, Susana Martinez, has raised nearly as much as Ms. Denish.
CNN: Senate Republicans decry what they call 'amnesty' memo
Senate Republicans have an internal memo from the Department of Homeland Security which they say shows the Obama administration "conspiring" and "scheming" to allow millions of illegal immigrants to stay and work in the United States At issue is an 11-page memo prepared for the head of the U.S. Citizenship and Immigration Services entitled, "Administrative Alternatives to Comprehensive Immigration Reform." It was obtained by Iowa Republican Sen. Charles Grassley, who said the intent of the memo is "...to find very secret creative ways to unilaterally circumvent the law and have a backdoor to amnesty." The memo says, "The following options... used alone or in combination... have the potential to result in meaningful immigration reform absent legislative action."
CNN Poll: Arizona law's political impact
The heated debate over a controversial Arizona immigration law which partially took affect this week could push Hispanic voters away from a Republican party looking for their support, according to the findings of a new national poll. A CNN/Opinion Research Corporation survey released Friday indicates that on the question of which party cares more about people like you, Hispanic respondents pick the Democrats over the Republicans by 27 points. And when asked which party agrees with you on the issues that matter most to you, Democrats hold a 25 point advantage among Hispanics. But Republicans hold a 44-38 percent advantage among Hispanics on which party can do a better job improving the economy.
CNN: Obama gives himself a grade of 'incomplete' after 18 months
It's still too early to judge his administration, President Barack Obama says. In an interview broadcast on the CBS "Sunday Morning" program, Obama gave himself a grade of "incomplete" on the first 18 months of his presidency. While citing some accomplishments, Obama said the true measure of success will be when the economy has rebounded fully and people are feeling better about it.
Washington Post: For Rep. Chris Van Hollen, midterm elections could decide next move
Republicans are casting the November elections as a referendum on President Obama, but the results could also help shape the fortunes of Rep. Chris Van Hollen, a fast-rising Maryland Democrat facing a tough test. After moving through the ranks with bright prospects ahead, Van Hollen has the unenviable task of steering his party through what could be its worst election cycle in 16 years. For Van Hollen, in his fourth term representing Montgomery County and his second as chairman of the Democratic Congressional Campaign Committee, the performance in 2010 will likely help determine the next step in his political career. Can Van Hollen move further up the House Democratic leadership ladder if the party loses the majority on his watch?
CQ Politics: GOP Eager to Let Brown's Star Power Shine
Scott P. Brown is preparing to spend the final three months of the midterm campaign boosting Republican prospects for a long-shot Senate takeover, and party strategists are eager to leverage the Massachusetts Senator's star power. Brown emphasized in an interview that legislating and constituent service remain his primary focus and said his top political priority this fall is helping to elect Republicans running for state office and the Legislature in Massachusetts. "Initially, I'm just going to do my job, [and] I'm going to help people from Massachusetts first. ... Those are my first two priorities," Brown said. But Brown did not shy away from plans to campaign for Republican Senate candidates throughout the country over the next three months. Several fundraising and campaign appearances are either scheduled or being planned, with Brown saying he will direct most of his efforts toward Republicans who share his values.
CNN: RNC cancels Breitbart fundraiser
The Republican National Committee has cancelled a fundraiser with conservative blogger Andrew Breitbart, who is under fire for promoting an edited video that falsely portrays former Agriculture Department employee Shirley Sherrod as having boasted about discriminating against a white farmer looking for her assistance. Breitbart was scheduled to appear with RNC Chairman Michael Steele at a reception later this month in Beverly Hills.
Las Vegas Sun: 'None of the above' vote could be deciding factor in Senate race
If the polls are any indication, Nevada voters aren't happy with either the Democrat or the Republican in the U.S. Senate race. Senate Majority Leader Harry Reid's 55 percent unfavorable rating is matched by the 56 percent unfavorable rating of his GOP rival, Sharron Angle. The most popular ballot option might not be for a person at all. "None of these candidates" is expected to draw a significant portion of the vote in November because of the candidates' unpopularity and the pessimistic mood of the electorate. More than merely a gauge of Nevada's ennui, "none of the above" could determine the outcome of the election and will almost guarantee that the Senate race victor emerges with less than 50 percent of the vote.
Washington Post: Rep. Ryan pushes budget reform, and his party winces
Viewing him as a rising star in the party, Republicans in Congress often talk up Rep. Paul Ryan as a potential governor, senator or House leader. The lanky, youthful-looking congressman from Wisconsin has begged off, citing his young children and limited desire to spend all his time raising campaign money. Instead, Ryan is running a campaign of a different sort, one his party has so far refused to adopt: He is determined to persuade colleagues to get serious about eliminating the national debt, even if it means openly broaching overhauls of Medicare and Social Security.
Washington Post: 2012 Project hopes to recruit new generation of female candidates
Despite a number of high-profile female candidates this year, women have yet to break through in politics the way they have in the rest of the workforce. Only 17 percent of members of Congress are women, and women make up just 24 percent of state lawmakers. Now, a group of activists and academics hopes to train a new generation of female candidates in time for the 2012 elections. The 2012 Project aims to take advantage of next year's redrawing of state and congressional districts.
CNN: Graham fears left, right in 'unholy alliance' on Afghanistan
A prominent Republican on the Senate Armed Services Committee is praising President Barack Obama's approach to fighting terrorism in Pakistan. However, Sen. Lindsey Graham, R-South Carolina, is also worried that conservatives and liberals could join forces to undermine Obama's efforts in Afghanistan.
NATIONAL
For the latest national news: www.CNN.com
CNN: Allen 'satisfied' with dispersant use in Gulf oil disaster
Retired Coast Guard Adm. Thad Allen, who is overseeing the federal response to the BP oil spill, said Sunday that he is "satisfied" with the amount of dispersants that have been used to clean up the disaster, saying crews have used them only when needed. Allen's comments were in response to new documents released by a congressional subcommittee that indicate Coast Guard officials allowed BP to use excessive amounts of chemical dispersants in the Gulf of Mexico.
CNN: MIT students helped WikiLeaks suspect, hacker says
Adrian Lamo, the former computer hacker who tipped off federal authorities to WikiLeaks suspect Bradley Manning, says two men in the Boston area have told Lamo in phone conversations that they assisted Manning. Lamo said both men attend the Massachusetts Institute of Technology, but he refused to identify them because, he said, at least one of them has threatened him. One of these men allegedly told Lamo they gave encryption software to Manning and taught the Army private how to use it, Lamo said.
New York Times: Border Deployment Will Take Weeks
No boots were seen tromping in the desert sand on Sunday. No commanders were heard barking out orders to their troops. The National Guard, which officials had announced would turn out en masse along the United States-Mexico border over the weekend for sentry duty, was nowhere to be found. It turns out it will take weeks longer to select, screen and train the 1,200 National Guard troops the Obama administration had said would be deployed on Aug. 1 along the border from California to Texas.
Washington Post: U.S. regulators lack data on health risks of most chemicals
This summer, when Kellogg recalled 28 million boxes of Froot Loops, Apple Jacks, Corn Pops and Honey Smacks, the company blamed elevated levels of a chemical in the packaging. Dozens of consumers reported a strange taste and odor, and some complained of nausea and diarrhea. But Kellogg said a team of experts it hired determined that there was "no harmful material" in the products. Federal regulators, who are charged with ensuring the safety of food and consumer products, are in the dark about the suspected chemical, 2-methylnaphthalene. The cereal recall hints at a larger issue: huge gaps in the government's knowledge about chemicals in everyday consumer products, from furniture to clothing to children's products.
INTERNATIONAL
For the latest international news: http://edition.cnn.com
CNN: Rules for Afghanistan: Fight Taliban, corruption, "drink lots of tea"
Fight the Taliban "relentlessly." Don't tolerate corruption. Drink "lots of tea" with the locals. Those admonitions are among the two dozen guidelines for counterinsurgency warfare that Gen. David Petraeus issued to U.S. and allied troops in Afghanistan on Sunday. In his first major public pronouncement since taking command in early July, Petraeus urged American troops and the NATO-led International Security Assistance Force to learn and adapt to the culture of Afghanistan while battling the Taliban insurgents and their allies.
CNN: Iraq, U.S. offer conflicting July death toll
The U.S. military Sunday disputed Iraqi figures that indicated July was the deadliest month for civilians there since May 2008, saying the actual numbers are less than half what leaked internal Iraqi government figures show. The U.S. command in Baghdad "refutes that 535 people were killed in Iraq during the month of July," the military said in a statement. It put the total number of people killed by "enemy action" at 222, including 161 civilians - the ninth-lowest civilian casualty count since January 2008, according to the U.S. military.
CNN: Dutch troops leave southern Afghanistan
The Netherlands became the first NATO ally to pull combat troops out of Afghanistan on Sunday, as it handed over its mission in southern Afghanistan's Uruzgan province to U.S. and Australian forces. At the peak of their commitment, the Dutch had nearly 2,000 troops in Afghanistan. Some staff units remain in Afghanistan, according to the NATO-led International Security Assistance Force, but the Dutch government said the last of its troops will return by December.
Guardian: Iran stoning woman offered asylum by Brazil's president Lula
Brazilian president Luiz Inácio Lula da Silva has stepped into the international outcry over Sakineh Mohammadi Ashtiani, the Iranian woman sentenced to death by stoning for adultery, by offering his country as a refuge, a move which raised hopes her life will be spared. The surprise offer prompted an immediate reaction from Iran, which considers Brazil a key ally. Iranian officials softened their tone with Ashtiani's family over the weekend and official media reported full details of the story for the first time.
Der Spiegel: Islamists Gain Upper Hand in Russian Republic
Nowhere in Russia is the situation so explosive as in the autonomous republic of Dagestan. An ongoing Islamist insurgency has plunged the corruption-plagued region into near civil war. Some high-ranking Russian officials believe it will take years to defeat the extremists, if it can be done at all.
CNN: Officials: Pakistan flood deaths top 1,100
The devastating floods in Pakistan have killed more 1,100 people, Pakistani government officials told CNN on Sunday. Another 30,000 people were stuck on their rooftops and in higher areas as they tried to escape rushing floodwaters, a United Nations official said Sunday.
CNN: Israel urges Abbas to restart peace talks
Israeli Prime Minister Benjamin Netanyahu urged Palestinian Authority President Mahmoud Abbas on Sunday to restart peace talks with Israel, saying he hopes Abbas "will accede not only to my call, but to that of many in the international community." Netanyahu made the remarks at the start of his Cabinet meeting where he noted recent successful meetings with other Mideast leaders including Egyptian President Hosni Mubarak and Jordanian King Abdullah II.
Wall Street Journal: Kenyans to Vote on Controversial Constitution
Kenyans will vote on a controversial new constitution in a referendum on Wednesday—the latest step in a series of efforts by the nation's leaders to bring political change to their country to quell tribal tensions. The U.S., eager to bring stability to a regional powerhouse and a strong ally in its fight against terrorism, maintains a new constitution is central to that effort. U.S. officials, including the Kenya ambassador, Michael Ranneberger, and Vice President Joseph Biden, who visited Nairobi in June, have spoken at length about the importance of the draft and the need for change. More than 1,300 people were killed in ethnic violence in the country in early 2008.
Washington Post: In Mexico's Nuevo Laredo, drug cartels dictate media coverage
Nuevo Laredo has three television news channels, four daily newspapers and at least five radio stations that broadcast news, but every outlet ignored the biggest story of the year. Nuevo Laredo is not an isolated village but the busiest city along the U.S.-Mexico border, a vital U.S. trade partner with a population of 360,000, professional sports teams, universities and an international airport. Fearing for their lives and the safety of their families, journalists are adhering to a near-complete news blackout, under strict orders of drug smuggling organizations and their enforcers, who dictate - via daily telephone calls, e-mails and news releases - what can and cannot be printed or aired.
BBC News: Greek drivers vote to end strike
Lorry drivers in Greece have ended a week-long strike against plans to reform the freight industry and agreed to resume talks with the government. The union decision, approved by a narrow margin, came after the army was mobilized to deliver fuel to key sites. The drivers, angry over a plan to allow more competition as required by the International Monetary Fund, ignored an order to return to work on Wednesday. Fuel supplies were severely disrupted and Greece's tourist industry affected.
BUSINESS
For the latest business news: www.CNNMoney.com
CNNMoney: Bulls brace for earnings hangover
After a big rally in July, investors could be in for another bout of economic jitters this week as the focus shifts from earnings to the weak job market. Stocks booked the best monthly gain in a year during July as investors cheered strong second-quarter results from an array of major U.S. companies. About 75% of the roughly 300 companies in the S&P 500 that have reported earnings so far have beat analysts' estimates. But with relatively few top tier companies left to report earnings, the economic outlook is likely to set the tone for the market this week.
Bloomberg: Asian Stocks Rise to 11-Week High on Earnings; Yen, Dollar Fall
Asian stocks climbed, driving the MSCI Asia Pacific Index to an 11-week high, as increased profit forecasts boosted confidence in the region's economic growth. The yen and dollar weakened as demand for safer assets dropped. The MSCI Asia Pacific Index climbed 1.2 percent to 120.58 as of 12 p.m. in Tokyo, extending four weeks of gains. Futures on the U.S. Standard & Poor's 500 gained 0.6 percent. The yen declined to 113.27 per euro from 112.84 in New York last week. The dollar slipped to $1.3080 per euro from $1.3052, after declining to $1.3107 on July 29, the weakest level since May 4.
CNNMoney: China manufacturing growth slows
China's manufacturing sector is still growing, but the pace is starting to slow. That could set off some alarm bells in the financial markets about the state of the global economy. The government-run China Federation of Logistics and Purchasing reported Sunday that the country's Purchasing Managers Index, or PMI, fell to 51.2 in July from 52.1 a month earlier. A PMI figure above 50 indicates growth in the manufacturing sector, but the July reading was a 17-month low.
New York Times: U.A.E. Is to Bar BlackBerry E-Mail Over Security Issues
The United Arab Emirates, citing security concerns, said Sunday that it would suspend BlackBerry mobile services like e-mail and text messaging beginning in October, the latest high-stakes clash between governments and communications providers over the flow of digital information. The Emirates have been in a long dispute with Research In Motion, the smartphone's producer, over the BlackBerry's highly encrypted data system, which offers security to users but makes it more difficult for governments to monitor communications.
Business Week: Dividends Rise, Tax Hikes May Follow
U.S. shareholders are seeing companies boost dividends again, after two years of sharp declines in payouts. However, at the same time, taxes on their dividends could be heading higher, taking a bite out of shareholders' income and potentially hurting the performance of dividend-paying stocks. So far in 2010, 10 companies in the large-cap Standard & Poor's 500-stock index that hadn't been paying dividends started doing so, according to Standard & Poor's. Another 146 increased their quarterly payout. Just one company—Valero Energy (VLO)—has lowered its dividend, and another, refiner Tesoro (TSO), canceled it altogether.
Bloomberg: AT&T, Verizon Said to Target Visa, MasterCard With Smartphones
AT&T Inc. and Verizon Wireless, the biggest U.S. mobile carriers, are planning a venture to displace credit and debit cards with smartphones, posing a new threat to Visa Inc. and MasterCard Inc., three people with direct knowledge of the plan said. The partnership, which also includes Deutsche Telekom AG unit T-Mobile USA, may work with Discover Financial Services and Barclays Plc to test a system at stores in Atlanta and three other U.S. cities that would let a consumer pay with the contactless wave of a smartphone, the people said. The carriers have been searching for a chief executive officer.
Business Week: Social Networking and Games Leap in Web Use
Portal schmortal. U.S. Internet users are spending more Web time with social networking sites and games and less with e-mail and traditional portals, Nielsen says. In June Web users devoted 23 percent of their time online to social networking sites, up from 16 percent a year earlier, thanks largely to Facebook, according to Nielsen research released Monday. Online games, propelled by social applications such as Zynga's FarmVille, rose to 10 percent, taking the No. 2 position previously held by e-mail use.
CNNMoney: Ballmer: Microsoft feels tablet 'urgency'
Microsoft Chief Executive Steve Ballmer said Thursday that the software giant is urgently working with its partners to unveil a host of tablet computers running Windows 7, to compete with Apple's fast-selling iPad. At a meeting with financial analysts on Thursday, Ballmer outlined the company's strategy to catch up to Apple and Google in the consumer space. He said Apple is doing an "interesting" job with the iPad and has "sold certainly more than I'd like them to sell." As a result, Ballmer said his company's "job one urgency" is bringing Windows-based tablet computers to the market.
In Case You Missed It
CNN's Candy Crowley takes a look at Sen. Lindsey Graham's relationship with the Democrats and Republicans.
While lawmakers battle over procedure, a bill to help 9/11 responders and survivors languishes. CNN's Josh Levs reports.
Subscribe to the CNN=Politics DAILY podcast at http://www.cnn.com/politicalpodcast
And now stay posted on the latest from the campaign trail by downloading the CNN=Politics SCREENSAVER at http://www.CNN.com/situationroom