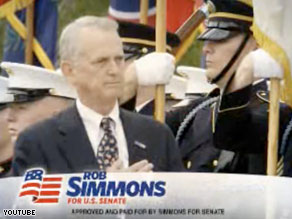 Rob Simmons is up with a new ad that touts his service record.
Washington (CNN) – With eight days to go before a Connecticut primary in which voters will select nominees to compete for the seat of veteran Democratic Sen. Chris Dodd, one contender for the GOP nomination is up with a new ad, and has scored another newspaper endorsement.
Rob Simmons, who at one point suspended his campaign, is up with a new 30-second spot that touts his military service. Titled "Lest We Forget" the ad features images of Simmons in a military uniform. Before running for public office, Simmons served as an Army officer and more recently worked at the CIA.
"Lest we forget, service is what we ask of our leaders," the ad's narrator says. "And service is the yardstick by which we measure them."
The status of the Simmons' campaign had been a mystery since May, when he suspended his campaign and released most of his staff after finishing second at the Connecticut GOP convention. But Simmons did remain on the primary ballot.
In recent weeks, Simmons has revived the campaign, launching two ads, attending a debate and scoring up the endorsement of Connecticut's largest newspaper.
But Simmons faces an uphill battle against Linda McMahon, a former WWE executive who won the Connecticut GOP convention.
Simmons received a boost Friday from Connecticut newspaper The Day, who endorsed Simmons while at the same time questioning the credentials of McMahon.
"[T]here is also much to concern GOP voters about her candidacy. Ms. McMahon made her riches through an exploitative and often degrading form of entertainment with links to steroid use," The Day's editorial board said. "WWE glorifies violence and bullying. It has treated women as objects and people with disabilities as victims, not equals. Ms. McMahon says WWE has cleaned up its act to 'PG' status. Still, the nature of her business background will turn off many voters."
Last week, the Hartford Courant endorsed Simmons.
The Republican primary winner will face off in November against longtime Connecticut Attorney General Richard Blumenthal, the presumptive Democratic nominee. The general election winner will succeed five-term Democratic Sen. Chris Dodd, who announced earlier this year that he would not run for re-election.