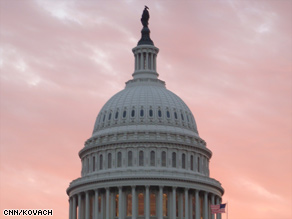 The CNN Washington Bureau's morning speed read of the top stories making news from around the country and the world.
WASHINGTON/POLITICAL
For the latest political news: www.CNNPolitics.com
CNN: California Democrat charged with House ethics violations
A House ethics investigative panel has charged a high-ranking Democratic congresswoman with violating House rules by seeking federal assistance for a bank with financial ties to her husband. According to the House ethics committee, California Rep. Maxine Waters helped arrange a meeting in September 2008 between Massachusetts-based OneUnited Bank and Treasury Department officials. OneUnited Bank ultimately received $12 million in bailout funds. Waters is a senior member of the House Financial Services Committee.
CNN: U.S. drawdown in Iraq proceeding as planned, Obama says
The Obama administration's planned drawdown of U.S. troops from Iraq is proceeding "as promised" and should lead to an end of America's combat mission there by the end of August, President Barack Obama said Monday. Plans to reduce the number of U.S. troops in Iraq to 50,000 by the end of this month are on schedule, Obama told the national convention of Disabled American Veterans. At that point, the U.S. mission will shift to the training and support of Iraqi security forces. A full withdrawal of American troops from Iraq is scheduled to occur by the end of next year.
CNNMoney: Senate to vote on $27 billion in aid for desperate states
Senate Democrats are once again trying to push through a bill that would send $27 billion to needy states. The measure contains $16 billion in additional Medicaid money and $10 billion in education funding to prevent teacher layoffs. State officials have been desperately lobbying their representatives, saying they need the money to shore up their budgets. President Obama weighed in Monday, asking lawmakers to pass the bill.
CNN: Democrats, GOP both see glass half-full for midterms
Republicans are predicting big wins in the November midterms. Across the aisle, Democrats are saying the same thing about their chances at the polls. But both can't be right. Republicans speculate that they will take back the House - and possibly the Senate - as voters express their frustration at where Democrats and President Obama are taking the country.
CNN: McCain to lift hold on confirmation of intelligence chief
Sen. John McCain said Monday he would lift a "hold" on the confirmation of James Clapper to be the Director of National Intelligence if he receives a report he's requested for the past 18 months. Brooke Buchanan, McCain's spokeswoman, had said earlier in the day that the Arizona Republican would hold up a Senate vote on Clapper because he never received the report.
Wall Street Journal: Health Care's Slim Political Payoff
What if the Democrats hadn't done health care? It's a hypothetical question, to be sure, but in many ways the most intriguing one to ponder at the outset of the August congressional recess in a tough political year for Democrats. With the fall congressional campaign now just ahead, it's fair to say that the monumental health debate of 2009 and early 2010 had as much to do with shaping the political landscape as anything. President Barack Obama and his party were bound to be stuck with a lousy economy and high unemployment; the sheer depth and breadth of the recession insured that. But were they wise to also take on a giant overhaul of the nation's health system while also grappling with deep economic distress? And having done so, is the trend line on that decision now pointing up or down?
New York Times: For Congress, a New Vigilance in Policing Ethics Cases
In the bazaar that is Capitol Hill, there is nothing surprising about lawmakers' doing favors for campaign donors or intervening with federal agencies on behalf of constituents or friends. So why are Representatives Charles B. Rangel, a New York Democrat, and Maxine Waters, a California Democrat, facing the rare spectacle of public ethics trials for actions their defenders say are just business as usual in Congress? The charges reflect, in part, a heightened sensitivity in Washington to indiscretions by members of Congress. The House ethics committee, which has brought the charges, has come under fire for failing to hold lawmakers accountable in previous investigations.
CNN: Bachmann opens national PAC
Rep. Michele Bachmann is opening up her own national political action committee. Paperwork for the new PAC, called MICHELEPAC, was filed Friday with the Federal Election Commission. The committee will allow the Minnesota Republican to raise funds for distribution to candidates nationwide. MICHELEPAC, which stands for Many Individual Conservatives Helping Elect Leaders Everywhere, has yet to report raising any money.
The Hill: GOP leader McConnell: Fourteenth Amendment is in need of review
Senate Minority Leader Mitch McConnell (R-Ky.) told The Hill on Monday that Congress "ought to take a look at" changing the 14th Amendment, which gives the children of illegal immigrants a right to U.S. citizenship. McConnell's statement signals growing support within the GOP for the controversial idea, which has also recently been touted by Senate Minority Whip Jon Kyl (R-Ariz.) and Sen. Lindsey Graham (R-S.C.). In an interview, McConnell said the 14th Amendment provision should be reconsidered in light of the country's immigration problem. McConnell stopped short of echoing Graham's call for repeal of the amendment.
CNN: Perry raffles lunch with Rove
Texas Gov. Rick Perry is using social media sites, like Facebook, to round up support at the polls via a raffle that includes lunch with Karl Rove, former senior advisor to President George W. Bush. The Perry campaign launched the raffle as part of a recruiting effort to register more voters likely to show their support for the Texas Governor at the polls during early voting, said Texans for Rick Perry press secretary Alejandro Garcia.
CNN: Wall Street's lobbying pricetag: $251 million
The financial industry has spent $251 million on lobbying so far this year as lawmakers hammered out new rules of the road for Wall Street, according to the latest lobbying reports compiled by a watchdog group. The financial sector spent more than any other special interest group from April through the end of June – a whopping $126 million, according to the Center for Responsive Politics' latest estimates. Wall Street banks, as well as insurance and real estate firms, hiked the amount they spent on lobbying by 12% in the second quarter compared to the same period last year.
Lexington Herald Leader: Safety advocate: Paul's comments on federal coal mine regulations 'idiotic'
Republican U.S. Senate candidate Rand Paul is coming under attack from union coal miners and a prominent mine safety expert for questioning the federal regulation of mining in a national magazine. The comments attributed to Paul in Details, a monthly magazine published by Condé Nast Publications, reportedly came from a public appearance Paul made at the Harlan Center in Harlan County before the May 18 GOP primary election.
CNN: Emanuel lends Meek a helping hand
Rep. Kendrick Meek is getting some help from the White House as he bids for the Democratic Senate nomination in Florida. White House Chief of Staff Rahm Emanuel hosts a fundraiser for the four-term congressman Monday night at a private residence in Washington. Meek faces off in Florida's August 24 primary against billionaire real estate investor Jeff Greene, who announced his bid for the Senate just over three months ago.
Politico: Tea party vs. Tea Party Caucus
To anxious Republicans trying to channel grass-roots conservatism, the Congressional Tea Party Caucus is part of the solution. To many in the tea party, the caucus seems like part of the problem. Instead of embracing the caucus and its 49 House members, many tea party activists see it as yet another effort by the GOP to hijack their movement — and symptomatic of a party establishment that, they say, is condescending and out of step with their brand of conservatism.
Indianapolis Star: 'Disappearmarks': the cash Indiana could have had
Congress approved a nice chunk of money in 1998 to widen U.S. 31 through Columbus. At least that's what lawmakers thought they were doing. A multiyear transportation package approved that year mistakenly said the $384,413 was for Ind. 31, which doesn't exist, so Indiana never got the money. Those funds are part of more than $700 million in unspent project funding - including about $8 million for Indiana - that has languished for years in federal coffers and could be rescinded.
CNN: Simmons launches new ad, scores another endorsement
With eight days to go before a Connecticut primary in which voters will select nominees to compete for the seat of veteran Democratic Sen. Chris Dodd, one contender for the GOP nomination is up with a new ad, and has scored another newspaper endorsement. Rob Simmons, who at one point suspended his campaign, is up with a new 30-second spot that touts his military service. Titled "Lest We Forget" the ad features images of Simmons in a military uniform. Before running for public office, Simmons served as an Army officer and more recently worked at the CIA.
New York Times: A Young Republican With a Sweeping Agenda
Still early on a recent weekday morning, the mostly elderly crowd that half-filled a hall in this small town looked like it might be thinking about another cup of coffee. But Representative Paul D. Ryan, the rangy Republican who represents this southeastern Wisconsin district, was in full PowerPoint roll, gesturing and barking out, in staccato tones, why the nation must make major changes to Social Security and Medicare. In this highly charged election season with both houses of Congress at stake, not a lot of politicians are lining up publicly behind Mr. Ryan. He is, nonetheless, suddenly a rising star in some corners.
CNN: Virginia health care lawsuit can proceed, judge rules
The Commonwealth of Virginia will be allowed to continue its constitutional challenge to the health care bill signed into law by President Obama earlier this year, a federal trial court ruled Monday. Judge Henry Hudson ruled in a 32-page opinion that the legal challenge mounted by Virginia State Attorney General Ken Cuccinelli should be allowed to continue. The state argues that part of the health care bill – Section 1501, which requires individuals to obtain a minimum level of health insurance – is unconstitutional.
NATIONAL
For the latest national news: www.CNN.com
Wall Street Journal: Deportation Data Reflect Shift
A record number of criminal aliens have been deported so far this year, reflecting a shift in emphasis by the Obama administration, according to an independent analysis released Monday. In the first nine months of fiscal year 2010, 137,000 illegal immigrants designated as criminal aliens were deported, according to the Immigration and Customs Enforcement agency, 60% more than in a comparable period of the Bush administration's last year and about one-third more than in a comparable period in the Obama administration's first year.
Washington Post: Virginia legal opinion supports checks of immigration status
Virginia joined the national debate over immigration Monday when Attorney General Ken Cuccinelli II issued a legal opinion that authorizes law enforcement to check the immigration status of anyone stopped by police officers for any reason. Previously, law enforcement officers in Virginia were required to investigate the legal status only of those who were arrested and jailed.
New York Times: 99 Weeks Later, Jobless Have Only Desperation
In June, with long-term unemployment at record levels, about 1.4 million people were out of work for 99 weeks or more, according to the Bureau of Labor Statistics. Not all of them received unemployment benefits, but for many of those who did, the modest payments were a lifeline that enabled them to maintain at least a veneer of normalcy, keeping a roof over their heads, putting gas in their cars, paying electric and phone bills. Over the last few months, 99ers have tried to organize to press Congress to provide an additional tier of unemployment insurance. But the political potency of fears about the skyrocketing deficit has drowned them out. The notion that unemployment benefits discourage recipients from finding work has also crept into Republican arguments against extensions. As a result, the plight of 99ers was notably absent from the recent debate in the Senate.
INTERNATIONAL
For the latest international news: http://edition.cnn.com
CNN: Officials fear disease outbreak in flood-hit Pakistan
As the relief effort in flood-hit Pakistan intensified Monday, officials were bracing themselves for an outbreak of disease among the millions affected by the country's worst deluge in 80 years. Rushing floodwaters and mudslides triggered by monsoon rains have engulfed large swathes of northwestern Pakistan since Thursday, killing an estimated 1,500 people said Information Minister Mian Ifthikar Hussain on Monday.
CNN: Wildfires force state of emergency for 500 Russian towns
About 500 towns and villages because of wildfires burning across the west of the country, officials said Monday. Most of the fires - among the worst ever to hit the region - were started accidentally by people burning garbage, dropping cigarettes, or failing to extinguish campfires or barbecues properly, Emergency Situations Ministry representative Irina Andrianova said. Nearly 700 fires are burning, covering about 115,000 hectares, she said. That is nearly 450 square miles. A hectare is about the size of a baseball field or an international rugby pitch.
CNN: Ahmadinejad offers to talk one-on-one with Obama
Iran's President Mahmoud Ahmadinejad is willing to hold one-on-one talks with U.S. President Barack Obama in September, he said Monday. Ahmadinejad expects to visit New York then for the annual United Nations General Assembly meeting, he said at a speech in Tehran.
Washington Post: In Kandahar, U.S. tries the lessons of Baghdad
As U.S. and NATO commanders mount a major effort to counter the Taliban's influence in Kandahar, they are turning to population-control tactics employed in the Iraqi capital during the 2007 troop surge to separate warring Sunnis and Shiites. They are betting that such measures can help separate insurgents here from the rest of the population, an essential first step in the U.S.-led campaign to improve security in and around Afghanistan's second-largest city. In Baghdad, the use of checkpoints, identification cards and walled-off communities helped to reduce violence because there were two feuding factions, riven by sect. Carving the city into a collection of separate Sunni and Shiite neighborhoods allowed U.S. forces to place themselves along the borders. Both sides tolerated the tactics to a degree because they came to believe U.S. troops would protect them from their rivals. The conflict in Kandahar is far murkier.
CNN: Official: U.S. hopes North Korea will respond to tougher sanctions
The U.S. hopes tougher sanctions against North Korea will pressure the country to end its nuclear weapons program, a State Department official said Monday. Robert Einhorn, the State Department's special adviser for nonproliferation and arms control, is discussing the sanctions with senior government officials in Seoul, South Korea, and Tokyo, Japan, this week.
CNN: U.N. panel to investigate Gaza flotilla incident
Calling it an "unprecedented development," United Nations Secretary-General Ban Ki-moon announced Monday the U.N. will launch a panel of inquiry to investigate the May 31 Gaza flotilla incident that left nine Turkish activists dead. The panel will be led by Geoffrey Palmer, former prime minister of New Zealand, as chairman and Alvaro Uribe, outgoing Colombian president, as vice-chair, Ban said. Representatives from Israel and Turkey will be the panel's other two members.
BBC News: Porn broadcast inside Indonesian parliament
An investigation is under way in Indonesia after pornographic images were broadcast on an internal TV channel in the country's parliament. The X-rated footage was visible to staff and journalists for 15 minutes before security staff were able to turn off the stream, local media report. The TVs are used to provide information on the day's political schedule. It comes ahead of an 11 August deadline for local internet service providers to start blocking online pornography.
CNN: Deadly blast traps seven miners in China
Nine miners are dead, and seven others are believed trapped after a gas explosion at a coal mine in central China, state-run media reported Tuesday. The blast took place late Monday at the Sanyuandong Coal Mine near the city of Dengfeng in central China's Henan Province, the Xinhua news agency reported.
Guardian: Pakistan president will 'put David Cameron straight' over terror claims
The row over David Cameron's claim that Pakistan is exporting terrorism threatened to escalate tonight as a senior Pakistani official revealed President Asif Ali Zardari planned to "put him straight" when he meets the prime minister at a showdown summit at Chequers on Friday. "David Cameron has been doing some plain talking. Now Zardari will be doing the plain talking," the official said. "We have to tell him [Cameron] what the reality is, to educate him about what we have suffered, and that if we are not supported at this time, how things will get worse."
BUSINESS
For the latest business news: www.CNNMoney.com
CNNMoney: Stocks roar into August, Dow gains 200 points
Stocks rallied Monday, extending last month's gains, as investors welcomed upbeat economic reports and strong earnings from European banks. The Dow Jones industrial average (INDU) rose 208 points, 2%, according to early tallies. The S&P 500 (SPX) index jumped 24 points, or 2.2%, and the Nasdaq (COMP) composite gained 41 points, or 1.8%.
Bloomberg: Asian Stocks Rise to Three-Month High; Two-Year Treasuries Gain
Asian stocks rose, with a regional benchmark reaching a three-month high, and the risk of corporate defaults diminished, fed by signs a global recovery is strengthening. U.S. two-year Treasuries gained. The MSCI Asia Pacific Index climbed 0.4 percent to 121.18 as of 12:43 p.m. in Tokyo, headed to its highest close since May 5. Futures on the Standard & Poor's 500 Index fell 0.2 percent. The cost of protecting Asia-Pacific bonds from non-payment plunged to the lowest level in almost three months. Yields on two-year Treasuries dropped to a record-low 0.5459 percent.
CNNMoney: Washington Post sells Newsweek to stereo mogul
The Washington Post Co. said Monday it has sold struggling Newsweek magazine, which it has published for half a century, to audio industry pioneer Sidney Harman. The financial terms of the deal were not announced. According to an article in the Washington Post citing an unnamed source, Harman is paying a "minimal" amount of cash but assuming obligations that could cost tens of millions of dollars.
Wall Street Journal: Dual Role in Housing Deals Puts Spotlight on Deutsche
Federal probes of the collapsed mortgage-bond boom are shedding light on how Wall Street firms sometimes created securities and sold them to one set of investors, while advising others to bet against them. One firm that was a major player in mortgage securities, Deutsche Bank AG, illustrates a pattern investigators are looking at. While creating and selling mortgage securities to some of its clients, the big German bank was not only advising other clients to bet the other way, but also sometimes doing so itself. A Deutsche trader helped create an index that made it easy to bet against housing, and the bank itself then used the index to do just that.
CNN: China indicates greater currency flexibility
China appears increasingly set to allow its currency, the yuan, to float more freely against the U.S. dollar, if a recent string of statements from one of its central bankers is any indication. In an interview published Tuesday in China's state-run China Securities Journal, the deputy governor of China's central bank, Hu Xiaolian, is quoted as saying, "I think the present 0.5 percent daily limit is still relatively appropriate. From a development point of view, in the future, it is possible that [the daily limit] will continue to expand, but at present, it is still relatively appropriate." China currently sets a target exchange rate around which it allows the trading value of the yuan to rise or fall by 0.5 percent against the U.S. dollar in a given day.
Wall Street Journal: Fed Mulls Symbolic Shift
Federal Reserve officials will consider a modest but symbolically important change in the management of their massive securities portfolio when they meet next week to ponder an economy that seems to be losing momentum. The issue: Whether to use cash the Fed receives when its mortgage-bond holdings mature to buy new mortgage or Treasury bonds, instead of allowing its portfolio to shrink gradually, as it is expected to do in the months ahead. Any change—only four months after the Fed ended its massive bond-buying program—would signal deepening concern about the economic outlook. If the Fed's forecast deteriorates significantly, it could also be a precursor to bigger efforts to pump money into the economy.
Investors Business Daily: U.S. Manufacturing Slows, But Not As Much As Forecast
U.S. manufacturing activity grew at its slowest pace this year, a key industry survey reported Monday. But July's decline wasn't as bad as feared and European factory activity picked up, fueling stock gains. The Institute for Supply Management's national manufacturing index fell 0.7 point in June to 55.5, the third straight drop from April's six-year high but above Wall Street's forecast of 54.2. The index has held above 50 — indicating expansion — for 12 consecutive months.
CNNMoney: A new BlackBerry: RIM's last shot
Momentum in the smartphone market has shifted in favor of Apple and Google, but BlackBerry maker Research In Motion hopes it can still reverse course before it's too late. RIM (RIMM) is widely expected to unveil a new touch-screen smartphone with a pull-out keyboard at a corporate event on Tuesday. The device is likely the much-hyped AT&T (T, Fortune 500) BlackBerry Slider 9800, leaked images of which have flooded the Internet over the past several weeks.
CNNMoney: Oil spill could drag down Gulf home prices by $3 billion
The BP oil spill in the Gulf could cost homeowners $68 million in lost property value over the next year - and up to $3 billion in the next five years, according to a report released Monday. There are more than 71,000 homes impacted, primarily in the Panhandle region of Florida plus Alabama and Mississippi, according to the report by real estate data provider CoreLogic. Gulfport. Miss., beachfront homes are expected to be hit the hardest, with an average loss per home of $56,000, followed by Mobile, Ala., ($45,000) and Pensacola, Fla. ($40,000).
In Case You Missed It
Members of the Disabled American Veterans react to President Obama's speech at their convention.
A panel on John King USA discusses what the Democratic Party's political reality is right now.
Subscribe to the CNN=Politics DAILY podcast at http://www.cnn.com/politicalpodcast
And now stay posted on the latest from the campaign trail by downloading the CNN=Politics SCREENSAVER at http://www.CNN.com/situationroom