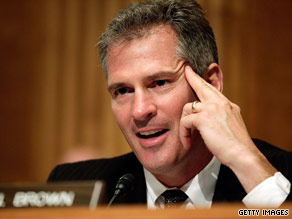 Sen. Scott Brown can bring in big crowds and plenty of fundraising dollars for GOP candidates.
(CNN) - With midterms around the corner, Republican candidates are hoping Sen. Scott Brown's appeal will bring a boost to their campaigns.
In seven months, the Massachusetts native went from a little-known state senator to a key voice in the U.S. Senate and a hot commodity on the campaign trail.
"There is definitely a big demand for him," said Jennifer Nassour, chairman of the Massachusetts Republican Party. "He is our hometown hero. He did what everyone said was the impossible, and he did it through a lot of hard work."
The impossible was defeating Democrat Martha Coakley in a special election in January to fill the U.S. Senate seat formerly held by the late Ted Kennedy.

Full story