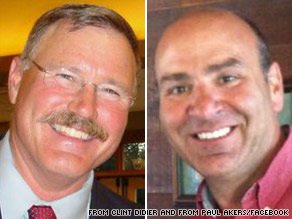 Republicans Clint Didier (left) and Paul Akers (right) are running for the same U.S. Senate seat, but have released a joint radio ad attacking their opponents.
(CNN) - The two underdogs in Washington's August 18 Senate primary are teaming up against the two front-runners in what they call "the first ever joint campaign radio ad."
Washington is the only state in the nation that holds primaries that group candidates from all parties into one pool. Republicans Paul Akers and Clint Didier are both trailing incumbent Democratic Sen. Patty Murray and Republican Dino Rossi in the state's non-partisan primary, according to a survey conducted in mid-June by The Elway Poll.
"We're doing something unprecedented in political campaigns. Even though we're both running for the same US Senate seat–" Akers says in the ad. Didier picks up the thought mid-sentence and tells listeners "–we're joining together with a single message to caution you about what's going on in this race."
"Washington D.C. and special interests are dumping millions of dollars into our opponents' campaign war chests," Akers says.
Still, Akers and Didier are hoping that their joint $6,000 ad buy will give them each a boost. According to a June 9-13 survey by The Elway Poll, 43 percent of voters support Murray, 31 percent support Rossi, 5 percent support Didier and just 2 percent choose Akers; undecided voters make up 18 percent of respondents.
Earlier: Rossi campaign releases first TV ad
Nathan Gonzales, the political editor at the non-partisan Rothenberg Political Report, told CNN he did not think the Akers-Didier strategy would work.
"The reason why it's unprecedented is because it's a terrible strategy," Gonzales said.
"They're competing against each other for anti-establishment votes," Rothenberg added. "Both of them are long shots and certainly both of them cannot win at the same time. There's a difference between novelty and attention and it actually being a good strategy to get out of the primary."
The ad begins airing today on six Seattle and Spokane talk radio stations. It will air 97 times over the next five days, according to an Akers campaign press release.