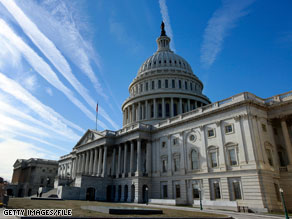 The CNN 100 takes a look at the top 100 House races, from now until Election Day.
Editor's Note: In the final 100 days before Election Day, CNN has been profiling one race at random each day from among the nation's top 100 House races, which we've dubbed "The CNN 100." Read the full list here. Today's featured district is:
Illinois 11th – Rep. Debbie Halvorson (D) is seeking a 2nd term
Primary: February 2, 2010
Location: Chicago suburbs/Central Illinois
Days until Election Day: 89
Election Day will mark the end of a nine-month general election campaign between Democratic Rep. Debbie Halvorson and her Republican opponent, Adam Kinzinger. Illinois held its primary in February, the earliest of any state in the country, giving these two nominees plenty of time to get to know one another. The race appears to be getting increasingly competitive as the lengthy contest enters its final three months.
Halvorson was first elected in 2008 to the open seat being vacated by GOP Rep. Jerry Weller. She served 12 years in the state senate, where she eventually became that body's first female majority leader. In the general election, she handily defeated businessman Martin Ozinga, winning with 58 percent of the vote. Ozinga was not the first choice of local Republicans to carry the party's banner in the district. The GOP primary winner that year was Tim Baldermann, a local mayor, but he eventually withdrew from the race.
This year's Republican nominee is Adam Kinzinger, a 32-year-old pilot with the Air National Guard. At the age of 20, Kinzinger was elected to the McLean County Board while a sophomore at Illinois State University. He was re-elected to the board in 2002, two years after his college graduation. He has become a favorite of the conservative Tea Party movement and won an early endorsement from former GOP vice presidential nominee Sarah Palin. Kinzinger won a crowded GOP primary with 64 percent of the vote and has since put together a strong fundraising operation that makes him a very serious threat to the freshman Democrat.
The Republican challenger outraised Halvorson in contributions from April through June, $325,000 to $302,000. The incumbent lead Kinzinger in overall fundraising by mid-year, $2.0 million to $1.1 million, but most of that difference was due to Halvorson's 4-to-1 advantage in contributions from political action committees. In contributions from individual donors, which sometimes can be an indication of a candidate's grassroots support, the gap is much smaller. Halvorson raised $998,000 from individuals, compared to $824,000 for Kinzinger. Halvorson did enjoy a significant lead in available cash as of June 30. She reported a total of $1.4 million in the bank, while Kinzinger had $480,000.
Illinois' 11th district is a T-shaped region that covers the southern and southwestern Chicago suburbs and also stretches into parts of the central region of the state. Despite its proximity to Chicago, Obama's heavily Democratic home base, the district is a mixed bag politically. The southern tip of the district is closer to the state capital of Springfield in central Illinois than it is to the Windy City. Obama carried the district with 53 percent, which was less than Halvorson's 2008 showing and less than the 54 percent President Bush won here in 2004. And before Halvorson was elected, the area elected Weller, a Republican, seven times starting in 1994.
As with the race for Obama's U.S. Senate seat, Illinois' 11th district should also attract national interest from those curious to see how Democrats will fare near the president's old stomping grounds. Halvorson, who once worked as a saleswoman for the Mary Kay cosmetics line, has demonstrated that she is a strong campaigner and a tough competitor. Two years ago, she tried to appeal to a wide swath of voters, even earning high marks from the National Rifle Association. But having voted in favor of health care reform, the "cap and trade" energy proposals, and other Democratic priorities, she now has a voting record that ties her to an unpopular Democratic-controlled Congress.
Though Halvorson won her 2008 bid by a wide margin, Kinzinger shows every sign of being a far stronger candidate than her last opponent. 2010 is also shaping up to be a much different environment politically. If Kinzinger can close the fundraising gap, he could make this race extremely competitive.