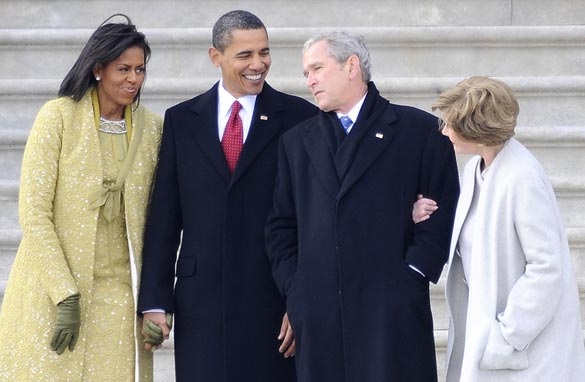 Will Bush-bashing help Democrats win over weary voters? (PHOTO CREDIT: Getty Images)
Washington (CNN) - While he's not on the ballot, George W. Bush is still vital to the midterm election as far as the nation's top Democrat is concerned.
President Obama has made a point recently to invoke Bush's name in what many say is a calculated effort to remind voters of the previous administration's economic policies, which Democrats argue led to the worst recession in modern history.
On Monday, the president told those attending a Democratic fundraiser in Atlanta, Georgia, that the GOP has not distinguished itself from Bush.
"They have not come up with a single solitary, new idea to address the challenges of the American people," Obama said. "They don't have a single idea that's different from George Bush's ideas ... not one."