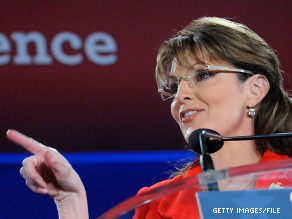 Palin's reality show will begin in mid November.
(CNN) – Sarah Palin's much anticipated reality show will hit the airwaves next November, just days after the midterm elections when the political world begins to look toward the 2012 presidential race.
"Sarah Palin's Alaska" – the show that has been billed as a "Planet Earth-style" documentary about the state – will premiere at 9 p.m. November 14 on TLC, network president Eileen O'Neill said at the Television Critics Association press tour, according to the trade publication Broadcast and Cable.
Little is known about the show besides the fact it is being spearheaded by "Survivor" creator Mark Burnett.
A Palin source told CNN in April that the show "is not going to be focused on her family, or in her house, or in Wasilla."
Instead, it appears the state of Alaska will be as much the focus of the program as the former vice presidential nominee.
"It's become clear it takes a special individual to thrive in Alaska," O'Neill said.
Variety reported earlier this year Palin stands to receive upwards of $1 million an episode.