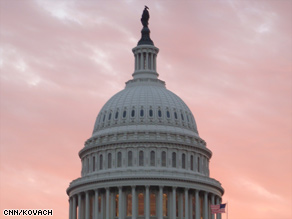 The CNN Washington Bureau's morning speed read of the top stories making news from around the country and the world.
WASHINGTON/POLITICAL
For the latest political news: www.CNNPolitics.com
CNN: Gates proposes cutting Joint Forces command from defense budget
Defense Secretary Robert Gates announced some far-reaching proposals Monday for restructuring the massive budget at his agency, including getting rid of the U.S. Joint Forces Command. The cuts could mean a loss of up to 3,000 jobs.
CNN: House returns from summer break for state-funding bill vote
The House of Representatives - back in town during its summer recess - is expected to vote Tuesday will on a $26 billion package designed, in part, to help avoid teacher layoffs.
CNN: Duncan: When it comes to education, Americans have 'lost our way'
Secretary of Education Arne Duncan said Monday that other countries have outpaced the United States in education advancements because Americans have "lost our way" and not remained focused on improving education.
Bloomberg: Obama May Ease U.S. Travel to Cuba Even If Congress Won't Act
A move by President Barack Obama to ease travel restrictions to Cuba would allow the administration to change U.S. policy toward the island even if legislation to repeal a wider travel ban isn't approved by Congress this year. Obama may change rules to allow more Americans to visit the island on educational and cultural trips, a U.S. official, who declined to be named because he isn't authorized to speak on the subject, said Aug. 6.
CNN: Waters hit with three counts by House ethics panel
The House ethics committee released a report Monday detailing three counts against Rep. Maxine Waters, D-California. The report details alleged violations of House rules tied to the 10-term congresswoman's attempt to seek federal assistance for a bank with financial ties to her husband. The committee rejected Water's request for the charges to be dismissed.
New York Times: With 2012 in Mind, Parties Focus on Governorships
For all the talk of midterm elections and control of Congress, the political parties are obsessing this year more than ever over the nation's 37 races for governor. The Republican Governors Association has already poured $11 million into these campaigns, and halfway through the year had raised $28 million — more than its entire budget for the 2006 election season — bringing its current reserves to $40 million. The Democratic Governors Association says it intends to devote $50 million to these races, nearly three times as much as ever, and the Democratic National Committee has dedicated as much direct financing to governors' races as it has to Senate and House campaigns.
Wall Street Journal: Running as Insiders in a Year of Rebels
This year's midterm elections have been defined by voter anger at the political establishment. But in the final flurry of primaries, some candidates are trying to make a virtue of being insiders. Colorado Sen. Michael Bennet began his campaign portraying himself as a wide-eyed newcomer to Washington. Now, facing a close race in the final stretch before Tuesday's Democratic primary, he has cast himself as a player with access to President Barack Obama.
Philadelphia Inquirer: Former President Clinton a popular ally on Democratic campaign trail
So far, the White House has no plans to make Michelle Obama available, but a previous resident of 1600 Pennsylvania Avenue – former President Bill Clinton – seems to be everywhere. On Tuesday, the man known affectionately among Democrats as "the Big Dawg" will hold a rally in Scranton for [Rep. Joe] Sestak, who, as a Navy admiral, was director of defense policy on the Clinton White House staff. Clinton also will stump that day for congressional candidate John Callahan in the Lehigh Valley, and will appear at an evening fund-raiser in Philadelphia for Dan Onorato, the Democratic nominee for governor.
Dallas Morning News: Obama hauls in checks during short visit to Dallas and Austin
Over the course of six hours Monday in Dallas and Austin, President Barack Obama managed to rake in $1.6 million for Democrats, kick up some dust in the governor's race, and issue a stern warning to voters: Beware the ideas of Texas-style Republicans.
Politico: Tea party's growing money problem
Some leading tea party activists are concerned that their efforts to reshape American politics, starting with the 2010 elections, are being undermined by a shortage of cash that's partly the result of a deep ambivalence within the movement's grass roots over the very idea of fundraising and partly attributable to an inability to win over the wealthy donors who fund the conservative establishment.
St. Petersburg Times: The party's over for many voters, as more register independent
There's only one party with steady growth this year in the Florida electorate: No Party. Newly released voter registration statistics show another year of gains for independent voters, while Democrats struggled to maintain their hefty registration edge over the GOP. The figures also show Hispanics — a key election demographic — are becoming more Democratic and independent, while Republicans continue to rely heavily on white voters.
Palm Beach Post: McCollum in Miami: 'We won't bring exactly Arizona's law to Florida'
Just moments after former Gov. Jeb Bush said Florida needs a governor who won't vacillate on important issues, Bill McCollum, Bush's choice for the office, highlighted the nuance in his support for an Arizona-style immigration law in the state. "We won't bring exactly Arizona's law to Florida," Republican Bill McCollum said. "We're two different states." About 11 percent of the state's 4 million Republican voters are Hispanic and many pollsters and operatives are watching to see how the immigration issue will sit with them this year.
Los Angeles Times: Whitman accuses Brown of Bell-style mismanagement
Republican gubernatorial nominee Meg Whitman on Monday accused her Democratic rival Jerry Brown of presiding over his own Bell-style salary scandal while he was mayor of Oakland. The charges, aired in a new mailer aimed at Los Angeles County voters, come as Brown, the current state attorney general, gains political traction with his office's expanded investigation into the Bell controversy.
Atlanta Journal Constitution: Palin backs Handel as Deal crosses the state for final push
Just hours before the polls open for the GOP runoff for governor, Sarah Palin and Karen Handel rallied the faithful in Buckhead while Nathan Deal crisscrossed the state in search of last-minute support. Handel and Deal will finally get closure Tuesday when polls close at 7 p.m., but both candidates made it clear Monday that they will work for every last vote before then.
Anchorage Daily News: Huckabee backs Miller in Senate primary
U.S. Sen. Lisa Murkowski reports raising more than $307,000 in just more than a month, giving the Republican about $1.8 million heading into the Aug. 24 primary. The disclosure, filed with the Federal Election Commission, came as GOP challenger Joe Miller touted another high-profile endorsement - this time from former Arkansas Gov. Mike Huckabee.
NATIONAL
For the latest national news: www.CNN.com
CNN: Judge temporarily bars California from imposing new furloughs
An Alameda County judge issued a temporary restraining order Monday preventing California Gov. Arnold Schwarzenegger from imposing unpaid furlough days on state workers. The governor's office said it would appeal the ruling.
USA Today: IPads saving cities paper costs
Soon after Hampton, Va., Mayor Molly Ward bought an iPad for her personal use last spring, she started thinking of an application of her own — one that might save her town both paper and money. Ward decided it would make both environmental and fiscal sense for the Hampton City Council to switch from paper to iPads for conducting official business. …The move that is helping cash-strapped municipalities trim expenses is also raising concerns with government transparency advocates.
USA Today: More young adults going into ministry
For the past 10 years, the estimated median age of candidates for master of divinity degrees has fallen steadily, from 34.14 in 1999 to 32.19 in 2009, according to an analysis by the Center for the Study of Theological Education (CSTE) at Auburn Seminary. That marks a reversal: From 1989 to 1999, the estimated median age had climbed steadily from 31.4 to 34.14. Denominations hail this new pattern as a positive sign now, as churches increasingly depend on aging leaders and struggle to attract parishioners under age 30.
INTERNATIONAL
For the latest international news: http://edition.cnn.com
CNN: Aid group: Unlikely to leave Afghanistan
The director of an international aid organization that lost members in a violent attack in Afghanistan said Monday his group is unlikely to pull out of the country, although the incident will affect its charitable work. Ten multinational medical aid workers - six Americans, two Afghans, a Briton and a German - were shot and killed Thursday by gunmen in Badakhshan, a remote northeastern region of the country. Two other Afghans on the team are alive.
CNN: Somali militant group bans 3 international aid groups
Al Qaeda-linked militants have banned three international aid groups from working in Somalia, claiming they are "actively propagating Christianity" in the predominantly Muslim nation.
CNN: Trial continues Tuesday for accused terrorist
A military trial for the youngest detainee at the prison in Guantanamo Bay, Cuba, will continue Tuesday with the questioning of 15 prospective members of the military panel that will act as jury. Accused terrorist Omar Khadr, who has been linked to al Qaeda, pleaded not guilty Monday to all charges he faces in a military trial at the naval base. The 23-year-old Khadr, who was 15-years-old when he was captured in 2002 in Afghanistan, is charged with assisting al Qaeda and with killing a U.S. Special Forces soldier.
New York Times: Mosque Used by 9/11 Plotters Is Closed
The authorities in Hamburg said Monday that they had shut down the mosque where several of the hijackers involved in the Sept. 11 attacks had met, asserting that it remained a source of radicalization nearly a decade later.
CNN: UN to open inquiry into Israeli flotilla raid
The United Nations will launch a panel of inquiry Tuesday into Israel's interception of a humanitarian aid flotilla, in which nine people were killed. Israel has already said that it will not participate in the U.N. inquiry if the panel asks to question soldiers.
Jerusalem Post: Barak takes responsibility for raid
Defense Minister Ehud Barak said Tuesday that he "bears all responsibility for what happens in the IDF." Speaking before the Turkel Committee probe into the IDF raid on a Turkish ship trying to break the Gaza blockade on May 31, Barak said that he took "full responsibility for military instructions were given during the flotilla raid."Barak presented himself Tuesday in front the Turkel Commission and echoed a similar stance as Prime Minister Binyamin Netanyahu, who a day earlier said he had left Barak in charge of the matter before flying to North America for diplomatic meetings.
CNN: Death toll climbs to 337 in China mudslides
Massive mudslides in northwestern China have killed 337 people, the state-run Xinhua news agency reported Monday. An additional 1,148 people are missing, the news agency said, citing the civil affairs department in Gansu Province.
CNN: Heat and smog double death rate in Moscow
The mortality rate in Moscow, Russia, has "doubled recently" because of an extended streak of heat and smog, Andrei Seltsovsky, the head of the city health department, told Russian news agencies Monday.
New York Times: Britain Reels as Austerity Cuts Begin
Last month, the British government abolished the U.K. Film Council, the Health Protection Agency and dozens of other groups that regulate, advise and distribute money in the arts, health care, industry and other areas. It seemed shockingly abrupt, a mass execution without appeal. But it was just a tiny taste of what was to come. Like a shipwrecked sailor on a starvation diet, the new British coalition government is preparing to shrink down to its bare bones as it cuts expenditures by $130 billion over the next five years and drastically scales back its responsibilities. The result, said the Institute for Fiscal Studies, a research group, will be "the longest, deepest sustained period of cuts to public services spending" since World War II.
BUSINESS
For the latest business news: www.CNNMoney.com
Wall Street Journal: U.S., BP Near Deal on Fund
The Obama administration and BP PLC are close to a deal to use future revenues from the oil giant's Gulf of Mexico operations to guarantee its $20 billion cleanup and compensation fund, a move that would give both sides an incentive to continue production in the Gulf, scene of the U.S.'s worst-ever offshore oil spill.
CNNMoney: Raise taxes now - the elders of the economy say so
First it was Greenspan. Now one by one other elders of the economy are speaking out against deficits, and they're making the surprising argument for higher taxes. Former Federal Reserve chairman Alan Greenspan was first and has taken the most extreme position, arguing that all of the Bush tax cuts of 2001 and 2003 should be allowed to expire.
Wall Street Journal: Google Agonizes on Privacy as Ad World Vaults Ahead
A confidential, seven-page Google Inc. "vision statement" shows the information-age giant in a deep round of soul-searching over a basic question: How far should it go in profiting from its crown jewels—the vast trove of data it possesses about people's activities?
CNNMoney: Google and Verizon: Consumers control Internet
Google and Verizon unveiled a joint policy proposal for an open Internet standard known as "Net neutrality" on Monday. The seven-part proposal - in which the government would enforce a kind of Internet bill of rights of wireline broadband consumers - would give the Federal Communications Commission authority to regulate wired broadband Internet providers to ensure consumers have access to all legal content and applications on the Internet.
In Case You Missed It
Political panel discuss the implications of President Obama campaigning during this election cycle with CNN's John King.
http://www.cnn.com/video/#/video/politics/2010/08/09/jk.rendell.erickson.obama.cnn
CNN's Jill Dougherty reports on the latest with slain aid workers in Afghanistan.
http://www.cnn.com/video/#/video/world/2010/08/09/dougherty.afghan.aid.workers.cnn
Subscribe to the CNN=Politics DAILY podcast at http://www.cnn.com/politicalpodcast
And now stay posted on the latest from the campaign trail by downloading the CNN=Politics SCREENSAVER at http://www.CNN.com/situationroom