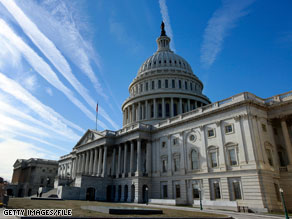 The CNN 100 takes a look at the top 100 House races, from now until Election Day.
Editor's Note: In the final 100 days before Election Day, CNN has been profiling one race at random each day from among the nation's top 100 House races, which we've dubbed "The CNN 100." Read the full list here. Today's featured district is:
Nebraska 2nd – Rep. Lee Terry is seeking a 7th term
Primary: May 4, 2010
Location: Omaha area
Days until Election Day: 84
Democrats in Nebraska's 2nd district hope to pull off the kind of upset here in 2010 that President Obama did in 2008.
In the last presidential election, the Obama campaign invested resources in Omaha and the surrounding area and managed to carry the district 50 percent to 49 percent. The victory was a narrow one, but because Nebraska awards some electoral votes to the winners of individual congressional districts, Obama won one of the state's five electoral votes.
One near-casualty of this strategy was Republican Rep. Lee Terry, who was held to 52 percent of the vote in his re-election bid in this normally GOP-friendly region. Before taking his seat in Congress in 1999, Terry previously served on the Omaha City Council, where he served from 1991 to 1998. His father, Lee Terry Sr., was a local news anchor and an unsuccessful House candidate in the late 1970s.
The Democrat hoping to unseat Terry is Tom White, a state senator and attorney who was elected to Nebraska's unique non-partisan, unicameral legislature in 2006. The son of a former Nebraska Supreme Court Chief Justice, White focused on civil rights and workplace discrimination issues as an attorney.
Terry has roughly doubled what White has raised in contributions, both for the 2nd quarter and for the race overall. The incumbent Republican raised $1.2 million through the end of June, compared to $622,000 for White. White nonetheless has stayed competitive in terms of cash available to spend. As of mid-year, he had $532,000 in the bank compared to $787,000 for Terry.
Nebraska's 2nd district is located at the center of the state's eastern border. It is dominated by Omaha and the surrounding area. Prior to Obama's victory here in 2008, the district has consistently voted Republican in presidential elections.
Terry has shown vulnerability at the polls in recent years. He won his first two terms with 66 percent but has seen his winning percentages steadily decline with every election thereafter. Democrats' best hopes of defeating GOP incumbents are in districts that Obama carried in 2008, but the margin of victory in Nebraska 2nd was very slim, about 3,400 votes out of almost 300,000 cast. White is a credible candidate and so far has stayed competitive with Terry financially. Unseating a Republican incumbent in this GOP-leaning district without help from the top of the ballot will be a challenge, especially in a midterm year that historically has punished the party occupying the White House. An upset is still possible, but Democrats would have to invest considerable resources to do so in a year when they have dozens of vulnerable incumbents to defend.