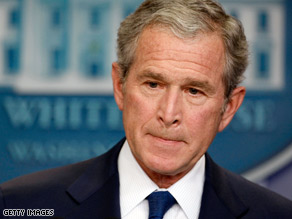 Former President George W. Bush called former Alaska Sen. Ted Stevens' wife on Wednesday.
(CNN) - Former President George W. Bush called Catherine Stevens, widow of former Sen. Ted Stevens on Wednesday, to express his condolences about the plane crash that took the former Alaska lawmaker's life on Monday night.
Bush spoke to Stevens around 12:30 p.m. CT, according to Bush spokesman David Sherzer.
The former president put out a statement on Tuesday saying he and former First Lady Laura Bush were "deeply saddened" by the death of Stevens and the four other people who died in the crash.
"Ted served our country with great distinction," Bush said in the statement. "We send our heartfelt condolences to the families of those who were lost, and we are praying for the health and well-being of the survivors."