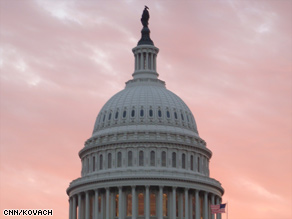 The CNN Washington Bureau's morning speed read of the top stories making news from around the country and the world.
WASHINGTON/POLITICAL
For the latest political news: www.CNNPolitics.com
CNN: Georgia runoff too close to call; Bennet gets big win in Colorado
An incumbent U.S. senator with help from the White House held off a tough primary challenge in Colorado, a former wrestling executive easily won the Republican nomination for the Senate in Connecticut, and a dramatic runoff for the Republican governor's nomination in Georgia was too close to call on a busy primary night Tuesday. Four states went to the polls with high-profile primaries for governors and the U.S. Senate. Three of the races for governor kept candidates and supporters biting their nails into the early morning hours.
CNN: Obama signs bill to prevent teacher layoffs
President Barack Obama on Tuesday signed into law a $26 billion measure to help avoid teacher layoffs - a move Democrats claim is necessary in the wake of state and local government cutbacks. The House gave final approval earlier Tuesday to the bill, which had already passed the Senate.
CNN: House passes $600 million border security bill
The House of Representatives approved $600 million in emergency funding Tuesday to help secure the U.S.-Mexico border. The measure, which passed in a voice vote, still needs Senate approval before being signed into law by President Barack Obama.
Washington Post: 'Tea party' groups plan Arizona rally against illegal immigration
"Tea party" groups are planning a large rally on Sunday in Arizona, near the Mexican border, to support both the state's hard-line stance on illegal immigration and the political campaign of the local talk show host who is challenging Sen. John McCain (R-Ariz.). Candidate J.D. Hayworth, a former congressman turned conservative radio commentator, is one of dozens of scheduled speakers for the morning rally on a remote ranch about 100 miles south of Tucson.
CNN: Rangel challenges House to kick him out
Veteran Rep. Charlie Rangel apologized on the House floor Tuesday for causing any embarrassment by violating chamber rules, but he insisted he is not corrupt and refused to resign. In a sometimes rambling speech, the New York Democrat defiantly challenged the House ethics committee to move faster on holding a public hearing on the 13 counts of alleged violations against him.
The State: Dems mull candidate pledge
South Carolina Democrats are quietly debating whether future candidates should have to pledge that they will abide by election and ethics laws — or risk being taken off the ballot. Such a pledge could have helped the party avoid its embarrassment over Alvin Greene, the surprise victor of its June 8 U.S. Senate primary. The party later tried to get Greene to abandon his candidacy after news broke that he faces a felony pornography charge.
St. Petersburg Times: Meek, Greene blast each other in debate, complain of negative tactics
Jeff Greene and Kendrick Meek used their only statewide televised debate Tuesday to blast each other's character and credentials while complaining about negative attacks. …The 60-minute debate sponsored by the Florida Press Association and Leadership Florida was the second between the two Democrats before the Aug. 24 primary. Recent polls point to a neck-and-neck race for the nomination, and Tuesday's debate produced no clear winner.
NATIONAL
For the latest national news: www.CNN.com
CNN: Investigators to work scene of deadly Alaska plane crash
Investigators will be on the scene Wednesday of a plane crash that killed former U.S. Sen. Ted Stevens and four others. Also, autopsies are expected to be completed by the end of the day. Brutal terrain and bad weather on the remote Alaska mountain kept survivors waiting 12 hours for rescue after the crash, officials and witnesses said Tuesday.
CNN: Offshore drilling ban unlikely to be extended, official says
The head of the government agency that regulates offshore drilling said Tuesday that it is "unlikely" a six-month moratorium on the practice will be extended.Right now, drilling of any sort in the Gulf of Mexico is coming to a standstill. Drilling on the final 50 feet of a relief well expected to intercept BP's crippled oil well in the Gulf was suspended Tuesday because of a tropical disturbance in the region, officials said.
Wall Street Journal: Judge in New Orleans to Hear Oil-Spill Cases
Nearly 300 lawsuits related to the Gulf of Mexico oil spill will be heard in New Orleans, a venue many attorneys see as friendly to plaintiffs, a panel of federal judges ordered Tuesday. U.S District Court Judge Carl J. Barbier of the Eastern District of Louisiana will hear the civil suits filed against BP PLC and other defendants by shrimpers, resort owners and others. All say they have lost revenues because of the Gulf's oil-tainted waters.
Los Angeles Times: Fingerprinting program now includes all border counties
Immigration officials now have access to the fingerprints of every inmate booked into jail in all 25 U.S. counties along the Mexican border, Homeland Security Secretary Janet Napolitano said Tuesday, touting the program as a way of identifying and deporting "criminal aliens. "Napolitano's announcement came as immigrant rights activists criticized the fingerprinting program, known as Secure Communities, after obtaining documents showing that more than a quarter of those deported under its auspices had no criminal records.
CNN: Rights groups express concerns about WikiLeaks
Several humanitarian organizations have reached out to WikiLeaks to warn that the leaked documents it posts on its site could endanger the lives of civilians whose names appear in them, according to an e-mail exchange that apparently was leaked.
New York Daily News: Gov. Paterson: No objection to Ground Zero mosque, but floats state land for less controversial site
Gov. Paterson said Tuesday the developers of the mosque near Ground Zero might consider moving the project – and even floated the idea of offering them state land. Paterson said he supports putting the Islamic cultural center Park51 at its proposed site two blocks from the World Trade Center. But he also expressed sympathy for opponents, who say the location is insensitive to 9/11 victims and could be a breeding ground for terrorists.
CNN: U.S. to send imam in ground zero debate to Middle East
Some lawmakers have urged the State Department to rethink plans to sponsor the imam behind a controversial mosque on a trip to the Middle East. Imam Feisal Abdul Rauf is at the center of efforts to build a mosque near the site of the September 11, 2001, attacks in New York. He is going to the Middle East on a trip funded by the State Department.
INTERNATIONAL
For the latest international news: http://edition.cnn.com
CNN: In suit and tie, Gitmo suspect Omar Khadr faces potential jurors
Accused terrorist Omar Khadr on Tuesday briefly addressed the 15 prospective members of a military jury that will decide the case of the youngest captive at the Guantanamo Bay, Cuba, detention facility.The 23-year-old Khadr, who was 15 when he was captured in 2002 in Afghanistan, is charged with assisting al Qaeda and with killing a U.S. Special Forces soldier with a grenade. He pleaded not guilty on Monday.
Washington Post: State Dept. faces skyrocketing costs as it prepares to expand role in Iraq
As the last U.S. combat troops prepare to leave Iraq this month, the State Department is struggling to implement an expanded mission that it has belatedly realized it might not be able to afford. Beginning in September, the State Department will take over all police training in Iraq from coalition military forces, and it has proposed replacing its current 16 provincial reconstruction teams spread across the country with five consular offices outside Baghdad.
The Guardian: Fears of al–Qaida return in Iraq as US–backed fighters defect
Al-Qaida is attempting to make a comeback in Iraq by enticing scores of former Sunni allies to rejoin the terrorist group by paying them more than the monthly salary they currently receive from the government, two key US-backed militia leaders have told the Guardian. They said al-Qaida leaders were exploiting the imminent departure of US fighting troops to ramp up a membership drive, in an attempt to show that they are still a powerful force in the country after seven years of war.
CNN: Scottish officials: Libyan-hired docs had no role in Lockerbie release
Doctors for convicted Lockerbie bomber Abdelbaset Ali Mohmed al Megrahi had no role in the decision to release him last year on compassionate grounds because of prostate cancer, according to information from Scotland authorities Tuesday.
BBC News: Iran increases uranium enrichment – IAEA
The International Atomic Energy Agency has said Iran has activated more equipment to enrich uranium more efficiently, violating UN resolutions. The UN watchdog said a second set, or "cascade", of centrifuges was operating at the Natanz pilot fuel enrichment plant when inspectors visited in July.
The move to enrich uranium to 20% purity means Iran could quickly advance to making weapons-grade material.
Foreign Policy: Abbas inching closer to direct talks
The Middle East Quartet is preparing to announce movement toward direct talks between Israeli and Palestinian leaders as early as next week, as U.S. Special Envoy George Mitchell scrambles to get buy-in from both sides. Palestinian President Mahmoud Abbas has all but signed on to the move to direct talks, which would begin in early September, a U.S. official tells The Cable.
CNN: Colombia, Venezuela re-establish ties
Venezuela and Colombia renewed diplomatic relations after a meeting between their heads of state in Santa Marta, Colombia. Newly elected Colombian President Juan Manuel Santos and Venezuelan President Hugo Chavez also agreed on Tuesday to form five bi-national commissions to address issues such as commerce and security.
London Telegraph: North Korea tries to pay off debt with ginseng
North Korea has offered the Czech Republic 20 tonnes of ginseng in lieu of payment for some of its debts. However, Prague has turned down the deal, instead suggesting that Pyongyang pays in the valuable mineral zinc, which can be resold on international markets. North Korea owes the Czech Republic $10m from the days when the Czech Republic was under communist rule and the two countries traded with each other regularly. Communist Czechoslovakia was a leading supplier of trucks, trams and machinery to North Korea, creating a large pile of debt.
CNN: More rains add to Pakistan's flooding misery
Some 14 million people have been affected by the torrential rains and flooding that have left more than 1,000 dead in Pakistan, a spokesman for the national disaster authority told CNN Tuesday. While 1,245 people have been confirmed killed, officials believe the number of dead may reach 1,500, said spokesman Ahmed Kamal.
CNN: Rwanda awaits presidential vote results
Final results are expected Wednesday following the Rwandan elections that are likely to keep incumbent Paul Kagame in power. Kagame claimed victory after early results gave him a huge lead in the nation's second presidential race since the 1994 genocide. The incumbent is poised to win another seven-year term by a landslide, electoral observers said. They said the voting was peaceful and "largely accurate."
BUSINESS
For the latest business news: www.CNNMoney.com
CNNMoney: Fed decision: Recovery losing steam
The U.S. economic recovery is weakening, the Federal Reserve warned at the conclusion of its meeting Tuesday, its most bearish outlook in more than a year.The Fed also announced its plan to buy additional long-term Treasurys. The purchase was seen as moving "one step closer to reinstituting a more aggressive policy," according to a note from Deutsche Bank economists.
Wall Street Journal: China Trade Surplus Widened in July
China's trade surplus for July widened to its highest level in a year and a half, government data showed Tuesday, likely adding to the pressure on Beijing to allow faster yuan appreciation. A sharp slowdown in import growth sent China's trade surplus to $28.7 billion in July from $20.02 billion in June, far surpassing expectations for a $19.6 billion surplus in a poll of economists. July's surplus was the highest since January 2009, when it was $39.11 billion. The Chinese data come ahead of U.S. trade figures for June, due out Wednesday and expected to show a trade deficit of more than $40 billion.
Financial Times: China shows further signs of slowing
China's economy continued to slow last month as efforts to cool the property market and reduce energy consumption began to bite, even as consumer price inflation rose further. The rates of increase for industrial production, fixed asset investment and retail sales each fell last month, while new banks loans and money supply growth also slowed.
Der Spiegel: Google Prepares Street View Launch in Germany
Despite criticism of the project over the past three years, Google says it is moving forward with the launch of its controversial Street View service in Germany. Although the company hasn't given a launch date, it is starting a registration process for residents in Germany who wish to have their homes or property blurred out.
In Case You Missed It
Colorado gubernatorial candidate Tom Tancredo says that he would block school funding for the children of illegals.
http://www.cnn.com/video/#/video/politics/2010/08/10/sot.yellin.tancredo.cnn
Candidates Rep. Joe Sestak and Pat Toomey discuss their competitive Pennsylvania Senate race with CNN's John King.
http://www.cnn.com/video/#/video/politics/2010/08/10/jk.pa.senate.show.down.cnn
Subscribe to the CNN=Politics DAILY podcast at http://www.cnn.com/politicalpodcast
And now stay posted on the latest from the campaign trail by downloading the CNN=Politics SCREENSAVER at http://www.CNN.com/situationroom