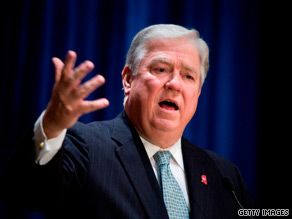 Mississippi Gov. Haley Barbour is booked as keynote speaker for the Florida GOP's 'Victory Dinner.'
Washington (CNN) - Mississippi Gov. Haley Barbour, a possible White House candidate in 2012, will headline a major dinner for the Republican Party of Florida in September.
The Mississippi governor is booked as keynote speaker for the Florida GOP's "Victory Dinner" on September 10 in Orlando, a party official told CNN Thursday.
The Florida GOP hopes to raise $1 million at the event, the party's biggest fundraiser of the year.
Along with Barbour's appearance, the dinner will promote the GOP's slate of statewide candidates, including Senate hopeful Marco Rubio and the winner of the divisive Republican gubernatorial primary fight between Attorney General Bill McCollum and health care executive Rick Scott.
The dinner will take place at Disney's Contemporary Resort, which, according to its website, boasts views of nearby Space Mountain and Cinderella Castle.
Political travels around the country are not unusual for Barbour, who chairs the Republican Governors Association and is regarded as one of his party's top strategists.
But scheduling a high-profile trip to a state as politically consequential as Florida signals that Barbour, who is privately contemplating a presidential run, is serious about keeping his name in the mix for 2012.
Barbour has already visited the key early nominating states of Iowa, New Hampshire and South Carolina, and just this week Barbour's political action committee sent an introductory mail piece to Republicans in Iowa.