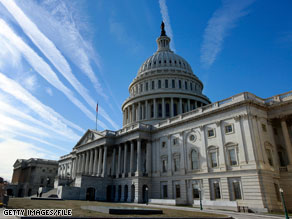 The CNN 100 takes a look at the top 100 House races, from now until Election Day.
Editor's Note: In the final 100 days before Election Day, CNN has been profiling one race at random each day from among the nation's top 100 House races, which we've dubbed "The CNN 100." Read the full list here. Today's featured district is:
Tennessee 4th – Rep. Lincoln Davis is seeking a 5th term
Primary: August 5, 2010
Location: Central Tennessee
Days until Election Day: 82
Tennessee's 4th congressional district is one of the most Republican seats in the country to be represented by a Democrat, which most likely explains why its congressman is one of the chamber's most conservative Democrats.
Elected to this seat in 2002, Rep. Lincoln Davis has cultivated the kind of voting record in the House that a Democrat would need to stay competitive in this Republican stronghold. He voted against several hallmarks of the Democratic legislative agenda, including the "cap and trade" energy plan, the Wall Street reform bill, and health care reform legislation - which was signed into law earlier this year. He did support the Obama economic stimulus plan. According to Congressional Quarterly, he supported President Obama's position about 83 percent of the time on key votes and with his party 89 percent of the time.
His Republican opponent is Scott DesJarlais, a Jasper-area physician who supports repealing the new health care law and ending what he called "corporate bailouts." On his website, he describes himself as "Pro-Life, Pro-Gun, Pro-Marriage and proud of it!" DesJarlais emerged on top of last week's crowded primary field with 37 percent of the vote. Coming in second was businessman Jack Bailey with 27 percent, followed by businessman and history professor Kent Greenough with 15 percent. Two other candidates shared the remaining vote.
As of mid-July, just prior to the primaries, Davis had $472,000 in the bank, compared to $24,000 for DesJarlais. Davis has raised a total of $810,000 for his bid, while DesJarlais has raised a respectable $292,000. He has also loaned his campaign $29,000 from personal funds.
Tennessee's 4th district is located in the state's central region and stretches from Kentucky on its northern border to Alabama and Georgia on its southern border. Like much of the state, this district is heavily Republican, especially in presidential races. John McCain won here with 64 percent, compared to 35 percent for Obama. The president did not win a single county in the 4th district. In 2004, President Bush carried the region with 58 percent of the vote, and he narrowly won a similar district against Tennessee native Al Gore in 2000.
Despite this decidedly Republican bent in national races, Davis has managed to win here four times in congressional races, including in the Democratic friendly years of 2006 and 2008 - where he won with 66 percent and 59 percent, respectively - as well as in the GOP-friendly years of 2002 and 2004. He has represented some region of this district either as mayor, state legislator, or congressman off and on since 1978. Davis is in a relatively enviable position compared to other incumbents in his party, but he is not completely out of the woods. 2010 is expected to be a tough year for Democrats, especially for those in districts like Tennessee's 4th. Nonetheless, DesJarlais will have his work cut out for him to bring this seat into the Republican fold.