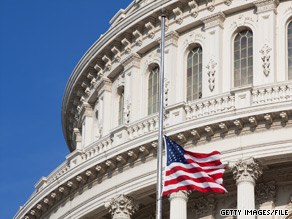 More than half of all Americans believe most Democrats (and Republicans) are ethical, according to a new CNN poll.
(CNN) - Despite two ongoing, high-profile ethics investigations of two senior House Democrats, more than half of all Americans say most Democrats in Congress are ethical, according to a new CNN/Opinion Research Corporation Poll.
Fifty-three percent of respondents say most Democrats are ethical; 52 percent feel the same way about Congressional Republicans.
"In 2006, when the Republicans had a number of congressional ethics investigations, the Democrats had a seven-point edge on that question," CNN Polling Director Keating Holland said. "Those numbers may change if either case drags on in public for a long time."
Americans give members of both parties higher marks on ethics than they did in March, when a CNN poll indicated that 47 percent of Americans felt most Democrats were ethical and 46 percent felt most Republicans were.
New York Rep. Charlie Rangel and California Rep. Maxine Waters are each under investigation by the House Ethics Committee. Rangel is under fire for alleged financial wrongdoing and harming the credibility of Congress; Waters allegedly steered federal bailout money to a bank in which her husband had a financial stake. Both have vowed to fight the charges.
The poll, conducted on August 6-10, surveyed 1,009 Americans, including 935 registered voters. It carries a sampling error of plus/minus 3 percent.