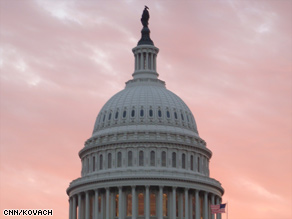 The CNN Washington Bureau's morning speed read of the top stories making news from around the country and the world.
WASHINGTON/POLITICAL
For the latest political news: www.CNNPolitics.com
CNN: Obama, top advisors review Iraq drawdown
President Barack Obama met behind closed doors with his national security team Wednesday to review the ongoing U.S. engagement in Iraq, according to the White House. Plans to reduce the total number of American troops in Iraq to 50,000 by the end of this month are on schedule, Obama announced last week. At that point, the U.S. military mission will shift to training and supporting Iraqi security forces, as well as support for U.S. diplomats.
The Guardian: Iraq army will not be ready to take control until 2020
The Iraqi army will not be ready to take control of the country for another decade and the US must stop its pull out of troops, which is due to begin at the end of this month, Iraq's top army officer has warned.
Jerusalem Post: US may be ready to meet with Iran
US President Barack Obama's national security adviser, Gen. James Jones has said in a CNN interview that the US may be ready to meet with Iranian President Mahmoud Ahmadinejad if the country would be ready to return to negotiations regarding its nuclear program. In an interview on CNN Wednesday, Jones said "the door's open" for a meeting between Iran and the US.The national security adviser told CNN that the US feels it has a window to allow international sanctions to affect Iran before resulting to other options.
CNN: Two senators to return briefly to pass border bill
Two of the nation's 100 U.S. senators will return Thursday from their August recess to give the chamber's unanimous consent for $600 million in emergency funding to help secure the U.S.-Mexico border. A notice from Majority Leader Harry Reid's office said the session would pass a resolution on the death of former Sen. Ted Stevens and pass the border spending bill, which then would go to President Barack Obama to be signed into law. The House passed the measure Tuesday.
Businessweek: Wall Street Funds Republicans Opposing New Banking Regulations
More than two-thirds of campaign contributions from Wall Street employees in June went to Republicans as the Democratic-controlled Congress moved to enact legislation to overhaul the financial industry, a new study found. The Center for Responsive Politics reported that employees in the securities and investment industry gave 68 percent of their donations to Republicans in June. During that month, the House approved the regulation measure with only three Republicans in favor.
Wall Street Journal: Dodd, Frank at Odds Over Who Should Lead New Agency
Sen. Christopher Dodd and Rep. Barney Frank worked in tandem to shepherd the financial-overhaul bill through Congress, but the two Democrats are at loggerheads now over the administration's first major move to turn the Dodd-Frank legislation into reality. The discord is over who should lead the new Consumer Financial Protection Bureau, a key plank of the new law. Mr. Frank, the House Financial Services Committee chairman, has joined his party's liberal base in pushing for Harvard Law Prof. Elizabeth Warren to head the bureau, and wants her named without delay.
USA Today: With many still in dark, groups shed light on health care law
Six weeks before the nation's health care delivery system begins a huge transformation, confusion reigns. For example: The debunked idea raised by opponents during congressional debate that "death panels" could make end-of-life decisions is seen as real by nearly half of those surveyed. Many key parts of the new law, signed by President Obama in March, take effect in several stages beginning next month and continuing through 2015. Because it's so complex, consumer advocates worry that people won't take advantage of its benefits, so they have embarked on a nationwide education campaign.
CNN: Decision on stay expected in California same-sex marriages case
A federal court in California will rule Thursday on whether to keep a temporary stay in place in the case that overturned the state's ban on same-sex marriages. The United States District Court for the Northern District of California will announce its decision between 9 a.m. and noon (12 p.m. and 3 p.m. ET). If the stay is lifted, same-sex marriages will be legal in California.
CNN: Despite scandal, Rangel rings in 80th birthday with lavish gala
Embattled lawmaker Charlie Rangel, who is embroiled in an ethics investigation, celebrated his 80th birthday Wednesday with a lavish party at New York's Plaza Hotel. "This sure ain't no funeral, is it?" Rangel boasted, as a parade of high-profile politicians turned up for the gala. Among the attendees were New York City Mayor Mayor Michael Bloomberg, New York Gov. David Paterson, and singers Harry Belafonte and Dionne Warwick.
CNN: Gibbs stands by his words with feet on the ground and not in his mouth
White House Press Secretary Robert Gibbs is standing by his critique of what he called the "professional left." "I think I have both my feet firmly planted on the floor and nothing in my mouth to speak of," Gibbs said Wednesday during his daily briefing, after being asked if he had put his foot in his mouth.
Washington Post: Primary elections saw big wins for anti-establishment candidates and incumbents
Tuesday's primary elections produced a series of seemingly contradictory claims and interpretations: a good night for outsiders and the "tea party" movement, an equally good night for incumbents and President Obama. What it all means for November is the real question.
Denver Post: Maes treated to silence from GOP after gubernatorial primary win
Colorado Republican leadership Wednesday struggled to accept Dan Maes as the gubernatorial nominee, as any attempts to force him out of the race — at least at this point — were considered futile. Although GOP state chair Dick Wadhams said he supported Maes as the nominee, the silence from other top Republicans throughout the state, as well as nationally, on his surprise win Tuesday over former GOP Congressman Scott McInnis indicated that full support may not be forthcoming.
NATIONAL
For the latest national news: www.CNN.com
CNN: Report: 8 percent of U.S. newborns have undocumented parents
One of about every 12 babies born in the United States in 2008 was the offspring of unauthorized immigrants, a Pew Hispanic Center study released Wednesday concluded. According to the study, an estimated 340,000 of the 4.3 million babies born in this country that year had parents who were in the United States without legal documentation. The 14th Amendment to the Constitution stipulates that those children automatically become U.S. citizens, but some members of Congress are pushing to change that provision. That effort - rooted in the debate over illegal immigration, particularly of people from Mexico - has created some controversy.
Miami Herald: Tough immigration law offered by McCollum
Florida Attorney General and Republican gubernatorial candidate Bill McCollum unveiled a sweeping immigration bill Wednesday that in some ways goes further than Arizona's controversial law to apprehend undocumented workers and residents. The move could propel Florida to the forefront of a heated national debate on immigration policy.
The State: Property managers could be required to verify immigration status of renters
An ordinance to require apartment managers and employers to verify the immigration status of renters and workers got initial council approval Wednesday, despite pleas from landlords and threats of lawsuits. If the ordinance gets final approval next month, it would be one of the most restrictive in the nation. There was little controversy over making employers check immigration status, since both the state and Dorchester County have recently passed similar laws. But there was a lot of argument over making property managers demand more proof of residency from renters.
CNN: Work on relief well stops as storm approaches
Remnants of what was Tropical Depression Five will likely reach the northern Gulf Coast late Wednesday or early Thursday and will stall the crucial work of permanently sealing BP's ruptured oil well. Permanently sealing the well in the Gulf of Mexico will have to wait about four days after the storm passes the site, the government's point man in the Gulf said Wednesday.
Las Vegas Sun: Foreclosures down, but Nevada still ranks No. 1
Nevada kept its No. 1 national ranking for foreclosure filings for the 43rd consecutive month, but the state and Las Vegas are faring better than a year ago, according to report released late Wednesday. California-based RealtyTrac reported that the 13,727 foreclosure filings in July were down nearly 30 percent from July 2009. That marks the tenth consecutive month that Nevada foreclosures fell year-over-year, the firm reported. Nationally, foreclosure filings fell by nearly 10 percent between July 2010 and July 2009. Nevada had one filing for every 82 households.
Washington Post: As people in distress turn to Twitter, the Red Cross seeks the most efficient ways to respond
In an online survey of 1,058 people released this week, the Red Cross found that people are increasingly using social media in emergencies, and agencies such as police and fire departments are using it to issue warnings. But most are not ready to respond to electronic distress calls. Ninety percent of first-responders said they don't have the staffing to monitor incoming messages and respond rapidly.
CNN: Blagojevich jury deadlocked on some counts
A federal jury weighing the fate of former Illinois Gov. Rod Blagojevich in his corruption trial telegraphed Wednesday it may be deadlocked on some counts of the indictment Blagojevich faces 24 counts, including racketeering, wire fraud, attempted extortion and bribery. The two-term Democrat was removed from office in January 2009 amid accusations that he attempted to sell the U.S. Senate seat that had been occupied by Barack Obama before he became president.
INTERNATIONAL
For the latest international news: http://edition.cnn.com
CNN: Military jury recommends a 14-year sentence for bin Laden's driver
A military jury at the U.S. detention facility in Guantanamo Bay, Cuba, on Wednesday recommended a 14-year prison term for Ibrahim Ahmed Mahmoud al Qosi, a Sudanese man who served as cook and driver for Osama bin Laden.
The New York Times: Guantánamo Offers a Look, but Little Else
Welcome to Guantánamo Bay, where your tour guide will never leave your side but may not be able to answer any of your questions. Several times a month, the military parades groups of journalists through the detention camps at the naval station here in an effort to clear up what it says are "common misrepresentations" about the way the camps' 176 detainees are treated. The tours…offer what the Pentagon promotes as a behind-the-scenes peek into one of the government's most secretive missions in the campaign against terror. Gleaning any information about the system of camps and military tribunals operating in the constitutional gray area that is Guantánamo Bay has always been difficult for the reporters and nongovernment observers working here. And this week, as the first detainee trial since President Obama took office opened, the question of access for journalists has become a particularly tense.
Vancouver Sun: Canadian navy escorting suspected Tamil ship into B.C.
A suspected Tamil migrant boat now believed to hold as many as 500 refugees has entered Canada's 200-mile exclusive economic zone and is heading for the B.C. coast. While Canadian Navy and Coast Guard authorities would neither confirm nor deny the whereabouts of the vessel Wednesday, US Coast Guard Commander Mark McCadden said that the 188-ft cargo ship had been spotted approximately 300 miles off the coast of British Columbia early Wednesday morning.
New York Times: Unrest Is Undermining Hopes for Afghan Vote
Worsening insurgent violence in many parts of the country is raising concern about Afghanistan's ability to hold a fair parliamentary election in little more than a month, a crucial test of President Hamid Karzai's ability to deliver security and a legitimate government.
Wall Street Journal: Afghanistan Money Probe Hits Close to the President
U.S. and Afghan officials say they have found evidence that New Ansari was helping to launder profits from the illicit opium trade and moving money earned by the Taliban through extortion and drug trafficking. The officials also say they have found links between the money transfers and some of the most powerful political and business figures in the country, including relatives of Mr. Karzai.
CNN: Pakistanis begin Ramadan with misery of floods
The start of the Muslim holy month of Ramadan coincided in Pakistan on Wednesday with the nation's worst natural disaster, the staggering scope of human suffering revealing itself in wretched ways. From the Swat Valley in the north to Sindh province in the south, as many as 15 million Pakistanis have been affected by torrential monsoon rains that have washed away villages and bloated rivers, authorities said Wednesday.
CNN: Russia deploys missile system in Georgian territory
Russia has deployed a surface-to-air missile system in the breakaway Georgian territory of Abkhazia, the Russian air force commander said Wednesday. The S-300 system will help "ensure the security" of Abkhazia and South Ossetia, another breakaway territory in Georgia, Russian Air Force Commander Col. Alexander Zelin told journalists Wednesday, the Russian Air Force told CNN. It is also designed to protect the Russian military base in Abkhazia, a Russian-backed territory, he said.
BBC News: Russia combats wildfires in Chernobyl radiation zone
Russia is mounting extra patrols to fight wildfires in a region hit by nuclear fallout from Chernobyl, amid fears that radiation could spread. Crews put out several fires in Bryansk, the emergencies ministry said, amid concern that wind or fire could whip up radioactive particles in the soil. Officials say they are assessing the danger and there is no cause for panic.
London Telegraph: Mexico rethinks drugs strategy as violence escalates
Mexico's president, Felipe Calderón, launched his presidency three and a half years ago with an unprecedented military-led offensive against the country's drug cartels. Since then 28,000 people have been killed in drug-related violence that continues to escalate, with little sign that the power of the traffickers has been reduced. Yesterday Calderón finally accepted that the strategy had failed to rein in the cartels, and called on his growing number of critics to help him revise the government's approach to the drug wars.
BUSINESS
For the latest business news: www.CNNMoney.com
CNNMoney: Stocks get a beatdown on global concerns
Stocks slid to close sharply lower Wednesday after a report showed the U.S. trade gap widened, and foreign data cast doubt on overseas demand for American goods. The Dow Jones industrial average (INDU) tumbled 265 points, or 2.5%, to close at 10,378.83. The Nasdaq (COMP) sank 69 points, or 3%, to end at 2,208.63, and the S&P 500 (SPX) fell 32 points, or 2.8%, to close at 1,089.47. Earlier Wednesday, the government reported the trade deficit widened in June to $49.9 billion, much more than economists had expected. Ian Shepherdson, economist at High Frequency Economics, called the trade figures "spectacularly terrible."
CNNMoney: $3 billion more for jobless homeowners
The Obama administration is making $3 billion in additional funds available to help troubled homeowners avoid foreclosure. One part of the plan, announced Wednesday, includes a new $1 billion program that will offer loans to unemployed borrowers at risk of losing their homes. The loans, which will be dispersed through nonprofit and housing agencies, will carry 0% interest and be good for a maximum of $50,000 for up to two years.
New York Times: Debts Rise, and Go Unpaid, as Bust Erodes Home Equity
During the great housing boom, homeowners nationwide borrowed a trillion dollars from banks, using the soaring value of their houses as security. Now the money has been spent and struggling borrowers are unable or unwilling to pay it back. The delinquency rate on home equity loans is higher than all other types of consumer loans, including auto loans, boat loans, personal loans and even bank cards like Visa and MasterCard, according to the American Bankers Association.
Los Angeles Times: Bank at center of Rep. Waters inquiry has checkered past
OneUnited Bank, the financial institution at the center of a congressional ethics investigation involving Rep. Maxine Waters, paid for a luxurious lifestyle for its chairman, including a Porsche and a house on Pacific Coast Highway in Santa Monica despite his having a record that includes arrests and allegations of drug use. The bank has been criticized by regulators in Florida for having an unusually poor record of lending to people in low-income neighborhoods. It also has failed to pay back $12 million in federal bailout funds.
In Case You Missed It
CNN's John King examines the achievements of the Obama administration, so far.
http://www.cnn.com/video/#/video/politics/2010/08/11/jk.walltowall.virtual.briefing.room.cnn
Arizona's Atty. Gen. says Gov. Brewer's efforts to privatize prisons puts citizens at risk. CNN's Brian Todd reports.
http://www.cnn.com/video/#/video/us/2010/08/11/todd.prison.break.political.fallout.cnn
Subscribe to the CNN=Politics DAILY podcast at http://www.cnn.com/politicalpodcast
And now stay posted on the latest from the campaign trail by downloading the CNN=Politics SCREENSAVER at http://www.CNN.com/situationroom