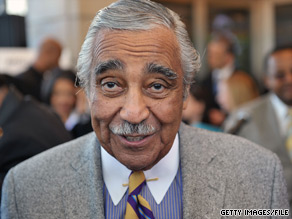 Rangel continues to fight allegations of wrongdoing.
(CNN) - New York Democrat Charlie Rangel, under fire for alleged financial wrongdoing and harming the credibility of Congress, defiantly declared Thursday that nothing "will stop me from clearing my name from these vile and vicious charges."
Among other things, Rangel has been accused of using his influence to solicit donations for a college policy center bearing his name from corporate heads and others with business before the powerful House Ways and Means Committee.