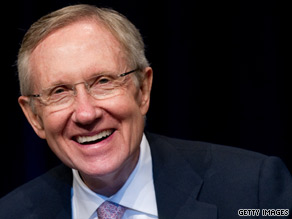 A narrow sliver of voters are undecided in a new Nevada poll.
(CNN) – It appears Senate Majority Leader Harry Reid's political fate will come down to the very narrow sliver of Nevada voters who say they are still undecided about whom to vote for in November's election.
According to a new Mason-Dixon poll conducted for the Las Vegas-Review Journal, Reid leads Republican Sharron Angle by a statistically insignificant 2 points, 46-44 percent, while only 5 percent of Nevada voters report they are undecided. Two percent, meanwhile, said they wanted another candidate with an additional 3 percent indicating "none of the above."
The new survey also suggests Reid's primary campaign strategy – telling voters his leadership post allows him to bring home the bacon for Nevadans – doesn't appear to be widely resonating. A bare majority says Reid's No. 1 post in the Senate isn't a sufficient reason to vote him back into office, while 45 percent agreed Reid's influence is a compelling enough reason to vote for the four-term Democrat.
The poll, conducted Monday-Wednesday of this week, surveyed 625 likely Nevada voters and carries a sampling error of plus or minus 4 percentage points.
Earlier in the week the Reid campaign stepped up its efforts to paint former Nevada lawmaker Sharron Angle, a favorite of the Tea Party movement, as unfit for the Senate.
A new Reid commercial airing across the state declares Angle as "too extreme" whose controversial statement that angry voters may resort to "Second Amendment remedies" "goes way over the line."