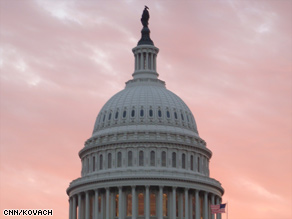 The CNN Washington Bureau's morning speed read of the top stories making news from around the country and the world.
WASHINGTON/POLITICAL
For the latest political news: www.CNNPolitics.com
CNN: Republicans seek political gain from Obama's mosque comments
Republicans tried mightily Sunday to make a political flash point out of President Barack Obama's defense of plans to build an Islamic center and mosque near ground zero in New York.
CNN: Obamas take boat tour on Florida Panhandle trip
President Barack Obama toured the waters off Panama City Beach by boat on Sunday as he capped a weekend visit aimed at sparking a recovery in the region hard-hit by the Gulf of Mexico oil spill.
CNN: New York lawmakers on different sides of 9/11 Islamic center
Two days after President Obama declared his support for a controversial proposal to build an Islamic center and mosque near the site of Ground Zero in Manhattan, two New York lawmakers sounded off on the merits of the project.
CNN: Standing at the border, Hayworth slams McCain on immigration
At a Tea Party rally Sunday on the U.S.-Mexico border in support of tough immigration laws, Arizona Senate candidate J.D. Hayworth slammed his opponent, Arizona Sen. John McCain, and turned McCain's words back on the veteran senator.
Miami Herald: Jeff Greene, Kendrick Meek differ in debate on Cuba travel, New York mosque, federal stimulus
After an uncomfortable two weeks of publicity over his 2007 trip to Cuba, Democratic Senate candidate Jeff Greene said Sunday that he was rethinking his opposition to the U.S. embargo and travel restrictions.
NATIONAL
For the latest national news: www.CNN.com
CNN: Petraeus: Enduring commitment needed in Afghanistan
The commanding U.S. general in Afghanistan says success in the war there will require a long and steady U.S. commitment.
CNN: 13-year-old survivor of plane crash released from Alaska hospital
The youngest survivor of a plane crash that killed former Sen. Ted Stevens last week has been released from a hospital in Alaska, according to his family.
CNN: Police: Accused Craigslist killer dead of apparent suicide
A onetime medical student who was facing charges including first-degree murder in a killing tied to the Craigslist website died Sunday of an apparent suicide, police said.
INTERNATIONAL
For the latest international news: http://edition.cnn.com
CNN: North Korea vows 'merciless counterblow' to U.S., South Korea
North Korea said Sunday that it will "deal a merciless counterblow to the U.S. imperialists" and to South Korean "traitors," in response to word that the United States and South Korea will begin a joint military exercise on Monday.
CNN: UN chief visits flood-stricken Pakistan as cholera concerns loom
United Nations Secretary-General Ban Ki-moon met Sunday with Pakistan's president, and both men urged the international community to step up efforts to help the millions affected by flooding in Pakistan.
CNN: China: No link between milk powder and infant breast growth
China's health ministry said a clinical investigation has found no evidence that milk powder made by a Chinese company caused three infant girls to grow breasts, according to the state-run Xinhua news agency.
CNN: Al Qaeda No. 2 speaks on Gaza flotilla incident
In an audio message released Sunday, a speaker identified as al Qaeda's second-in-command offers condolences to the Turkish people on the loss of nine activists in a May 31 Israeli raid on an aid flotilla headed for Gaza.
New York Times: Workers Let Go by China's Banks Are Putting Up a Fight
These are heady days for China's state-controlled banks. Last month, the Agricultural Bank of China made its stock market debut, bringing in $22 billion for the largest public offering ever. A sister government-run bank, the Industrial and Commercial Bank of China, now has the highest stock market value of any bank in the world.
Washington Post: Third figure clouds North Korea succession
A career politician named Jang Song Taek recently became the second most powerful man in North Korea, injecting a dose of unpredictability into the power handoff playing out in Pyongyang between a father too sick and a son too young to manage the transition alone.
BUSINESS
For the latest business news: www.CNNMoney.com
CNN: Japanese economy slows unexpectedly
The strength of Japan's economic recovery came under question on Monday as second-quarter growth figures came in sharply below economists' expectations.
CNNMoney: Slow summer brings choppy trade week
With many traders out of the office in late summer - and those still participating left confused by mixed reports - stocks are headed for a volatile week.
New York Times: Hulu Is Said to Be Ready for an I.P.O.
Hulu, the rapidly growing hub for online television and movies, aims to go public through an offering that could value the company at more than $2 billion, according to people briefed on the matter.
Fortune: Google to open 'Google Ideas' global technology think tank
A rumor surfaced last month which put Washington insider Jared Cohen on the fast track to Google-dom. Cohen is famous for his work as 'Twitterer in Chief' of the State department where he has lasted through two administrations.
In Case You Missed It
Subscribe to the CNN=Politics DAILY podcast at http://www.cnn.com/politicalpodcast
And now stay posted on the latest from the campaign trail by downloading the CNN=Politics SCREENSAVER at http://www.CNN.com/situationroom