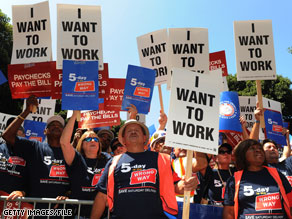 The economy is the most important issue on the minds of voters, according to a new CNN poll.
(CNN) - Heading into this year's midterm elections, the economy remains the most important problem on the minds of Americans, according to a new CNN/Opinion Research poll.
According to the new survey, 56 percent of the public says that the economy will be extremely important to their vote for Congress this year, making that the only issue that a majority said would be vital to their vote.
Two other issues related to the economy - unemployment and the federal deficit - tied for second on the list with 48 percent.
Terrorism also ranked that high, although fewer than four in ten said that the wars in Iraq or Afghanistan were extremely important to them.
Finishing last on the list were abortion and gay marriage, which only one in five say will be extremely important to their vote.
The poll surveyed 1,009 Americans on August 6-10 and carries a sampling error of plus or minus 4.5 percent.