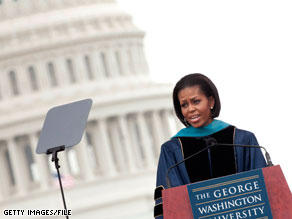 First lady Michelle Obama spoke at the 2010 George Washington University commencement ceremony.
(CNN) - To some she is a self-made woman and a global superstar.
To critics she's an "angry black woman" ashamed of her country.
Now she's been called a modern-day Marie Antoinette.
What role will history ultimately assign to Michelle Obama? It depends on the choices she makes during the tricky road ahead, some say.