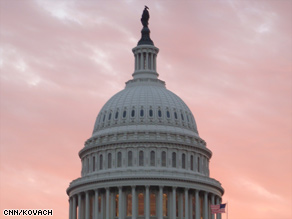 The CNN Washington Bureau's morning speed read of the top stories making news from around the country and the world.
WASHINGTON/POLITICAL
For the latest political news: www.CNNPolitics.com
CNN: Blagojevich found guilty on single count in corruption trial
Former Illinois Gov. Rod Blagojevich was found guilty Tuesday of making false statements to the FBI, but escaped convictions on 23 other counts in a trial that is seen as at least a partial victory for Blagojevich. The jury, which deliberated for 14 days, said it was hung on 23 counts against him and on the counts against the former governor's brother, Robert Blagojevich. The former governor faced charges including racketeering, wire fraud, attempted extortion and bribery. A two-term Democrat, he was removed from office in January 2009 amid accusations that he attempted to sell the U.S. Senate seat that had been occupied by Barack Obama before Obama was elected president.
CNN: Races in Washington state, Wyoming top Tuesday's primaries
Voters in Washington state and Wyoming held primaries Tuesday, with the Senate contest in Washington and a battle for the open Wyoming governor's seat the most closely watched races of the day. In Washington, Democratic Sen. Patty Murray and Republican candidate Dino Rossi are expected to emerge from a crowded primary field, setting up a November showdown. Under the state's system, the two candidates who receive the most votes regardless of party affiliation move on to the general election. Voting has been underway for two weeks, with Washington primarily a mail-in ballot state.
Washington Post: In Ohio, two races test Democrats' strategy for midterm elections
There could not be two better examples of what President Obama and the Democrats want the fall elections to be about than Ohio Republicans Rob Portman and John Kasich. Portman, who is running for the Senate, was the chief trade officer and White House budget director for President George W. Bush. Kasich, a former congressman who is running for governor, spent a decade working for Lehman Brothers, the Wall Street firm whose collapse helped trigger the massive economic retraction. Together, their races may provide the nation's clearest test of whether the Democrats' strategy of running against Bush and Wall Street can overcome a political climate tilted clearly toward the Republicans.
The Hill: Reid gave White House a heads-up on mosque
Senate Majority Leader Harry Reid told the White House he would be disagreeing with President Obama on a controversial mosque near New York's Ground Zero before he went public. Reid spokesman Jim Manley said Reid gave the administration an early heads-up, offering a slight peek at the coordination that goes on between the administration and the Senate's leader. White House deputy spokesman Bill Burton on Tuesday also indicated the White House knew Reid was going to come out publicly against the president.
New York Times: Tea Party Choice Scrambles in Taking On Reid
Sharron Angle leaned across a table in her campaign office here, defending her suddenly embattled campaign to defeat Senator Harry Reid, the Democratic majority leader, under the gaze of a half-dozen advisers and an official videographer packed into the room. But after a year in which Mr. Reid has been at the top of every list of endangered Democrats — there is no one Republicans would like more to unseat — Mr. Reid sees a lifeline in Ms. Angle, a former state assemblywoman who, with the backing of the Tea Party, overcame a field of establishment Republicans to win the party's nomination.
CNN: Greene threatens Florida papers with lawsuit
Florida Senate candidate Jeff Greene is a billionaire real estate investor who has spent millions to fund his primary campaign against fellow Democrat, Rep. Kendrick Meek. Now, one week before Florida's primary elections, Greene is preparing to spend his money on a lawsuit against two Florida newspapers if they don't publish lengthy retractions to damning articles they recently published about Greene. In one of the stories, first published on August 8, the Times reported that in 2006, Greene had sold California property to Delbert McConville, who is now in jail facing conspiracy and money laundering charges. Greene admits to selling McConville 300 condos, but insists that his connection to McConville ends there and that he was not a party to the dealings McConville engaged in that led him to jail.
The State: Greene case: Prosecutors will face hurdles
Prosecutors attempting to convict a Democratic U.S. Senate candidate on rarely leveled obscenity charges would have to clear a number of constitutional hurdles to win a conviction, attorneys and legal scholars said. Richland County prosecutors indicted Democratic U.S. Senate nominee Alvin Greene last week on two obscenity-related charges, after Greene was accused of showing a pornographic image to a University of South Carolina student last November. Greene faces up to five years in prison on a felony charge and up to three years in prison on a misdemeanor charge. Both carry a maximum fine of $10,000.
CNN: RGA condemns Republican's latest ad
Florida's Republican gubernatorial primary keeps getting hotter. Former health care executive Rick Scott released an ad Tuesday tying his opponent, Florida Attorney Gen. Bill McCollum, to the disgraced former chairman of the state's Republican Party. Scott has criticized McCollum for what he says is the attorney general's unwillingness to call for the release of the state Republican Party's documents.
Politico: GOP reveals midterm blueprint
The GOP blueprint for winning control of the House is rapidly coming into focus, with the National Republican Congressional Committee readying a $22 million TV ad blitz aimed at a handful of powerful, long-serving incumbents and several dozen of the most junior members of the Democratic majority. POLITICO has learned that the Republican campaign arm will invest in 41 districts around the nation in its first wave of television commercial reservations — a target list that ranges from powerful veterans such as House Budget Committee Chairman John Spratt of South Carolina and Rep. Chet Edwards of Texas, an Appropriations Committee cardinal, to endangered freshmen legislators including Reps. Alan Grayson of Florida, Betsy Markey of Colorado and Harry Teague of New Mexico.
Salt Lake Tribune: Voters more likely to blame opposing party
Gov. Gary Herbert should be glad that GOP Sen. John McCain didn't win the White House in 2008 or more Utah voters might be feeling disgruntled toward the state's chief executive, according to research. A new study by a Brigham Young University political scientist finds that voters are more apt to assign blame to a leader from their opposing party and give a pass to politicians who align with their own political leanings. However, if, say, a governor and a president are of the same party, voters tend to fault both leaders.
CNN: Gingrich went too far, says Buchanan
Former House Speaker Newt Gingrich's latest comments regarding the controversial Islamic center near the site of the 9/11 World Trade Center attack are being called "absurd" – from no less a conservative stalwart than Pat Buchanan. Speaking on MSNBC on Tuesday, the former presidential candidate and conservative commentator said recent comments from Gingrich likening the proposed project to the hanging of a Nazi symbol outside the Holocaust Museum were merely part of the former Speaker's efforts to appear more controversial than Sarah Palin.
CNN: Women's group says Palin doesn't speak for them
The Democratic women's political group EMILY's List launched a new campaign Tuesday, taking on conservative candidates endorsed by former Alaska Gov. Sarah Palin. Palin has endorsed candidates in gubernatorial, Senate and Congressional races around the country, calling the women candidates she backed "mama grizzlies." EMILY's List has made its own series of endorsements in races nationwide.
CNN: Fox News takes heat for News Corporation's GOP donation
The Democratic National Committee called into question Fox News' objectivity Tuesday after it was reported that the cable network's parent company – News Corporation – recently donated $1 million to the Republican Governors Association. "'Fair and Balanced' has been rendered utterly meaningless," Hari Sevugan, the DNC's national press secretary, said in a statement. "Any pretense that may have existed about the ties between Fox News and the Republican Party has been ripped violently away.
NATIONAL
For the latest national news: www.CNN.com
CNN Poll: Opposition to Iraq, Afghanistan wars reach all time high
Two-thirds of Americans favor President Obama's plan to remove combat troops from Iraq by the end of the month as opposition to the war in that country, as well as the one in Afghanistan, has climbed to new highs. According to a new CNN/Opinion Research Corp. survey, Obama's withdrawal plan wins support not because Americans think the U.S. has achieved its goals in Iraq – only three in 10 feel that way – but because a majority believe that the U.S. will never achieve its goals in that country no matter how long troops remain there. That's one reason why 69 percent oppose the war in Iraq – the highest amount of opposition in any CNN poll.
Washington Post: U.S. may sue Arizona's Sheriff Arpaio for not cooperating in investigation
A federal investigation of a controversial Arizona sheriff known for tough immigration enforcement has intensified in recent days, escalating the conflict between the Obama administration and officials in the border state. Justice Department officials in Washington have issued a rare threat to sue Maricopa County Sheriff Joe Arpaio if he does not cooperate with their investigation of whether he discriminates against Hispanics. The civil rights inquiry is one of two that target the man who calls himself "America's toughest sheriff." A federal grand jury in Phoenix is examining whether Arpaio has used his power to investigate and intimidate political opponents and whether his office misappropriated government money, sources said.
New York Times: Given Money for Rehiring, Schools Wait and See
As schools handed out pink slips to teachers this spring, states made a beeline to Washington to plead for money for their ravaged education budgets. But now that the federal government has come through with $10 billion, some of the nation's biggest school districts are balking at using their share of the money to hire teachers right away. With the economic outlook weakening, they argue that big deficits are looming for the next academic year and that they need to preserve the funds to prevent future layoffs.
INTERNATIONAL
For the latest international news: http://edition.cnn.com
CNN: Source: Rediscovered videotapes show 9/11 suspect being questioned
Two videos and an audiotape of a terrorism interrogation that were found by the CIA in 2007 show September 11 suspect Ramzi Bin al-Shibh, a knowledgeable U.S. source told CNN on Tuesday. On the tapes, Bin al-Shibh is seen sitting at a desk answering questions, according to the source, who said the tapes do not show any use of "enhanced interrogation" techniques such as waterboarding. The tapes were recorded in Morocco and found under a desk at the CIA Counterterrorism Center in Langley, Virginia, in 2007, according to the U.S. source.
CNN: 48 killed in suicide attack outside Iraqi army recruitment center
At least 48 people were killed and scores were wounded Tuesday when a suicide bomber detonated his explosives-laden vest in central Baghdad as men were queuing up outside an Iraqi army recruitment center, the Interior Ministry said. At least 129 people were wounded in the blast, which took place in the morning in the Bab al-Moudham commercial area.
CNN: Money for aid trickling in for flood-ravaged Pakistan
The United Nations is asking countries and donors around the world to send urgent aid to the victims of the flooding in Pakistan, one-fifth of which is now under water. The aid requested is only half the amount the world body asked for in the aftermath of Haiti's devastating earthquake this year - but twice as many Pakistanis are in dire need of help. The money poured in for survivors of Haiti's quake, but the funds are only slowly trickling in for people left homeless or ill in the wake of widespread flooding in the South Asian nation.
Washington Post: U.S. supports creation of U.N. commission of inquiry into war crimes in Burma
The Obama administration decided Tuesday to support the creation of a United Nations commission of inquiry into crimes against humanity and war crimes in Burma, a sign of a tougher U.S. policy against a regime long accused of murdering and raping its political foes. U.S. officials, speaking on the condition of anonymity, also said the administration is considering tightening financial sanctions against the regime as part of an effort to force it to open its authoritarian political system and free thousands of political prisoners. By supporting the commission of inquiry, the Obama administration is committing itself to backing a U.N. investigation of the military junta led since 1992 by Senior Gen. Than Shwe.
BBC News: Lebanon grants Palestinian refugees right to work
Lebanon's parliament has, after long delay, passed a law which allows Palestinian refugees to work legally. There are an estimated 400,000 Palestinians living in Lebanon and, given its delicate sectarian balance, their status is a sensitive issue. Many are still living in camps where conditions are dire. But the law is unlikely to transform their lives, as they will not be able to work in the public sector or for certain professions, nor buy property.
Der Spiegel: Internet Challenges Overwhelm German Government
Google has been talking about introducing its Street View service in Germany for years. But now that the launch has officially been announced, the German government appears to have been taken by surprise. It's just another example of how the authorities are struggling to meet the challenges of the Internet age.
Business Week: South Korea Warns Against Twitter Communication With North
South Korea warned its citizens against commenting on Twitter Inc. messages posted by a suspected North Korean account, saying doing so may break laws banning communication with its communist neighbor. "People would have to bear in mind that they could be violating the law when they tweet with the account if it is confirmed to be a North Korean one," Unification Ministry spokeswoman Lee Jong Joo told reporters today in Seoul. The government is investigating the suspected accounts on Twitter and Google Inc.'s YouTube site, she said, without elaborating.
Guardian: Afghanistan election fraud fears force 900 polling stations to stay shut
Electoral officials in Afghanistan have decided not to open nearly 900 polling stations in the most violent areas of the country for next month's parliamentary election, in an attempt to prevent a repeat of the massive fraud that wrecked last year's presidential contest. Despite worries about disenfranchising large numbers of voters, the country's independent election commission is expected to announce tomorrow that it has been forced to abandon initial plans to open 6,835 polling centres, after Afghan security chiefs and Nato commanders decreed that parts of the country are too dangerous for voting to take place.
BBC News: Taiwan-China trade deal passed by Taipei legislators
Taiwan's parliament has approved a wide-ranging trade pact with China, despite a boycott by the pro-independence opposition. China is seen to have made the greater economic concessions for a deal meant to seal a political rapprochement. Taiwan will continue to bar labour from China, its biggest trading partner. But the deal has proved intensely divisive on the island and the Taiwanese government refused to grant a popular referendum on the issue.
CNN: Palestinian man seeks asylum in Turkish Embassy in Israel
A man carrying a knife, a can of gasoline and what authorities determined later was a toy gun broke a window at the Turkish Embassy in Tel Aviv on Tuesday and climbed inside, where he demanded to be granted refuge, the Turkish Foreign Ministry said. The man, who had tried to take the auxiliary ambassador hostage, was overpowered by Turkish security, the ministry said in a statement.
BUSINESS
For the latest business news: www.CNNMoney.com
CNNMoney: Stocks come off week-long slump
Stocks rallied Tuesday after a Federal Reserve regional president said fears about the central bank's outlook were "unwarranted" and investors shifted their focus to strong earnings from Wal-Mart and Home Depot. The Dow Jones industrial average (INDU) rose 104 points, or 1%, pushing the index to 10,406. The Nasdaq (COMP) composite climbed 28 points, or 1.3%, to 2,209; the S&P 500 (SPX) added 13 points, or 1.2%, to close at 1,092.
Bloomberg: Asia Stocks Gain, Debt-Default Protection Drops on U.S. Output
Asian stocks rose and the cost of protecting bonds against default fell after a report showed U.S. industrial production jumped twice as much as forecast. The yen appreciated following yesterday's decline against the euro. The MSCI Asia Pacific Index rose for a fourth day, gaining 0.4 percent to 118.88 as of 12:17 p.m. in Tokyo. Futures on the Standard & Poor's 500 Index decreased 0.2 percent after the index climbed 1.2 percent yesterday, the biggest increase in two weeks. The Markit iTraxx Asia index of 50 investment-grade borrowers outside Japan dropped 3 basis points to 120 basis points, Credit Agricole CIB prices show. The yen strengthened to 109.73 per euro from 110.19 yesterday in New York.
Wall Street Journal: A $39 Billion Food Fight
Anglo-Australian mining giant BHP Billiton made an unsolicited $38.6 billion offer for the world's largest fertilizer producer, Potash Corp. of Saskatchewan Inc., in an aggressive wager that developing economies will drive up demand for the world's food supply. Potash is an important nutrient that replenishes soil and increases farmland's crop yield. Global potash supplies are relatively limited, and Potash Corp., based in the prairies of central Canada, controls approximately 20% of the supply. The offer is likely to set off a long struggle for the fate of the Canadian company, a crown jewel of the country's natural-resources-based economy.
CNNMoney: GM recalls 240,000 SUVs for seat belt problem
General Motors is recalling a total of 243,403 of its popular large crossover SUVs for a problem that could damage the rear seatbelt buckles. Most of the recalled vehicles are in the United States. In some of the vehicles, the seatbelt buckle can be damaged when the second row seat is returned to its normal position after being folded down. If this happens the seatbelt may not latch completely even when it seems to be securely buckled. The seat belt also may not latch or unlatch or may seem to be jammed, GM said.
CNNMoney: JetBlue brings back all-you-can-fly deal
JetBlue is reviving its unlimited travel deal, which for one month allows travelers to fly anywhere they want, as much as they want. The offer, which JetBlue (JBLU) originally debuted last year, is on sale through Aug. 20 and is good for travel between Sept. 7 and Oct. 6. Jet setters can choose between two deals: a $699 package that allows them to travel any day of the week to any of Jet Blue's 60 domestic and international travel destinations; or a $499 package that excludes travel on Fridays and Sundays.
Wall Street Journal: Plan Promotes Bank Accounts For Consumers
Federal and local governments are trying once again to persuade some of the 17 million U.S. adults who rely on check-cashing services to open their own bank accounts. Past efforts to lure "unbanked" consumers into the financial mainstream have fallen short. Some states require state-chartered banks to offer low-cost accounts, but banks rarely promote them. A Treasury Department initiative earlier this decade offered grants to banks and community groups to sign up consumers, but few accounts were opened.
Business Week: Fliers Pay More Peak-Day Surcharges as U.S. Travel Demand Rises
Travelers may pay as much as $60 more to fly in the U.S. through the end of 2010 as carriers including Delta Air Lines Inc. and American Airlines increase use of surcharges amid rising summer and holiday demand. Round-trip charges of $20 to $60 are set for as many as 33 days still this year, or almost one out of every four, according to Tom Parsons, chief executive officer of Bestfares.com, and Graeme Wallace of FareCompare.com. U.S. airlines are seeking to bolster earnings after posting their first collective quarterly profit in 2 1/2 years, helped by a rebound in business travel, bag-check fees and surcharges.
CNNMoney: BlackBerry Torch already selling for half-off
The BlackBerry Torch isn't setting the smartphone world ablaze. Research In Motion and AT&T sold no more than 150,000 of the devices over the weekend, according to estimates by RBC Capital Markets and Stifel Nicolaus analysts. By comparison, Apple's iPhone 4 sold 1.7 million units in its first weekend of sales. The Torch, a touch-screen smartphone with a slide-out keyboard, went on sale Thursday for $199 with a new two-year contract, but Amazon.com (AMZN, Fortune 500) immediately slashed the price of the Torch in half to $100 (see correction below). That's the same price Amazon is offering on the three-month old BlackBerry Bold 9650.
In Case You Missed It
Off-beat reporter Pete Dominick talks about the Islamic center and mosque debate with CNN's John King.
CNN's Soledad O'Brien gets exclusive access to Democratic Rep. Charlie Rangel as he battles ethics charges.
Subscribe to the CNN=Politics DAILY podcast at http://www.cnn.com/politicalpodcast
And now stay posted on the latest from the campaign trail by downloading the CNN=Politics SCREENSAVER at http://www.CNN.com/situationroom