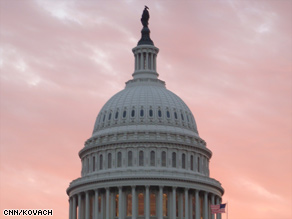 The CNN Washington Bureau's morning speed read of the top stories making news from around the country and the world.
WASHINGTON/POLITICAL
For the latest political news: www.CNNPolitics.com
CNN: Paterson proposes finding compromise site for Islamic center
New York Gov. David Paterson says he'd like to discuss plans for an Islamic community center and mosque near ground zero in Manhattan with its developers to see whether a compromise site can be found. Paterson had been scheduled to meet with the center's builders Monday, but the meeting was postponed because developer Sharif el-Gamal was traveling.
CNN: Obama says no regrets over ground zero Islamic center comments
President Obama said Wednesday that he has "no regrets" about his comments last week supporting the rights of Muslims to build an Islamic center and mosque two blocks from the site of the September 11 terror attacks in New York. "The answer is no regrets," Obama said when asked about bringing up the issue Friday at a White House dinner commemorating the start of Islamic holy month of Ramadan. At the dinner, Obama said that those wanting to build the Islamic center and mosque have the constitutional right to religious freedom.
CNN: DGA calls for Fox News to run disclaimer
With the knowledge that Fox News' parent company recently cut a $1 million check to the Republican Governors Association, the leader of the Democratic Governors Association is calling on the cable news network to run a "formal disclaimer" when it covers gubernatorial races.
CNN: Palin goes 0-for-2 on primary night
It hasn't been the greatest of months for Sarah Palin when it comes to her political star power. The two candidates Palin backed in Tuesday's primaries lost their bids, making the former Alaska governor 0-for-5 when it comes to endorsements this month. In Washington State, Palin had backed Tea Party activist Clint Didier in his bid for the Senate over businessman Dino Rossi, the favorite of national Republicans.
CNN: Why your senator can't Skype
Internet video-chatting service Skype helps connect people across the globe - but your representatives in Congress are banned from using it. House Democrats and Republicans have been tussling over whether to overhaul technology rules that prohibit lawmakers from using Skype to chat from their offices with the people they govern. Their obstacle: A 2006 ban on running peer-to-peer applications behind House and Senate firewalls. Such programs allow computers to share files (remember Napster?), which could pose a security risk.
Baltimore Sun: Ehrlich attracts more donors; O'Malley collects more cash
Republican former Gov. Robert L. Ehrlich Jr. collected twice as many campaign donations in the past eight months as Democratic Gov. Martin O'Malley, but O'Malley has $4.5 million more in the bank for their expected rematch in November. The gubernatorial front-runners raised about the same amount of money since the beginning of the year, with O'Malley benefiting from larger checks from fewer donors. O'Malley started the race with about $5.7 million in the bank; Ehrlich had about $140,000. Their campaign finance filings were made public Wednesday.
CNN: RNC asks DOJ for investigation of Sestak affair
The Republican National Committee urged the Justice Department Wednesday to investigate efforts last year by the White House to convince Rep. Joe Sestak to abandon his Senate campaign, an attempt by the GOP to breathe new life into an embarrassing episode for the Obama administration. RNC Chairman Michael Steele made the request in a letter to Attorney General Eric Holder, a week after former President Clinton denied that he tried to convince Sestak to leave the Democratic primary at the behest of the White House.
Charleston Post and Courier: Sheheen blasts Haley on vouchers
Nearly three weeks before the traditional launch of the fall election season, South Carolina's gubernatorial race is heating up, with the Democratic nominee criticizing his opponent's support of private school choice, and Republicans pressing the abortion issue. Democratic state Sen. Vincent Sheheen on Wednesday blasted state GOP Rep. Nikki Haley's long-standing efforts to help parents send their children to private school, saying the idea would further damage public schools already hurt by deep budget cuts and teacher layoffs. The Legislature has been bogged down in the issue for too long, and it's time to move on, he said.
CQ Politics: Democrats Hope to Put Dent in Congressman's Career
It is an unwelcome distinction, but one he cannot hide from. In what will be a resurgent year for the Grand Old Party from coast to coast, Rep. Charlie Dent is among just nine Republican incumbents who may be in trouble. That's according to the National Republican Congressional Committee, which has ranked Pennsylvania's 15th district as one of the few in play this fall. "I realize that I'm one of their top targets," Dent said late last week in a makeshift campaign office in the heart of the Christmas City. "But if I'm one of their top targets, they're in trouble. Seriously. They have problems." Dent may have cause for optimism.
Cleveland Plain Dealer: Al Franken comes to Shaker for Fisher and other Democrats
Al Franken, the comedian-turned-senator, is coming to a private home in Shaker Heights this Saturday to raise money for Lee Fisher's campaign. Fisher, whose bank account has been on the light side, could use the help. And assuming that the Franken appeal is more to the funnybone than the cerebrum, Ohio could use some laughs.
Indianapolis Star: Coats eyes tax cuts, business incentives to spur jobs
With Indiana's unemployment rate still topping 10 percent, former Sen. Dan Coats on Wednesday said tax cuts and business incentives are needed to jump-start job creation. Coats, the Republican nominee for U.S. Senate, said his proposals include continuing the tax cuts enacted under President George W. Bush; simplifying the tax code to two brackets with fewer exemptions; offering incentives for business research, development and innovation; cutting the corporate tax rate; and cutting regulations.
Washington Post: Fewer incumbent governors are seeking reelection
It's a grim time to be a governor. With state budgets in their worst shape since the Great Depression, nearly every one of them has had to spend the past few years slashing popular programs, laying off workers, draining rainy-day funds and, in some cases, raising taxes. Those bright campaign promises made in flusher times are a faded memory. So it is no surprise that almost half the nation's battered governors will be heading for the exits this year.
Lexington Herald Leader: Rand Paul accuses Jack Conway of flip-flopping
Republicans criticized Democratic U.S. Senate nominee Jack Conway on Tuesday for changing his position on the controversial issue of extending tax cuts approved during President George W. Bush's administration. During last spring's Democratic primary, Conway told the editorial board of The Courier-Journal of Louisville that most of the so-called Bush tax cuts should be allowed to expire. But over the past month, Conway has repeatedly said most of the tax cuts should be extended.
CNN: McCollum, Meek retake leads in Florida
The two political veterans in Florida's closely-watched primaries have each regained the lead in their respective races, according to a new Quinnipiac University poll released Wednesday. Republican Attorney General Bill McCollum has retaken the lead from former insurance industry executive Rick Scott in the battle for the GOP nomination for governor. McCollum holds a 44 to 35 percent lead over Scott, who held an 11-point lead in the same poll just three weeks ago.
Wall Street Journal: Pawnbroker Campaigns for Redemption
The last time Illinois voters got a good look at Scott Lee Cohen he was sitting in a bar, choking back tears. But if he has his way, Democratic leaders might be crying come November. Mr. Cohen withdrew as the Democratic nominee for lieutenant governor in a weepy February press conference at a local tavern. Party leaders had pressured him to quit following news reports of his messy divorce and 2005 arrest on charges of assaulting a former girlfriend, who had separately pleaded guilty to a prostitution charge. Now Mr. Cohen is running again, this time for governor as an independent. The millionaire pawnbroker who has never held public office is given little chance of winning, but analysts say his deep pockets make him a potential spoiler of Democrats' hopes.
NATIONAL
For the latest national news: www.CNN.com
CNN: Last U.S. combat convoy has left Iraq
The last U.S. brigade combat team in Iraq has left the country, a move that helps U.S. President Barack Obama reach his goal of 50,000 troops in the country by September 1. Their departure leaves about 56,000 U.S. troops in the country, according to the U.S. military. Capt. Christopher Ophardt, spokesman for the 4th Stryker Brigade, 2nd Infantry Division, said the last of the 4,000 members of the unit crossed the border into Kuwait early Thursday. A few hundred members stayed behind to finish administrative and logistical duties but will fly out of Baghdad later Thursday, Ophardt said.
CNN: Pentagon: Not working with WikiLeaks, just want documents back
A Pentagon spokesman denied a report out Wednesday that the Army is willing to consider working with WikiLeaks to review classified documents that were leaked and will soon be posted online by the website." The department has not had any direct contact with WikiLeaks on this matter. Our position has been consistent and clear, and that is that these documents should be returned, there should be no further posting of these classified documents. And that those that have been posted should be removed," said Pentagon spokesman Bryan Whitman. He said that the only indirect contact has been from WikiLeaks to the Defense Department through journalists.
CNN: Poll: New Yorkers oppose mosque, recognize constitutionality
New York voters oppose by a nearly 2-to-1 margin plans to build an Islamic community center and mosque near Ground Zero in Manhattan, according to a new Siena Research Institute poll released Wednesday. The same voters, however, overwhelmingly say the center's developers have a constitutional right to build it. When asked if they "support or oppose the proposal to build the Cordoba House," New Yorkers said they oppose the facility, which is expected to cost $100 million, by a 63-27 percent margin. At the same time, by a 64-to-28 percent margin, New Yorkers say Imam Feisal Abdul Rauf has the constitutional right to build it.
INTERNATIONAL
For the latest international news: http://edition.cnn.com
CNN: With flooding, Pakistan focus on fighting terror at risk
Pakistan's ability to keep up the pressure on terrorists and insurgents within the country could be severely hampered by the enormity of coping with the devastating floods creating havoc in the country. U.S. government officials and regional experts acknowledge the Pakistani military will be stretched thin as it devotes more and more resources to providing humanitarian aid to the 20 million people impacted by the deluge. The military is the only entity within Pakistan seen as having the capability to respond to a disaster of this scale. But its efforts could come at the expense of the counterterrorism campaign.
CNN: Obama administration preparing to loosen rules on Cuba travel
The Obama administration is preparing to announce new rules allowing some travel to Cuba, along with an expanded ability for Americans to send economic assistance, a senior U.S. official and congressional sources said Wednesday. According to two congressional aides briefed informally on the plans, the administration is expected to announce "soon" that it will essentially reinstate measures that were in place under the Clinton administration. Both aides stressed that the administration is still working through the details and legal language.
New York Times: Russia Pushes to Increase Afghanistan Business Ties
Twenty years after the last Russian soldier walked out of Afghanistan, Moscow is gingerly pushing its way back into the country with business deals and diplomacy, and promises of closer ties to come. Russia is eager to cooperate on economic matters in part by reviving Soviet-era public works, its president, Dmitri A. Medvedev, said Wednesday during a summit meeting with the leaders of Afghanistan, Tajikistan and Pakistan, the second such four-way meeting organized by Russia in the past year.
Wall Street Journal: Mexico Under Siege
A surge of drug violence in Mexico's business capital and richest city has prompted an outcry from business leaders who on Wednesday took out full-page ads asking President Felipe Calderón to send in more soldiers to stem the violence. The growing violence in Monterrey, long one of Mexico's most modern and safe cities, is a sign that the country's war against drug gangs is spreading ever further from poorer battlegrounds along the border and into the country's wealthiest enclaves. Residents opened their newspapers Wednesday morning to find the ads taken out by Mexican business leaders, begging the government to send more military into the city.
Der Spiegel: Tensions Rise in Greece as Austerity Measures Backfire
The austerity measures that were supposed to fix Greece's problems are dragging down the country's economy. Stores are closing, tax revenues are falling and unemployment has hit an unbelievable 70 percent in some places. Frustrated workers are threatening to strike back.
Washington Post: Hip-hop artist Wyclef Jean could be real contender for Haitian presidency
In the space of two weeks, Wyclef Jean has redrawn the map of Haitian politics, emerging as a new force - and perhaps the leading contender - in the country's presidential contest. Jean's entry into the campaign changed the electoral equation overnight, analysts here say. On the one hand, his name is familiar to millions of illiterate Haitians who have no idea who the other candidates are or what they represent. On the other, his image as an outsider carries a powerful appeal for Haitians yearning for a new way out of their misery - a fresh departure that traditional politicians have been unable to provide.
BBC News: Mandela charity trustee resigns over Campbell diamonds
The former head of the Nelson Mandela Children's Fund, Jeremy Ractliffe, has resigned from the charity's board after admitting he secretly kept diamonds received from the model Naomi Campbell. Mr Ractliffe admitted he had the gems only when Ms Campbell mentioned him at the war crimes trial of former Liberian leader Charles Taylor two weeks ago. Prosecutors say she received the diamonds from Mr Taylor in 1997.
CNN: Plane crash in northeast China stirs speculation about origin
A small aircraft crashed in northeastern China close to the border with North Korea, killing its pilot and fueling speculation Wednesday about its origin. China's official Xinhua news agency said in several brief dispatches that the plane, which went down Tuesday afternoon at Lagu Township in Fushun County, "might be" from North Korea. It confirmed the death of the pilot and the destruction of a residential house on the ground, but added no one else was hurt. Xinhua said that the Chinese government is communicating with Pyongyang about the incident. The crash location in Liaoning province is about 200 kilometers (120 miles) away from a North Korean air base in the border town of Sinuiju, according to South Korea's Yonhap news agency.
BBC News: Australia judge orders witness to remove niqab in court
An Australian judge has ruled that a Muslim woman must remove her full veil while giving evidence before a jury in a fraud case. The judge in Perth said she did not consider it appropriate that the witness appear with her face covered. The prosecution said the woman – identified only as Tasneem – would feel uncomfortable without her niqab. But the defence team argued the jury should be able to watch her facial expressions.
Wall Street Journal: India Acts to Get U.S. Nuclear Pact
A panel of Indian lawmakers proposed to triple a proposed nuclear-accident liability cap, raising the chances that the nation's Parliament may approve a nuclear-power agreement with the U.S. that would give India access to private U.S. technology. The 31-member parliamentary panel said that nuclear equipment suppliers should pay compensation of as much as 15 billion rupees ($321.8 million) to local operators in case of an accident. In its report submitted to Parliament, the panel cited the potentially disastrous effects of a nuclear incident, ranging from deaths and injuries to property, economic and environmental losses.
BUSINESS
For the latest business news: www.CNNMoney.com
CNNMoney: Stocks rally for second day in a row
U.S. stocks posted their second consecutive day of gains Wednesday, turning the market around after a week's worth of losses. After starting out the day lower, the Dow Jones industrial average (INDU) rose 10 points, or 0.1%, to 10,416 the S&P 500 (SPX) inched up 2 points, or 0.2%, to 1,094 and the Nasdaq (COMP) composite rose 6 points, or 0.3%, to 2,216. Those gains built on Wall Street's strong advance the day before. But with no major economic releases on tap Wednesday, the market was having trouble finding direction as stocks jumped around throughout the day.
Bloomberg: Asian Stocks Rise on Applied Materials Forecast; Euro Declines
Asian stocks rose after Applied Materials Inc. forecast higher-than-estimated profit, adding to signs demand is recovering for the region's chipmakers. The Malaysian ringgit and Taiwan dollar climbed. The MSCI Asia Pacific Index gained 0.3 percent to 119.38 as of 10:49 a.m. in Tokyo. Futures on the Standard & Poor's 500 Index rose 0.1 percent. Malaysia's ringgit advanced to the strongest level since October 1997 after the central bank relaxed currency controls and reported better-than-expected economic growth. The euro weakened for a second day on speculation Europe's rebound is flagging.
CNNMoney: GM files to sell shares to the public
General Motors filed registration documents Wednesday to sell shares to the public again, setting the stage for the U.S. government to reduce its ownership of the automaker. In a highly-anticipated regulatory filing, GM said it plans to offer an unspecified number of common shares on the New York Stock Exchange under the company's previous ticker symbol of "GM." The automaker said it will not receive any proceeds from the sale of common stock held by current shareholders, including the U.S. government. At the same time, the company said it will offer an undisclosed number of preferred shares, which will be used to fund its operations.
CNN: American Airlines rolls out fee for coach seats
Even the cheap seats are getting pricey. On Wednesday, American Airlines announced an add-on fee for the front rows in coach class. The fee is the latest in a long line of a la carte airline fees that have brought billions in revenue to legacy airlines hobbled by high oil prices and economic recession. American's new Express Seats will start at $19 per flight for choice spots in the first few rows in the cabin. Passengers who opt for designated Express Seats will board in the first group of general boarding, likely reducing the amount of elbow jockeying for overhead space.
Wall Street Journal: Small Firms Lagging, With Bulk of Job Losses
Most of the job losses at the end of last year took place at the smallest firms, underscoring how small businesses are lagging in the recovery. Businesses with fewer than 50 employees accounted for 61.8% of all job cuts in the private sector in the fourth quarter, the Labor Department reported Wednesday, while they created 54.1% of new jobs. Small companies employ roughly 29% of all workers. The numbers represent a reversal of the situation a year earlier, when small businesses made up a larger share of jobs added than of jobs lost. Small companies made up half of all jobs lost at the end of 2008 but also accounted for 53.9% of job gains.
New York Times: S.E.C., Settling Suit, Accuses New Jersey of Pension Fraud
Federal regulators accused the State of New Jersey of securities fraud on Wednesday for claiming it had been properly funding public workers' pensions when it was not. The Securities and Exchange Commission said the action was its first ever against a state, and only its second against any government over the handling of a public pension fund. The first was the city of San Diego. More may be in store; the agency announced in January that it had a special unit looking into public pension disclosures. The S.E.C. has been trying to assume more authority over municipal securities.
Washington Post: Exercising new ability to spend on campaigns, Target finds itself a bull's-eye
When Target gave money in July to a pro-business group in Minnesota, the company thought it was helping its bottom line by backing candidates in its home state who support lower taxes. Instead, the retailer has found itself in a fight with liberal and gay rights groups that has escalated into calls for a nationwide boycott and protests at the company's headquarters and stores. The problem: Target's $100,000 helped pay for TV ads supporting the gubernatorial campaign of Republican state Rep. Tom Emmer, who thinks Minnesota's corporate taxes should be lower. As it turns out, he also wants to ban same-sex marriage. It was an embarrassing stumble for a company that has carefully cultivated an image of urbanity and hipness - and that's earned goodwill with the gay community.
CNN: Johnson & Johnson CEO maps quality shake up
Johnson & Johnson is restructuring its manufacturing hierarchy and creating a new position to ensure quality products, the company's chief executive said Wednesday. The move was spurred by multiple massive recalls by Johnson & Johnson's (JNJ, Fortune 500) McNeil division, the maker of Tylenol. McNeil, along with other manufacturing units, will now report directly to Johnson & Johnson's chief executive, according to the Wall Street Journal.
Business Week: Verizon Plans to Let Customers Watch Live TV on IPads
Verizon Communications Inc., the U.S. phone company trying to win television customers from cable providers, is planning to allow subscribers to its FiOS TV service watch live shows on Apple Inc.'s iPad. The iPad application will expand a service that lets FiOS users watch on-demand video, such as rented movies, on mobile devices starting next quarter, executives said today at a press conference in New York. The iPad app will be released later. While the live-TV technology is ready, Verizon is in talks with the companies that own the shows, including CNN and HBO parent Time Warner Inc., about the service that will stream the programs to tablets.
CNN: iPad competitors struggling to catch up
Some of the world's biggest electronics companies are readying an assault on the tablet market. But before they even begin, they find themselves at an early disadvantage. Though Samsung, LG Electronics, Acer, Hewlett-Packard, Asus, Research In Motion, and Dell have announced or hinted at touchscreen tablets that will arrive between now and March 2011, they're way late to the party. Since the iPad's debut in April, Apple has built a huge lead in this category - in terms of actual devices sold but also in many consumers' minds.
In Case You Missed It
The Pentagon, a target of the 9/11 attacks, hosts a Muslim prayer service.
The last U.S. brigade combat team has left Iraq, leaving 56,000 U.S. troops in the country. CNN's Arwa Damon reports.
Subscribe to the CNN=Politics DAILY podcast at http://www.cnn.com/politicalpodcast
And now stay posted on the latest from the campaign trail by downloading the CNN=Politics SCREENSAVER at http://www.CNN.com/situationroom